From the name to the people inside, O'Toole's is about family. Owner Patrick O'Toole established the Lakewood restaurant in 2014 when his youngest daughter Briana was graduating from high school. Today, she's the general manager. "People love that it's so family-friend oriented and run," Briana says. Thanks to a collaboration with a close friend, the O'Tooles turned the space into a sports gallery inside the restaurant, featuring walls full of memorabilia from Cleveland and beyond. Here's what you should know about O'Toole's and the people behind it.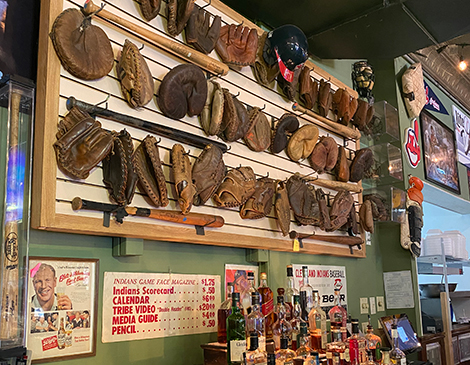 They have a large collection of sports memorabilia on display. Patrick O'Toole's high school friend, Matthew Dietz, collected sports memorabilia with his father Carl for more than 40 years. Last year, after the passing of his father, Dietz approached O'Toole with the idea of showing off their collection in the restaurant. "We're fortunate enough that we can put it on our walls, and they're ecstatic that they can display all their hard work over the last several years," O'Toole says. The memorabilia is baseball-heavy, but is a wide-ranging collection in terms of both sport and players featured. One of the most impressive pieces on display is a bat that was used by Babe Ruth. "Not many people have something that Babe Ruth actually used," O'Toole says. A notable piece of Cleveland memorabilia is a picture signed by Cleveland's two All-Star game MVPs from the past 20 years, Sandy Alomar Jr. and Shane Bieber. Another beloved display is a wall of baseball mitts, showing how gloves have changed over time. Eventually, O'Toole plans to have a binder listing everything displayed, with price tags for people interested in buying pieces. Though you can peruse the walls for historical mementos, the gallery's appeal doesn't just lie in the past. Athletes often attend special events and autograph signings, including former Cleveland Indians player Carlos Baerga and former Browns players Doug Dieken and Dino Hall.

The sports bar and cocktail lounge offer the best of both worlds. O'Toole's Tavern has a lively sports bar atmosphere, with a big screen for sports. Live music happens two to three times a week. The other side of the building is home to the Cooperstown Cocktail Co. cocktail lounge. Cooperstown has a calmer, dimly lit ambience perfect for date nights. "It's a speakeasy-style cocktail bar," says bar manager Dave Taha. "[We serve] a lot of higher-end cocktails but for a lower price." One of Cooperstown's most popular offerings is the Charles Dickens ($8), featuring a house-infused cinnamon and orange bourbon, elderflower liqueur, lime and house-made ginger syrup over crushed ice, with mint sprinkled on top.
They're debuting a revamped menu with numerous specials and discounts. O'Toole's serves a variety of bar food, with starters such as nachos, pretzels with beer cheese, wings and even Cracker Jacks to add to the sports feel. "It's bar food with a twist of stadium food," Briana says. Entrees include classics such as burgers, pizza and calzones. A popular dish is the O'Toole's Pub Burger ($10 with chips, $12 with fries) with Irish cheddar, a balsamic reduction, Roma tomatoes, shaved red onion, arugula and roasted garlic aioli. In a few weeks, O'Toole's will open for lunch in addition to dinner, and it will release a new menu to coincide with its longer hours. Look forward to additions like an Italian beef sub, larger pizzas and hot dogs. The wide-ranging menu is matched by an extensive list of specials and themed nights, including $10 for pizza and a beer on Mondays, $2 tacos on Tuesdays and $7 for a burger and a beer on Saturdays. There's also a daily happy hour from 11 a.m.-7 p.m. featuring $1 off liquor, $1 off draft beers, domestic bottles for $2.50 and a glass of wine for $5. Cooperstown has unique promotions as well, including the popular Cooper's Troopers Program. Every time you visit, you get a stamp on a baseball card. When you reach five stamps, you can purchase a cocktail for a quarterand that card is displayed on the "wall of fame."
When You Go: 13601 Detroit Ave., Lakewood, 440-703-4947, facebook.com/otoolestavern