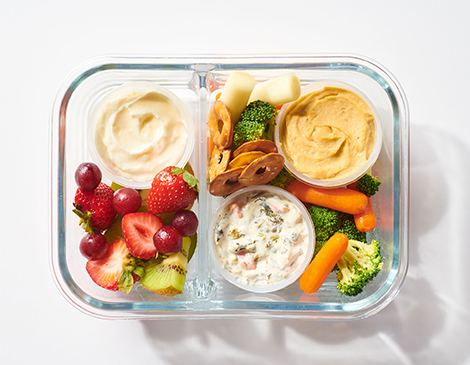 Option 1:
Mixed fruit
Mixed veggies
String cheese
Pretzels
Fruit dip
Hummus
Spinach dip
"It's really readers' choice on this one," says Scott-Williams. "Thoroughly rinse everything and cut so they're ready to eat." Even the fruit dip, made with equal parts marshmallow fluff and cream cheese, is a solid choice. "Trust me, they'll love it, and it's a great way to get them to eat fruit," says Scott-Williams.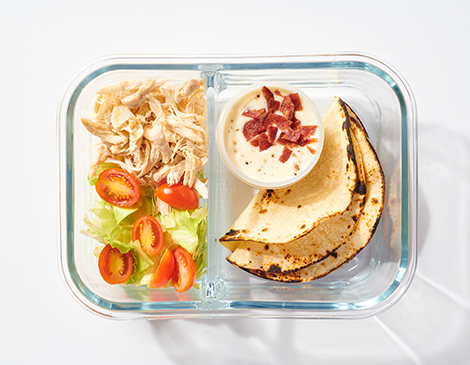 Option 2:
Shredded chicken breast
Flour tortillas
Shredded lettuce
Sliced tomatoes
Ranch dressing
Bacon bits
Save this one for Tuesdays or as a pleasant surprise. By packing a build-your-own taco kit, kids can skip out on school-lunch envy and get a little innovative. "You can get as creative as you like with these," says Scott-Williams. "The idea of separating everything and building your own is fun for kids."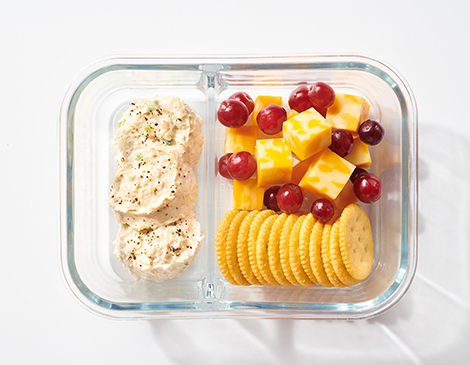 Option 3:
Chicken salad
Crackers
Cubed cheese
Grapes
"This one makes for a cute little lunch box," says Scott-Williams. "Keep the chicken salad super simple: I do finely chopped celery, red grapes or Craisins, a little bit of honey, a sprinkle of Mrs. Dash, and a tablespoon of Miracle Whip or mayo."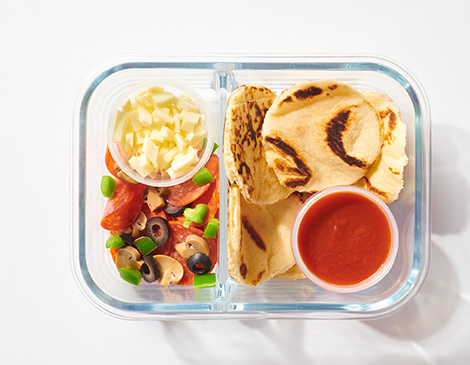 Option 4:
Pita bread
Marinara sauce
Sliced pepperoni
Mozzarella cheese
Sliced mushrooms
Chopped green pepper
Black olives
Never underestimate the power of pizza. "You can make your own simple marinara with crushed tomatoes, garlic and herbs, but we want to be realistic for busy parents," says Scott-Williams. No matter the combination, the kids will be alright with this option. "You can even make your own little version of a calzone," says Scott-Williams.