Growing up in government-assisted housing in Akron with more than a dozen relatives in the same house, Parker Shaffer and his family appreciated good food when they were able to get it. "Whenever we did get a little bit of money, we would go out and get food for our family," he says. "We would go to convenience stores and get buckets of chicken." The chef, who has been doing a handful of pop-ups during the pandemic, returns to Mahall's 20 Lanes starting this Thursday for with what he's calling Parky's Supper Club. Dubbed "gas station gourmet," the menu features staples such as juicy burgers and fried chicken — a round-up of some of his favorite recipes and childhood classics. Here's three things to know about how to score some gourmet comfort food this month.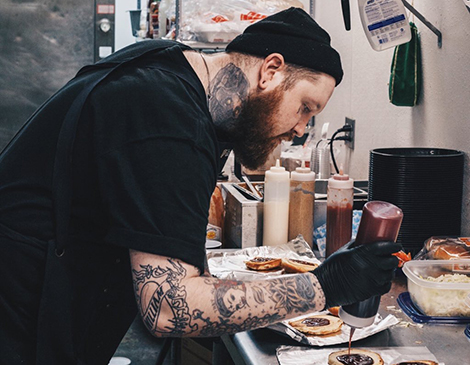 What You Get: Shaffer typically sticks to either a burger menu or a fried chicken menu during his usual Parky's Pop Ups, but during Parky's Supper Club, he's offering both options. He's even added The Big Tosser ($10), a giant salad topped with onions, black and green olives, roasted red peppers, artichoke hearts, feta, mozzarella, egg, bacon and salami. But out of all the mouth-watering options, the Parky's Burger ($10), with two patties, lettuce, tomato, onions, American cheese and Shaffer's special sauce, remains Shaffer's favorite. "[The special sauce] just a mixture of everything delicious that belongs on burger," says Shaffer.
How To Order: Running every Thursday through January, diners can opt for carryout or dine-in at Mahall's 20 Lanes. With limited dine-in reservations — just 18 tables — available each week, make sure to book your spot early. Each reservation will have its own private room at Mahall's to limit contact with other customers. Tables are available to groups of 2 or 4 people. The partnership with Mahall's owners Kelly Flamos and Joe Pavlick is one that Shaffer appreciates, especially with how seriously they are taking COVID-19 precautions and socially distancing measures. "They're just really great people who have a really good grasp on how important it is to work together, especially like in times like now," he says. "So, it's just really nice to be able to collaborate with people like that."
Don't Miss This: You've got to try the Burning River Hot Chicken, Shaffer's spin on Nashville hot chicken. The sandwich comes layered with double-breaded chicken thighs, coleslaw, pickle chips. Since Shaffer never had real Nashville hot chicken, this version is his own take on it after doing research and reading different recipes. "I decided that I was just going to kind of twist everything up and make it my own," he says.
More info: instagram.com/parkyspopups