If you're a fan of hummus, falafel and pita and also work in Playhouse Square, you've been one happy individual as of late. In 2017, Zaytoon Lebanese Kitchen opened in the former Huron Square Deli space, offering up shawarma and salads in a fast-casual setting. In April, Sittoo's moved into a corner space on East 17th Street and Euclid Avenue, bringing with it a similar fast-casual concept of pita sandwiches and kebabs that have done well at its other two Northeast Ohio locations. If you're torn as a grape leaf on where to go, we've got you covered as we dig into dishes from both spots.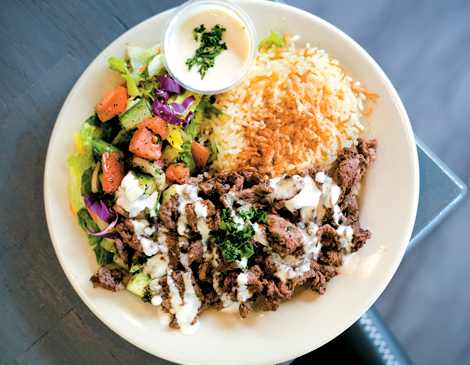 Sittoo's
1625 Euclid Ave., Cleveland, 216-331-3826, mysittoos.com

Falafel ($4.25): More like the traditional vegetarian patties you'd find in most Lebanese and Middle Eastern restaurants, these little nuggets have just the right amount of spice and are fried in peanut oil and served with a lemon-tahini dressing.

Shish Tawook Sandwich ($5.45): Everything we love is wrapped up in airy, bubbly pita bread — grilled chicken, shredded lettuce, plump tomatoes, pickles and pickled turnips topped with a tangy garlic sauce that leaves our taste buds buzzing.

Beef Shawarma Entree ($8.25): At first you'll think the tender bits of seasoned beef are the highlight, but one bite of the fluffy rice pilaf tinged with a hint of cinnamon and you'll be torn. While the accompanying salad is pretty basic, it provides a cool, crisp counterpart to all the richness.

Overall Experience: Sittoo's offers an expansive menu with affordable prices. It's an easy spot to grab lunch away from the office with a handful of tables and couches. But by placing the counter and beverage station towards the back, there's often a pileup of customers waiting to place orders or to pick up their food, making it congested and confusing.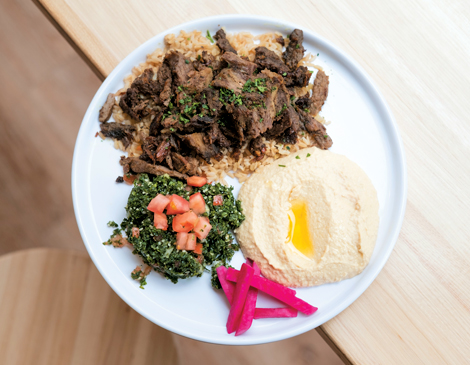 Zaytoon Lebanese Kitchen
1150 Huron Road, Cleveland, 216-795-5000, zaytoonlebanesekitchen.com

Falafel ($3.25): These deep-fried bites, made with organic chickpeas, have a thick crust on the outside that gives way to a tender, spicy interior. While an order only comes with 3 pieces nestled on a bed of lettuce, the accompanying tahini sauce up the ante.

Shish Tawook Rolled Pita ($7.99): A stellar standout on the smaller curated menu, this street food go-to combines roasted chicken with hand-cut fries, a creamy coleslaw and a zesty garlic sauce. If you're not sure what to get, start here.

Steak Shawarma Plate ($12.79): There's plenty of extras that make this a deal — your choice of two sides (think za'atar fries or Lebanese potatoes), plus brown rice, pickled turnips, tahini sauce and pita. But while the steak is flavorful, sometimes you'll come across pieces that are too charred or fatty.

Overall Experience: Service is friendly and fast and we love that monthly specials infuse seasonal ingredients with Lebanese tradition. But seating is limited and a counter along the window tends to get used for guests waiting to pick up their to-go orders. Prices might be more, but those little menu extras make it worth it.