St. Patrick's Day is going to look a little bit different this year. For the first time in 178 years, the parade is canceled. Some might ask: is it really St. Patrick's Day in Cleveland if you're not diving into a green sea of revelers on East Fourth Street or gathering under the flag-draped railings of the Arcade? But we think it's important to keep traditions alive during times like these, even if we have to adapt a bit. So get your best lads on Skype, and follow our guide for a great Cleveland St. Patrick's Day at home.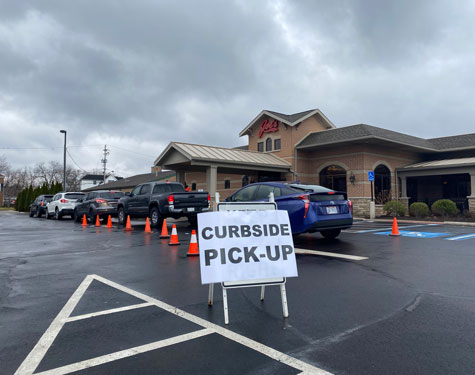 Start With The Corned Beef
Almost all of our favorite corned beef spots are offering to-go or delivery options. A way-too-big beef sammie is the first step to getting back into the St. Patrick's Day spirit. Or if you stocked up on meat for a Paddy's Day Party, visit our guide for three different ways to use corned beef.

Slyman's Tavern
If you've never actually had Cleveland's most famous corned beef sandwich on St. Patrick's Day, this might be your year. The corned beef stop, a staple since 1964, opens at 9 a.m. today for take-out at its four locations and is offering a full menu that includes corned beef and cheese fries ($9.99), loaded latkes ($9.99) and corned beef hash ($4.99). Multiple locations: 3106 St. Clair Ave NE, Cleveland, 216-621-3760; 6901 Rockside Road, Independence, 216-642-0062; 4009 Orange Place, Orange, 216-292-9610; 7601 Mentor Ave., Suite B, Mentor, 440-497-5010; slymanstavern.com

Jack's Deli & Restaurant
This half-pound corned beef sandwich ($11.95) is sliced to order straight out of the steamer, so the juiciness and flavor stays intact. Along with other deli classics such as a reuben ($13.95), stuffed cabbage ($5.95) or mom's potato pancakes ($8.95), get one to-go from 8 a.m. to 5 p.m. or order on Uber Eats. 14490 Cedar Road, Cleveland Heights, 216-382-5350, jacksdeliandrestaurant.com

Joe's Deli
This 20-year West Side staple piles 12 ounces of savory corned beef ($13.95), cooked in a kettle for three hours each morning, and a pickle. The restaurant is doing curbside pick-up and online orders at its Rocky River location, which is also doing St. Patrick's Day classics such as beef and latkes ($18.95), corned beef and cabbage ($19.95) and a Bailey's Irish Cream Cheesecake ($7.95). 19215 Hilliard Blvd., Rocky River, 440-333-7890, myjoesdeli.com

For more great corned beef options, check out the rest of our five corned beef places we love.

For even more corned beef options, check out some of the local spots that have THOUSANDS of pounds left.
But What About The Beer?
If you're like us, you stocked up on Great Lakes Brewing Co.'s Conway's Irish Ale the second someone whispered quarantine. But if not, you can find this local favorite at the grocery store during your next supply run and at the brewery, which is offering takeout all day. Meanwhile, you can fill a growler of The Irishman's Enforcer Imperial Stout at Market Garden Brewery's retail store or restaurant. If you really don't want to head out, though, Platform Beer Co. is offering delivery services for orders of more than $20. We suggest the four-pack of the Red Martian ($14.99), a fruity sour beer that tastes nothing like St. Patrick's Day but is perfect for those non-Guinness drinkers. Also, picking up a growler at one of your favorite local pubs or taverns, such as Herb's Tavern in Rocky River, which is filling growlers as well as offering to-go food, is a great way to support during these hard times.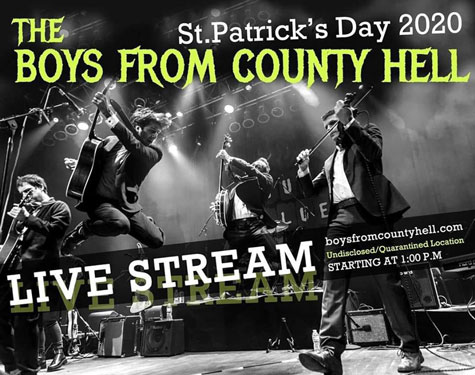 OK. Now, Where's The Party?
If beer and food is the fuel of St. Patrick's Day, live music is the soul. Thankfully, you can still experience the best Cleveland and national Irish acts playing traditional and modern Irish tunes in virtual concerts. Cleveland Pogues cover band The Boys From County Hell, which typically plays multiple sets across Cleveland each St. Patrick's Day, is live-streaming its concert from an undisclosed location starting at 1 p.m. Meanwhile, national Irish rockers the Dropkick Murphys will be going live from their homes in Boston tonight at 7 p.m.