While we can't gather together in the Muni Lot with a spread of game-day snacks at the ready, Hi and Dry has scored a touchdown with The Hail Mary ($39.75). One look at the massive platter and you'll need a sideline replay to take in the sheer enormity of it. The half-tray is piled high with all our faves: wings, brats, chili, chips and queso reminiscent of those chilly days by the stadium.
Hi and Dry's executive chef Natasha Pogrebinsky wanted to bring the tailgating experience into the Tremont restaurant and into the homes of her customers. "It's a classic thing that you miss," she says. "Not being able to tailgate, the way we used to, working on chili the night before. We just kind of wanted to bring a little bit of that back and enjoy it in a safe way."
Perfectly crisp wings are piled high on the center of the platter with Pogrebinsky using her own blend of spices including paprika and curry for a pop of color and heat. "We pack them in with a lot of flavors," she says. "Curry has an international vibe that kind of ties the diversity of Cleveland in. So we're really proud of those."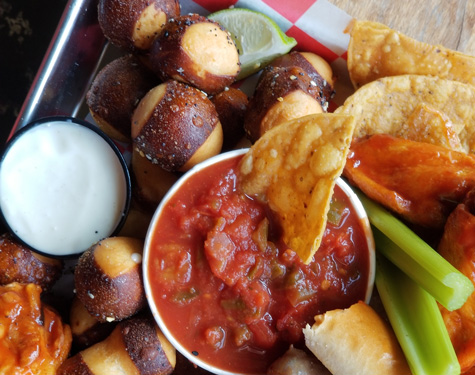 Don't overlook the cozy, straightforward bean and beef chili — a necessity for these brisk Sunday afternoons and can be utilized in a variety of ways. "It's a little more like a cross between a soup and a stew, so you can dip your nachos into it," she says. "You can eat it with a spoon, you can dip your bratwurst in the bun into it," she says.
While ordering the platter for takeout is an obvious touchdown for those wanting to create that tailgate experience at home, Pogrebinsky says Browns fans can also reserve a table at Hi and Dry to watch the big game and dig in to the tailgate snack platter in all its glory.
"It's impressive, it's fun. It just brings back that experience of sharing food and talking over sports," she says. "Anything we can do to kind of bring back a little semblance of normalcy or being able to enjoy things the way we do." 2221 Professor Ave., Cleveland, 216-566-9463, hianddrycleveland.com