For Ramat Wiley, family is integral to cooking. Wiley's Nigerian paternal grandmother was a chef, her own mother had been a social worker and before her father died, he took the time to teach Wiley one Yoruba word a day. She adopted one of those words, adun, which means flavor or sweetness, when opening Adun Spice Co. last July. By offering seven different hand-blended spice blends and ethically sourced salts, Wiley aims to liven up kitchens in Northeast Ohio by donating 10% of each month's sales to a local Cleveland charity or chef in need. "I [want] some sort of philanthropy to give back everything that was given to me," says Wiley. Here are three blends we love.
Citrus Garlic, $13
Wiley's love for lemon pepper wings inspired this blend. "It's the first one that I made," says Wiley. With roasted black pepper, lemon salt, roasted onions, lemon juice powder, thyme and parsley, this blend pairs well with roasted vegetables, pork chops, salad dressings, soups and even pasta.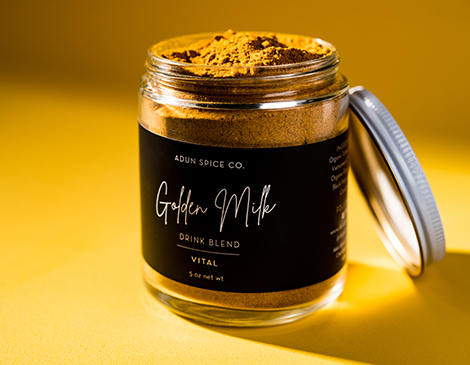 Golden Milk, $14
This warm, anti-inflammatory blend is comprised of turmeric, Vietnamese cinnamon, ginger, black pepper and cardamom. Wiley uses it as a versatile option for a variety of surprising dishes such as sauteed pears or sprinkling it over ice cream or cereal. "I put it in pancakes and oatmeal," says Wiley.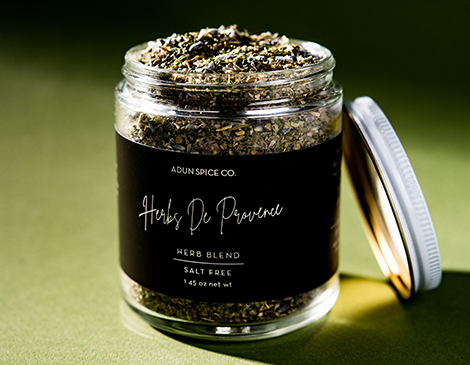 Herbs de Provence, $8
Inspired by recipe developer and YouTube star Chef Resha, Wiley concocted this blend of basil, tarragon, thyme, marjoram, chervil and lavender to add a deep, herbaceous flavor to meats, marinades, stews and cheese-based sauces. "The lavender brings that good floral balance to it," says Wiley.