When Jonathon Sawyer has an idea, he commits. He opened the Greenhouse Tavern in 2009, tapping into French cooking techniques and sourcing locally farm-raised foods. Trentina, which closed last year just shy of its fifth anniversary, paid homage to his wife Amelia's Northern Italian heritage with decadent pastas and foraged ingredients.
"I'm a romantic, and I'm very passionate about what I do," says Sawyer. "In my younger age, I really took the mind's eye of the restaurant, whatever it was, and I was literal with it."
Now traces of those concepts live together at Sawyer's, which opened in the bustling Van Aken District in November, where his finest dishes are enhanced by the most subtle twists in flavor and texture.
At the center of it all is a six-tiered wood-fired oven equipped with chapas, or one-inch thick steel plates that rest directly on coals. These allow Sawyer to cook a variety of foods such as whole chickens, duck, beets, octopus and more at various heights and temperatures, to create dishes that utilize the same tested ingredients in different ways.
"In terms of menu creation and flavor, it is a huge advantage," says Sawyer.
Here's the dish on three items we love.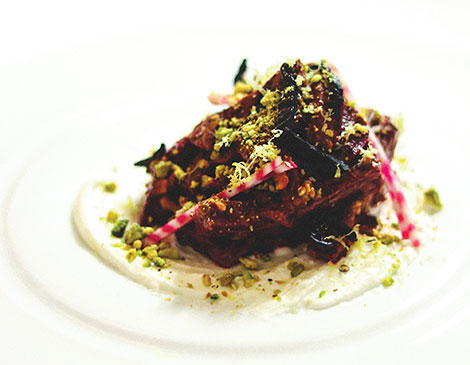 Beets Salad ($10)
There's little earthiness to this complex, multilayered dish, wherein three varieties of beets are cooked three ways. Bull's blood beets are slow-cooked inside of the wood-fire oven's ash bin for a slightly sour bite. Sweet candy-stripe beets are sliced and julienned, then joined by the house-made beet jerky. It all comes together with crushed pistachios, spicy mustard greens and whipped goat cheese. "It yields something [complex] that can be enjoyed simply," says Sawyer.


Salt-Baked Fish ($32)
This dish is presented in two parts. First, waiters show you the halibut encased in a catacomb of salt to explain the half-hour slow-poaching process that's cooked the fish. Then, within minutes, they bring it back deboned, slathered in a rich, aerated hollandaise sauce and paired with puffed mustard seeds, wild sumac and wood-roasted hasselback potatoes. "It really helps showcase what a well-sourced and perfectly cooked piece of fish can taste like," says Sawyer.




Strangolapreti ($12)
Pasta as an appetizer? Yes, please — but don't go into this dish thinking that it's just a holdover from Trentina. Featuring rye bread gnocchi stuffed with thick and creamy robiola cheese, crisp and tangy sauerkraut and smoked brisket supplied from Larder Delicatessen and Bakery, this starter tastes more like a deconstructed Reuben. "The pasta by itself is undeniably Italian," says Sawyer. "But as you start to eat the rest of the dish, you start to realize it's a little bit more complex."