If you're like us, your wine and cheese consumption has skyrocketed in the last year. Abbey Hammer-Lane noticed a need for a local wine pairing delivery service and started Traveling Wine Merchant last August. The Lakewood-based company, which currently carries 40 different wines from small-batch and family-owned wineries, also makes and delivers charcuterie boards.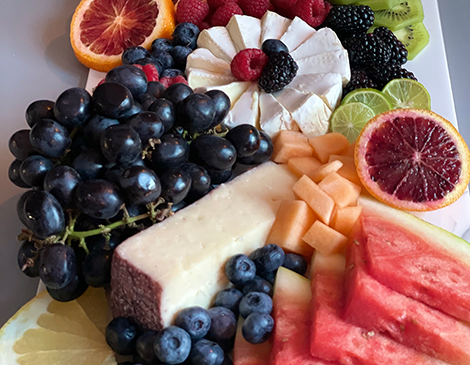 "I love building charcuterie boards for family gatherings, which obviously was not happening at the time," says Lane. She takes color and presentation into consideration when constructing the ultimate snack pairing, and she factors in how well items will transport and how fresh they will taste when delivered.

Lane also uses local items when she can such as edible flowers from Waterfields and Lake Erie Creamery cheese. The results are magnificent masterpieces such as a board featuring a two-tier triple-cream brie cake surrounded by grapes, cherry tomatoes, olives, meats and crackers. She pairs it with a bottle of Aimery Brut, a sparkling wine with hints of green apple and white melon. "If you ever want to venture out and experience some different flavors and a different wine, we give you that experience," she says.