The seemingly never-ending brewery boom is forcing beer makers to find new ways to set themselves apart.
That's especially necessary when you're trying to pull beer lovers from Cleveland and Akron to Louisville, Ohio. Luckily, UnHitched Brewing has found an absolute dynamo in chef Alex Najar and a beer geek of the highest order in Garrett Conley, who formerly worked at Chicago's Half Acre Brewing and Platform Brewing Co. The 7,500-square-foot space, which features a 5-barrel system and seats 110, once housed a beloved community bowling alley, the lanes of which have become the tables and bars.
"You can't be like every single brewery out there," says Najar of UnHitched Brewing, which opened in late 2019. He was hired in March 2020 and spent multiple shutdowns shuttling delivery beer and refining the food program.
On a menu of house-made pizza, modern sandwiches and funky appetizers, Najar twists seemingly straight bar grub with Mediterranean-inspired ingredients and spices. The stunner is the Hearth Fired Pita ($10), where Najar decorates pizza dough with za'atar before it puffs up in the wood-fired oven and gets served with creamy farmer cheese drenched in roasted garlic oil and sumac.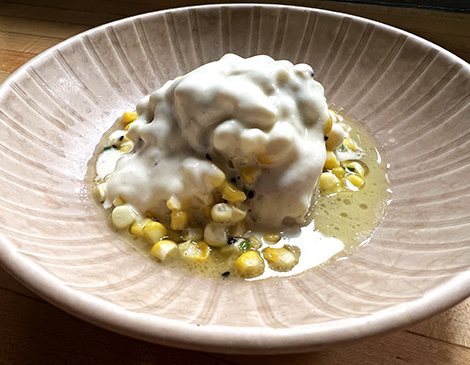 "There's only 15 things on the menu," explains Najar, "so everything's gotta be perfect."
But the chef's table tasting menu is where Najar truly goes crazy. From a high-top bar overlooking the open kitchen, you and up to four friends spectate as Najar prepares a four- to six-course tasting menu. The private, $100-per-person experience typically comes with a beer, cocktail or wine and a detailed explanation from the chef and brewer on the pairings.
During a recent visit, that unforgettable pita kicked off a surprising lineup of Asian-flavored grub, such as a gorgeous, complex Vietnamese steak tartare with smoked oyster aioli, sesame, an egg yolk and an umami rice cracker. Other courses included fermented corn with scallops that tasted of seafood chowder and a koji-aged beef rib served lettuce-wrap style with Thai basil and persimmon miso barbecue sauce. A perfectly crispy rosette pastry filled with vanilla bean custard and blackberry jam rounded out the meal.
Sound good? Sorry. You likely can't get this again. Each of Najar's tasting menus are unique, typically based on the diners' dietary restrictions or favorite flavors and the chef's current obsession.
"If there's a hit, I'll probably run it a few more times," he says, "I don't like to repeat myself if I don't have to."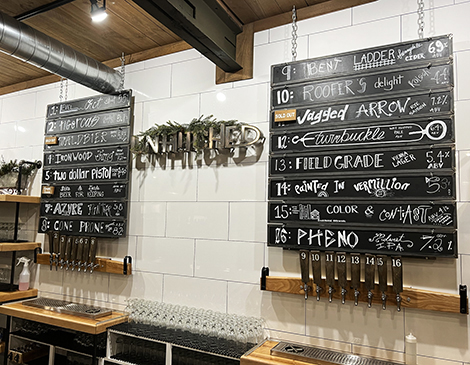 On the 16 taps, Conley jukes the typical IPA-heavy menu for one more balanced and focused on lagers and saisons. Every ingredient is sourced from the Midwest with hops coming from Ohio and Michigan, not California or the Pacific Northwest. The Ironwood Fang, a spelt saison made with Ohio-made cascade and chinook hops, is a perfect example, while the Two Dollar Pistol, a carbonated Genesee-inspired cream ale packed with flavors and aromas of fruit and baked goods, impressed.
Najar's obsessively creative nature instantly endeared him to UnHitched owner Adam Longacre, who has equally lofty ambitions for his brewery.
"Alex told me in that first interview that he wants to win a Michelin star — we don't even have Michelin stars in Louisville," says Longacre. "I hired him the next day."
With the food and beer covered, Longacre's goal is to create a beacon of creativity and a cultural hub in downtown Louisville, which has already started attracting visitors thanks to the Umbrella Alley, an Insta-worthy art installation that features a canopy of colorful umbrellas. In the summer, UnHitched closes down Mill Street to make room for a string-lit patio and beer truck. Already, In The Mix artisanal bakery opened adjacent to UnHitched with a space facing Main Street, a perfect daytime companion to the Uptown Joe coffee shop.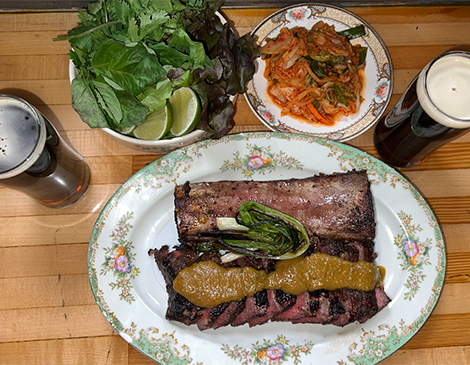 It's a drastic difference from just five years ago, proof of the power of the plate and the pour and a good reason to put the Canton area on your travel schedule.
"It's great because I get to educate the people of Louisville a little bit," says Najar. "These are ingredients you'd never see at a normal brewery, especially in Ohio."