Decades ago, when this rustic corner cafe was a Baskin-Robbins, little Bridget Thibeault used to walk there from her house and think, I want to work here someday. Now she owns the storefront, and it still feels like a place you don't want to leave. The homey atmosphere starts with the worn, wooden floorboards and extends to the macarons, crepes and cakes in the cases. Her recipes, many of which she developed years ago, don't overwhelm the palate with a sugar rush. There's a restraint in her fancy, delicate pastries. "It's more the European way," she says. "It's not that we're doing things so differently from other places; it's just that we're doing things with fresh, natural ingredients." There was a line out the door as soon as Luna opened seven years ago, which prompted Thibeault to add breakfast and lunch. With the popularity of her creations, from brioche to quiche, she launched a second outpost in Moreland Hills in June. But the Cedar Fairmount location shows no signs of slowing. "We get lots of locals, lots of regulars," she says. Probably even a few neighborhood kids who hope to work there one day. 2482 Fairmount Blvd., Cleveland Heights, 216-231-8585, lunabakery.com

Our Pick: Made with simple ingredients, the cutout sugar cookies ($2 and up) delight with intricate, fun designs and shapes —think Christmas trees and rainbows. Each vanilla-tinged cookie is decorated in thick royal icing by Cleveland Institute of Art students.


Cheddar Herb Scones

"We like to have a nice mix of sweet and savory. It's a nice breakfast treat because it doesn't have the sugar." — Bridget Thibeault, owner of Luna Bakery & Cafe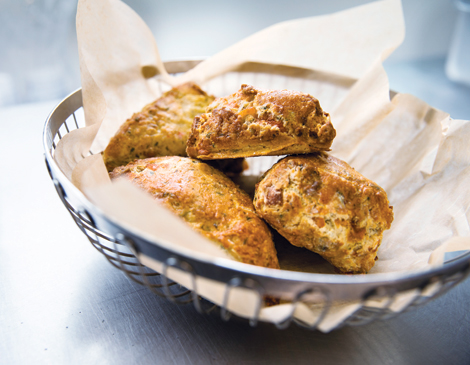 2½ cups all-purpose flour
2½ tablespoons sugar
2 tablespoons baking powder
1 teaspoon baking soda
½ teaspoon salt
¼ teaspoon ground pepper
5 ounces of cold cubed butter
1¼ cup cheddar cheese (grated or cubed)
2½ tablespoons freshly chopped basil, parsley, thyme and dill
1 cup plain yogurt
egg wash
Mix all-purpose flour, sugar, baking powder, baking soda, salt and ground pepper in a large bowl. Toss cold, cubed butter into dry mix. Using a pastry cutter or food processor, pulse the butter into the dry mixture until pea-sized and sandy. Toss dry mix with cheddar cheese (grated or cubed) and freshly chopped basil, parsley, thyme and dill. Make a well in the center of mix and add plain yogurt. Mix with hands quickly but gently until dough forms a loose ball. Press dough into an 8-inch circle on lightly floured counter and cut into 8 triangle scones. Freeze or refrigerate until chilled. Preheat oven to 350 degrees and brush each scone with egg wash. Bake 25-30 minutes or until golden and firm. Cool and serve.