With a moniker that implies movement and change, the popular Cedar Fairmount bakery embodies the ideals of evolution and progress. "With bread, there's nowhere to hide imperfections," says partner and executive chef Brian Evans. "It's just three ingredients, so it's constantly giving you a chance to improve, subtly, every day." And that they do, by fine-tuning the dough's resting times, the type of butter used in the croissants or sending bakers to observe at other bakeries. "We joke that we'll make little tweaks that no one notices until one day someone says, 'This tastes really good today,' " says Evans. From semolina epi loaves to braided challah, everything is produced by hand — a move inspired by owner Adam Gidlow when he opened On the Rise in 2001. "I wanted to work with my hands and be creative," he says. "I loved the early morning hours, creating something from start to finish." That hardworking, handcrafted mantra translates to Gidlow's second location, which is slated to open this month inside the new Van Aken District's Food Hall. "There's a skilled set of eyes on everything we produce," Gidlow says. "We're not rushing through anything." 3471 Fairmount Blvd., Cleveland Heights, 216-320-9923, ontheriseartisanbreads.com

Our Pick: "A baguette is the best way to judge whether a bakery knows what they're doing," says Gidlow. With a firm, crispy crust and a pillowy texture throughout, this version ($2.75) proves On the Rise knows best.

Sticky Buns:
"These are nice, flaky and buttery. We make our own brown sugar, which makes it sugary and gooey." — Brian Evans, partner and executive chef at On the Rise Artisan Breads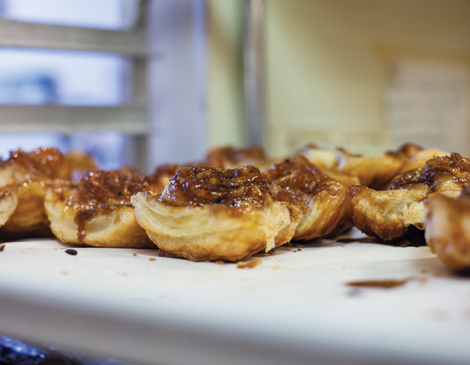 1 package active dry yeast
1½ cups warm milk
1 tablespoon sugar
2 tablespoons extra-virgin olive oil
2 egg yolks
1 cup unbleached all-purpose flour
½ cup sugar
½ teaspoon salt
3½ to 4 cups flour
½ stick melted butter
¼ cup brown sugar
Pinch of cinnamon
In a large bowl, dissolve active dry yeast in warm milk. Stir in sugar and extra-virgin olive oil. Set aside until foamy, about 10 minutes. Whisk egg yolks into the yeast mixture until well blended. Whisk in unbleached all-purpose flour, sugar and salt. Cover with plastic wrap and let stand in a warm place for 1 hour. Whisk in flour, adding 1/2 cup at a time, switching to a wooden spoon when necessary, until too stiff to stir. Turn the dough onto a floured work surface and knead until smooth, about 5 minutes, adding more flour 1 tablespoon at a time as necessary if the dough is sticky. Place the dough in a lightly oiled bowl and turn to coat. Cover bowl with plastic wrap and let dough rise in a warm place until doubled, about 1 hour. Preheat oven to 375 degrees. Place the dough on a floured table and roll it into a rectangle to a thickness of about 1/2 inch. Brush the surface with melted butter and sprinkle with a good layer of brown sugar (1/4 cup or to taste) and a pinch of cinnamon. Roll it up and cut into pieces about 2 inches thick. Place in a baking pan with high edges and keep each roll about an inch apart. Let sit for about 30 minutes at room temperature. Bake for 30-40 minutes or until the center of the roll reaches 195 degrees.