Cleveland could never have New York-quality bagels, right? We're missing the key ingredient: New York City water.
"That's a load of horse shit," says owner Dan Herbst. "I don't know how they got away with pretending like the bagels are magic, but they're not."
So it's no surprise that Herbst, who started the Detroit Shoreway bagel joint along with Geoff Hardman as part of the LeBron James-produced CNBC show Cleveland Hustles, has his own style, boiling hand-rolled bagels in a malt solution for a sweeter flavor profile. Herbst opts for an everything bagel with chorizo chipotle cream cheese ($4), but no matter what you order, you'll find a level of care seen in very few places.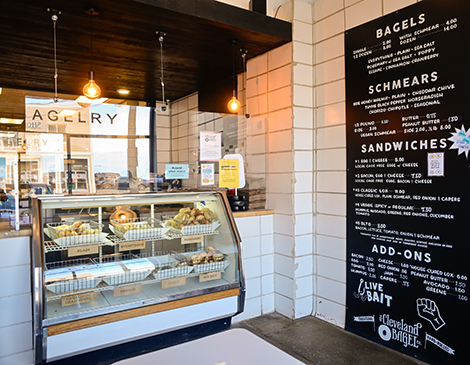 "Most people don't do it this way because you need a lot of people and you need a lot of time," says Herbst. "But I believe we make bagels the right way." clebagelco.com
Our full list of 25 Best Restaurants, 10 Best New Restaurants and reader-voted Silver Spoon Awards is your guide to Cleveland's best bites.