To most meat producers, if it's not a fillet, a strip steak or a tenderloin, it might as well be ground beef. Boutique butchers beg to differ. "We bring in the entire animal," says Taylor Steinhoff, owner of the Butcher's Pantry in Solon. "We have absolutely every cut available." We talked to three local butchers about cuts you won't find at the supermarket and how to prepare them.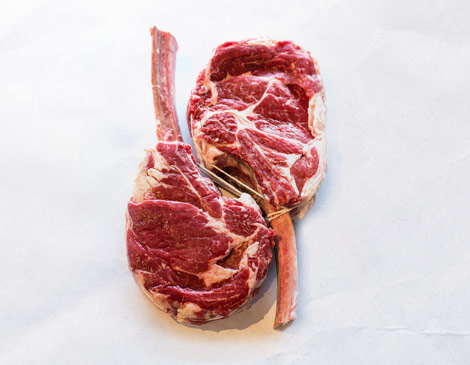 The Butcher's Pantry Tomahawk Rib-Eye ($16.99 per pound)
Why buy: You won't need to chop down the number of party invitations with this cut of beef. Approximately 3 pounds, the Fred-Flintstone-style cut, complete with an 8- to 12-inch rib bone, feeds four to six people. "Keep it away from the kids," says Steinhoff. "You're not only getting a bunch of meat, you're getting a weapon."
Pro tip: Season with heavy salt and pepper and grill for about 10 minutes per side. "When you cut into it, you're going to have a nice crust on the side and caramelization," he says. "In the center, you're going to still be at medium-rare."
Meal deal: Steinhoff suggests complementing the meat with seasonal vegetables like zucchini and squash. "You want to go with something that's light and fresh," he says. 33475 Station St., Solon, 440-999-0990, thebutcherspantry.com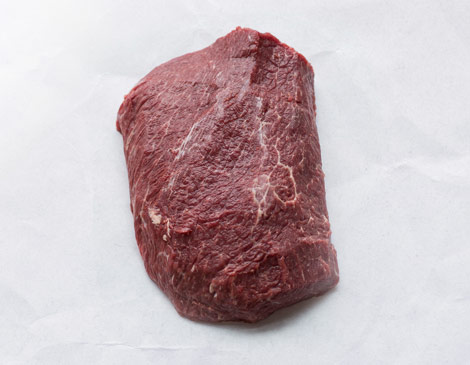 Ohio City Provisions Shoulder Clod Heart ($11 per pound)
Why buy: With some creative knife work, owner and chef Adam Lambert created this one-of-a-kind cut by cross-cutting a muscle traditionally tied-off as a roast into a steak. "The shoulder clod is a muscle of locomotion," says Lambert. "With that extra movement, you're going to get a more beefy flavor."
Pro tip: Heat a cast-iron skillet so the meat sizzles. Sear the first side for three minutes, then flip. Throw in butter, a crushed garlic clove, thyme and rosemary sprigs, and salt. "Then tilt the pan to the side and baste the steak in that hot butter," he says.
Meal deal: Saute fresh, seasonal veggies that don't outshine the glorious meat. Lambert suggests topping it all with an herbaceous salsa verde. "In our culture, steak is always the centerpiece of the plate," Lambert says. 3208 Lorain Ave., Cleveland, 216-465-2762, ohiocityprovisions.com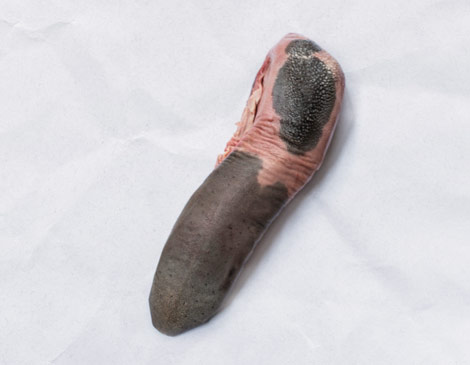 Saucisson Beef Tongue ($7.99 per pound)
Why buy: This is for those who watch Bizarre Foods with Andrew Zimmern and think, I'd eat that. "[The tongue] is really well-used, especially on a grass-fed cow," says co-owner Penny Barend. "It's going to have a softer texture once it's braised."
Pro tip: In a Dutch oven, braise the tongue in beef stock seasoned with cumin and coriander for four hours. Peel the skin, which holds the taste buds, while it's still warm with a paring knife. Dice and fry in bacon fat. "It'll be crispy on the outside and then really, really tender on the inside," says Barend.
Meal deal: Barend suggests serving a Mexican-influenced treat you'll want to lick up: a tongue taco. Use the fried cubes with chopped cilantro, onions and hot sauce. "I grew up in San Diego," she says. "It's all about spicy." 5324 Fleet Ave., Cleveland, 216-303-9067, saucissoncleveland.com