1. Roasted Potato Salad

"The goat cheese is mild but adds to the sweet and savory flavor profile when paired with the sweet potatoes." — Shawnda Moye, chef and owner of Biscuit Heads

Preheat oven to 375 degrees. Peel and cut
1 medium sweet potato into 1-inch cubes and lay out in a single layer on a roasting tray.
Drizzle with 3 tablespoons extra-virgin olive oil and a pinch of salt and pepper. Cook for 25-30 minutes, then set aside to cool.
Heat oven to 500 degrees. Place an empty baking sheet in the oven for 5 minutes. Season 2 8-ounce skin-on salmon fillets with 2 teaspoons extra-virgin olive oil and a pinch of salt and pepper. Reduce heat to 275 degrees and remove hot baking sheet.
Carefully lay salmon, skin-side down, on the hot baking sheet. Roast for 10-15 minutes.
In a small bowl, create a vinaigrette by whisking together 3 tablespoons white balsamic vinegar, 2 tablespoons extra-virgin olive oil, 1/2 teaspoon kosher salt and 1/2 teaspoon fresh-ground pepper.
In a large bowl, combine cooled sweet potato with 5 ounces mixed greens, 3/4 cup cooked corn kernels and 3 ounces goat cheese.
Drizzle the vinaigrette over the top and toss to coat evenly.
Top with salmon, skin removed, and serve.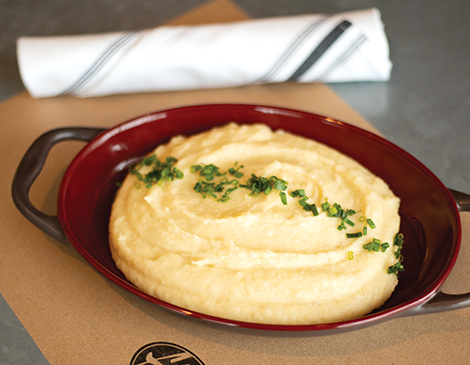 2. Smoked Potato Puree
"This is an approachable concept with a twist. The smoke gives the potatoes a meaty flavor — any vegetarian who used to eat meat will love these." — Matthew Mytro, chef and co-owner of Flour

Soak a couple handfuls of wood chips in water for 30 minutes. Line the bottom of a deep metal pan with aluminum foil. Place the soaked wood chips in a foil-lined pan in small piles and cover with a perforated pan. Place 5 Idaho potatoes in your perforated pan and cover with aluminum foil. Set the pans over your burner and turn burner to medium. When smoke starts, set a timer for 30 minutes and turn burner off when timer is up. Remove potatoes from pan and place in a pot with enough cold, lightly salted water to cover. Bring water to a boil and reduce to simmer until potatoes are tender. While potatoes are simmering, in a separate pot, slowly warm 1 pint of heavy cream and 1/2 pound of butter until hot. When tender, drain potatoes from water, peel while still hot and run the potatoes through a ricer. Stir in heated cream and milk and season with salt to taste.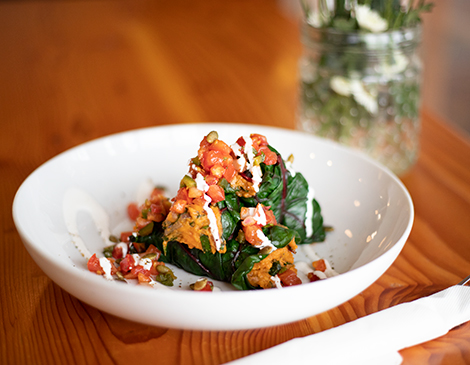 3. Swiss Chard Enchiladas
"Sweet potatoes have less starch than a [white] potato and act more like pumpkin in many dishes. I always add some agave to enhance the inherent sweetness of the potato." — Justin Gorski, chef and co-owner of Cleveland Vegan

Preheat oven to 350 degrees.
Toss 1 cup pepitas (pumpkin seeds) with 1 tablespoon oil, 1 teaspoon salt and 1 teaspoon cumin, then spread on a baking sheet and roast for 15 minutes. Set aside. Fill a medium stockpot with water and bring to a boil. While the water is heating up, devein 1 bunch swiss chard and prepare a medium-sized bowl with an ice bath.
Once water boils, submerge the chard in boiling water for 15 seconds, then place in the ice bath for 30 seconds, keeping the hot water in the pot. Place the chard on a baking sheet with paper towels to dry off.
Cut 2 sweet potatoes into bite-sized pieces, place in boiling water and cook until tender.
Drain the pot and set aside cooked sweet potatoes. Add 2 tablespoons oil and 1 large diced onion to the same pot and saute until tender.
Cut 1 bunch kale into 1/4-inch ribbons, add to the pot once onions are translucent and cook for 2 minutes. Once done, take pot off the heat and add in the sweet potatoes. Mash the mixture together.
Add 1/2 of the roasted pepitas, 2 tablespoons lime juice, 1 tablespoon cumin, 2 tablespoons New Mexico chili powder and 2 tablespoons agave nectar.
Add salt and pepper to taste and more chili powder if needed. Lay your swiss chard "shells" out the long way.
Place a spoonful of the sweet potato mix on one end and roll up. Sprinkle with remaining pepitas and top with 1 cup salsa of your choice and a dollop of sour cream.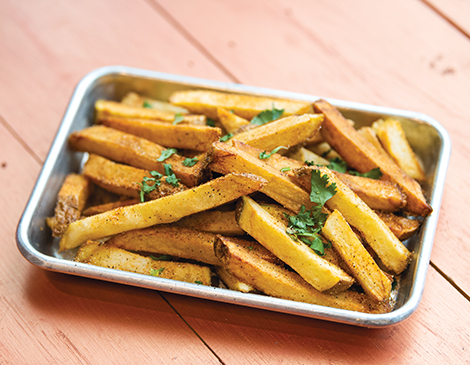 4. Double-Fried Spicy Fresh Frites

"Proper cooling of the fries in between steps allows for the center to be fully cooked and soft. The second fry crisps the outside and makes for an extra crispy and delicious skin." — Heather Doeberling, executive chef and co-owner of Boss Chick N Beer

Heat a deep fryer or pot of vegetable oil to 300 degrees.
While that's heating up, cut 4-5 russet potatoes into batons, about 1/2 inch wide, leaving skins on. Place each cut piece into a container of cold water for holding so that they won't brown.
When all potatoes are cut, drain into a colander and rinse well.
Dry thoroughly before adding potato batons to your deep fryer or pot of oil, maintaining 300 degrees, and cooking for 4 minutes. Remove potatoes in batches and cool to room temperature.
When ready to serve, turn the heat to 350 degrees and cook for 3 more minutes.
For seasoning, combine 2 tablespoons kosher salt, 1 tablespoon black pepper, 1 tablespoon brown sugar, 1 tablespoon white sugar, 1 tablespoon garlic powder, 1/2 teaspoon onion powder, 2 teaspoons paprika and 1/4 teaspoon cayenne pepper. Sprinkle over hot fries and serve.