Shuxin Liu had to warm up to cooking. As an Ohio State University junior, he decided his graphic design major just wasn't cutting it.
"I was like, I don't want to be in front of the computer all day at work and then go home and probably do the same," says the 34-year-old, who was born in China and moved to Cleveland at 10 years old.
With an uncertain future, Liu got a hand from his uncle, who helped him land a cooking job at Japanese restaurant Akira in Solon. There he developed his knife skills, learning to work quickly and efficiently, and eventually rose to the position of sushi chef. But the passion of a chef still wasn't fully ignited.
"The first two years, I didn't develop an interest," he says. "As I did more of it, it gave me inspiration."
With his confidence still simmering, Liu moved on to Dante Boccuzzi's Tremont restaurants Dante and Ginko, where the shift to more Western-influenced spots pushed him creatively.
"They look for different textures, different tastes, different balance," he says.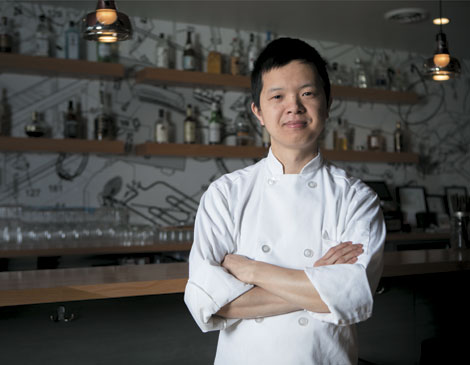 But not until he traveled and worked at restaurants in New York City, Atlanta, Houston and Seattle did Liu begin to come into his own.
"That's when I knew what kind of restaurant I wanted to have, what kind of style I wanted, the way I wanted to run the restaurant, and the way I wanted everything," he says.
Of course, opening a restaurant takes time. So in 2015, Liu took a job at Eric Williams' Momocho while looking for a space. In July, Liu opened Xinji Noodle Bar in Ohio City.
The brick wall space, black-and-white graphic behind the bar, neon-blue chairs and industrial-hip lights all fit into the hipster vibe of its Lorain Avenue location (or SoLo as its residents lovingly call it).
It's the first indicator that this isn't your traditional Asian restaurant. The 60-seat spot has a purposeful Western slant to it with invention, creativity and farm-to-table ingredients just as meaningful as the depth of flavors and tried-and-true techniques of Liu's Asian influences.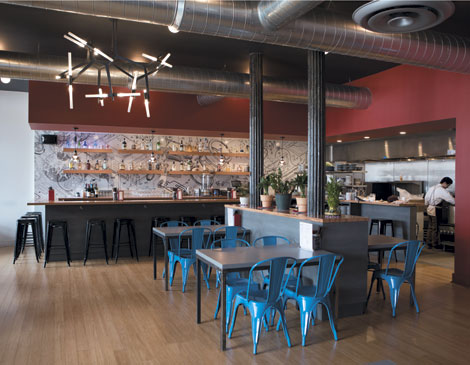 Although the focus of the menu is dedicated to ramen, there are plenty of other options to round out a meal here.
Coated in a not-too-spicy Sriracha sauce and served with pickles to help cool things off, the hot wings ($7) are the smarter choice for sharing, but the Korean fried chicken ($9) shouldn't be overlooked.
Using a mixture of potato starch, cornstarch, rice flour and a little bit of egg, Liu coats chicken drumsticks and then fries them only once instead of twice — the traditional method.
"When we're double-frying it, you lose a lot of the juiciness of the meat," he says. "So we just fry it at a higher temperature for longer."
It yields a crispy coating that gets amped up by Liu's spicy chili paste. What starts with a base of la jiao jiang, a Mandarin chili paste, gets transformed into a thick hot sauce with ketchup, vinegar, garlic and Vietnamese and Chinese pepper pastes.
The heat is a slow build, with that first encounter sneaking up on you. The aftershocks may cause you to sweat, cough, gasp or drink copious amounts of water. But once you've acclimated to the fervor of the dish, you won't be able to stop coming back for more.
The bao (or steamed buns) inject a little whimsy into the menu. With three options — pork, chicken and vegetarian ($7 each) — it's worth trying them all.
The chicken comes with a sweet and spicy sauce, pickles and Taiwanese cabbage. "It's more like a play on McDonald's McChicken or Wendy's spicy chicken sandwich," says Liu.
The pork currently resembles a pulled pork sandwich with lo mein lettuce instead of coleslaw, but look for a sliced roasted pork alternative for spring. Liu reinvents the vegetarian option every few weeks — think tofu, mushrooms and taro — to keep things fresh. Diners will soon see a braised eggplant version with miso.
To create a rich, layered bowl of ramen, it all starts with good bones. It's a laborious process to create his pork broth, which requires the bones to boil for 48 hours before adding meat. For the lighter chicken broth, Liu boils chicken bones along with the meat for four hours. Aromatics such as scallions, ginger and herbs are added to both. The final step is dropping in noodles — toothsome wavy Japanese ones from popular Sun Noodle — and whatever other ingredients to build his five versions of the dish, such as the shio ramen ($12).
The light chicken broth dish comes simply with wood ear mushrooms, napa cabbage and naruto, cured fish cakes with a pink swirl in the middle. It's the closest to the kind of ramen Liu enjoys eating.
"I for sure like the more basic," he says, "the more boring noodle in general."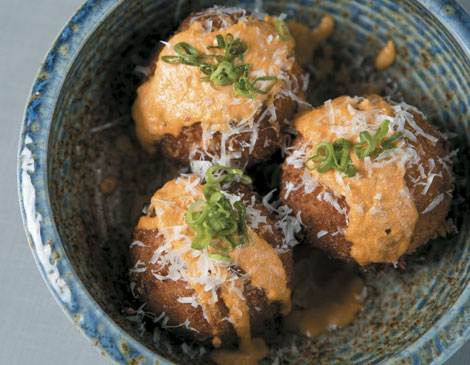 The spicy miso ramen ($12) remains the most popular option and is one of two that uses a richer, heartier pork and chicken broth. With pork, corn, wood ear mushrooms and bean sprouts, it's a firecracker of a dish that has layers of complexity.
With any of the ramen options, diners can add extras for a $1 each such as pickled mushrooms, bean sprouts, menma (a citrusy, marinated bamboo shoot) or soy eggs.
"I feel like noodles in general are kind of new to Cleveland or even to the Midwest," says Liu. "I want to make sure all my dishes are able to help introduce what we do to diners."
As a young chef just starting out with his first restaurant, Liu finally has that fire in his belly — a drive and passion to bring his own unique spin on what an Asian restaurant is to Clevelanders. But he's taking it one dish at a time.
"I'm kind of like Alice in Wonderland," he says. "In a way, it's lost and at the same time, it's a great adventure and new things happen."
So he's learning what works, what diners respond to and what defines him. He's got plans and ideas such as expanding the menu to include entrees. Think a bone-in pork chop or a seared branzino with preserves, Chinese grain mustard and pepper flakes.
"Hopefully, we do a good job at introducing a new dish, new ingredients, a new region of food to customers," he says. "I'm trying to do something a little different from your everyday food."
Try This: Don't leave without trying the kimchi ball ($4), a mixture of fermented vegetables, gochujang, mozzarella and rice that's breaded and fried. It's a fierce appetizer especially when eaten with the accompanying kimchi aioli. Happy Hour: The happy hour from 5 to 6:30 p.m. each day allows wallet-conscious customers to score discounted prices on bao, hot wings, kimchi balls and select cocktails and beer.
When You Go: 4211 Lorain Ave., Cleveland, 216-465-2439, xinjinoodle.com
Tue-Thu 5-10 p.m., Fri & Sat noon-11 p.m.