On any given day, Dr. Diana Ponsky barely has 15 minutes to spare. As the founder of Ponsky Facial Plastic Surgery in Beachwood — open since 2016 — and a volunteer at Case Western Reserve University, she balances her day on a tightrope.
On a Wednesday, for example, Ponsky is likely to perform surgeries all day before she zips over to Beachwood High School, where she gives a lecture on what the students need to consider if they're interested in her field. On Monday, she's "half-mom, half-doctor" spending time with her three grade-school daughters.
"She somehow runs the family, runs the household, can fix anything in the house, pays the bills, helps make dinner and never says a word about it," says Dr. Todd Ponsky, Diana's husband and pediatric surgeon.
For Diana, the hectic schedule is worth it when she steps back and looks at the impact of her work. Her practice offers most facial procedures, from simple injectables to the more invasive rhinoplasty — a nose job.
However, the doctor extended her reach into education and charitable initiatives long ago, working with local charities like Medworks where she provides free healthcare, no questions asked.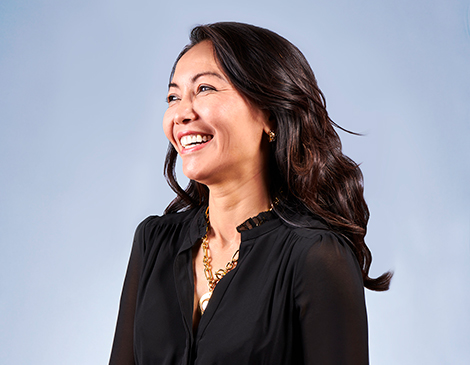 "When the Ukrainian war happened, my kids helped Medworks with collecting blankets and stuff so we could ship it overseas," she says with a proud smile.
Similar humanitarian efforts have drawn Diana for years. Aside from Medworks, she's done two free procedures for Faces to Faces — a charitable arm of the American Academy of Facial Plastic and Reconstructive Surgery — in which she helped survivors of domestic abuse recover from facial injury.
In college, even before med school, Diana took a trip to Siberia with
Operation Smile, known for its work correcting cleft lips and palates.
At the mention of Siberia, the doctor makes a connection and chokes up a bit, thinking of her own family and the dozens of people they depended on through the years — for survival and to help them build a new life.
"When I came to this country," she says, "it was through the help of others."
Born Diana Chuong, her family first came to the United States as South Vietnamese refugees.
Her parents were merchants living on the southern coast and there was ongoing war incited by the North, an authoritarian communist state known as the Democratic Republic of Vietnam, fighting for full control.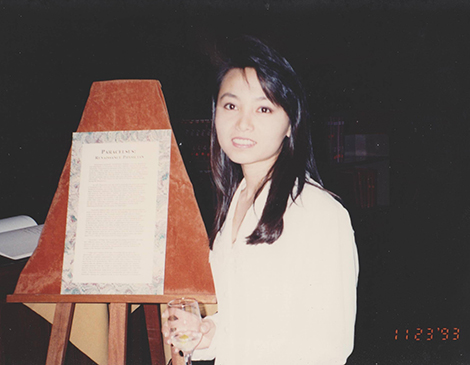 "This was toward the end of the war, when the North was burning everything in the South," Diana says. "My family tried to stick around as long as they could. And they finally just decided it's too much political unrest, very much like Ukraine [currently]. So they left. And back then, the country didn't allow you to leave."
What ensued was harrowing, with a 5-year-old Diana barely old enough to understand broad details.
They left in the middle of the night, buying their way with gold bars, she says, recalling the turbulent fall of Vietnamese currency at the time. The journey was not without incident.
"You never knew if your ship was going to make it," she recalls decades later. "You had to go on hope and [trust] this little raft. My grandmother got captured [and] had to go back home; our whole family left but in different boats, and her boat got captured. And then she was thrown in jail in her late '60s with my great-grandmother, who ended up dying there."
The rest of the Chuong family eventually completed the voyage. They ended up on a neutral island in Indonesia, where they awaited sponsorship from another country. Housing was bare and crowded, but they were more or less safe — finally.
Following that fateful getaway, Diana could've ended up in Canada, the United States, Australia or Paris — all open countries accepting refugees.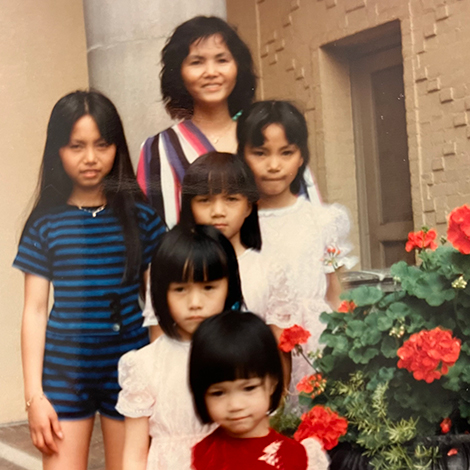 However, it was a branch of the Catholic Church in the U.S. that granted them refuge. The church brought Diana's family to the country and moved them as close as possible to distant relatives in Allentown, Pennsylvania.
Diana pauses for a moment recounting the story, crying in a consultation room as she thinks again about her children sending blankets to Ukraine.
"I was telling them, 'That's how we were helped when we were younger,'" she says.
In Allentown, Diana's mother took up work at a Dunkin' Donuts and her father washed dishes at a local restaurant. All the while, her parents stressed the importance of studying, of getting good marks in school for the sake of a brighter future.
After a few years, they made the move to New York City in search of better opportunities. While they stayed there for a time, Diana's mother eventually moved back to Allentown, bouncing Diana back and forth between Pennsylvania and New York City before she decided to attend Stuyvesant High School, a specialized and prestigious college prep school in the big city.
"[My mother] thought I was just goofing around in New York and she threatened to take me back to Allentown," Diana says. "And we convinced her — a teacher of mine and his wife convinced her — to let me stay to go to the high school there."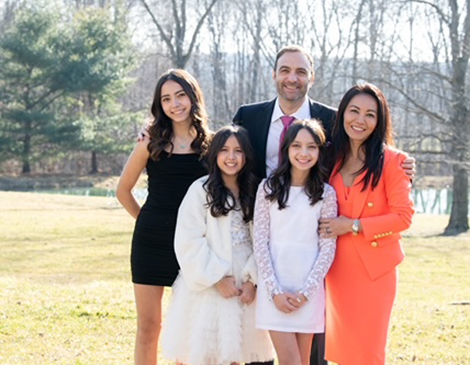 It was at this time that Diana first glimpsed the medical profession. Along with attending Stuy, she found herself working for Dr. Lilianna Sauter, a Swiss dermatologist on N.Y.C.'s Park Avenue, who took Diana under her wing. A few times, she brought Diana with her to the National Academy of Science's lectures or to local museums, making the young student take notes.
In retrospect, she became Diana's role model — both as a medical professional and as a woman navigating a male-dominated space. Before her passing, Sauter was honored as a Fellow of the American Academy of Dermatology and worked as a foreign medical graduate for the Mount Sinai staff in N.Y.C. — achievements worth celebrating, Diana says.
When the time finally came for med school, Diana set her sights on Georgetown University, where she graduated in 2000 and eventually met Todd, who would become her husband.
As a college student, the urge to pay back years of help kicked in fast. She took that opportunity in Siberia assisting with Operation Smile. But it didn't take long after graduating for Diana to involve herself with Ponsky Family charity work, assisting with MedWish — founded by Todd's Brother, Dr. Lee Ponsky — which provides medical surplus supplies to people in need.
By 2012 she took part in her first Faces to Faces surgery and continues working regularly with Medworks, too.
While things progressed quickly for Diana, so too did Todd's career. Going into helper mode once again, she dedicated herself to his success — at times putting her own momentum on the back burner. With Todd's career in the driver's seat, Diana followed him from place to place.
When Todd needed to finish training in Washington, D.C., Diana stayed and worked a temporary job at the Veterans Affairs Hospital. When Todd needed needlescopic surgery training in Denver, Diana followed.
So when the time came for Diana to focus on her goals — namely, establishing a private practice with work-life balance in mind — Todd knew it was time to hand over the reins. Diana opened Ponsky Facial Plastic Surgery in 2016 in Beachwood after the couple returned to the Cleveland area. When Todd later accepted a position at the Cincinnati Children's Hospital, he told them that he would not be relocating.
"My wife who followed me all over everywhere and never said a word about it? Well, now it's her turn," Todd insists. "They asked me to move down there, and I said I cannot because it's Diana's turn. So, I drive there."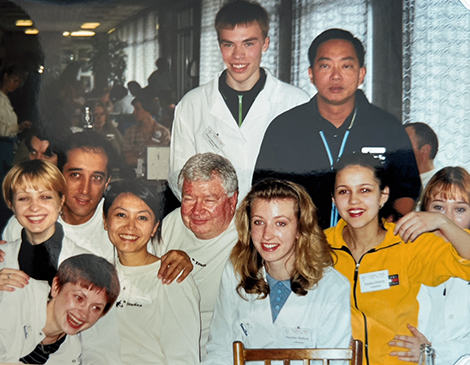 In the past six years, Diana has been able to grow her practice into one of the most successful in the area, serving upwards of 300 patients a year. In tandem with her work-life balance goals, the surgeon finds time to give back to her community through charitable healthcare and lessons she teaches at local high schools and Case Western Reserve University.
"I've had mentors and role models who've shown me that persistence and hard work are always admired," she says. "I want to continue to pay that forward by helping others and being an example to others."
Get ahead of the weekend by signing up for our free weekly "In the CLE" newsletter — your guide to fun throughout The Land. Arriving in your inbox every Wednesday, this weekend to-do list fills you in on everything from concerts to museum exhibits — and more. Click here to subscribe.