Dottie Heller moved from Chicago to Northeast Ohio to be closer to her daughter and grandchild more than 10 years ago. But being near her family meant leaving behind a community of people she socialized with all the time.
"I had wonderful friends back in Chicago," she says. "When I moved here, I had no one."
Outgoing and active, the 72-year-old found it hard to adjust without the robust social life she once enjoyed.
"I felt really, really lonely," Heller says.
While working part time at KeyBank, she began looking for homes. Heller toured Pioneer Ridge in North Ridgeville, a Pulte Homes development in the Del Webb portfolio of 55-plus active living communities. Unlike assisted living or continuing care retirement communities, Pioneer Ridge doesn't offer nursing home facilities or health care professionals as a part of the package.
But there is a significant amount of social programming and community involvement from the Pioneer Ridge homeowners association. Heller liked what she saw and bought in.
A single woman living on a fixed income, she built a 1,200-square-foot home within her budget in a neighborhood filled with people a lot like her.
"We're all 55 and older, so if you are having a 'senior moment' no one is going to hold it against you," she laughs. And making friends is easier with plenty of opportunities to attend fitness classes, play games, and enjoy happy hours and dinners.
All those activities also make it less likely residents become sedate, detached and depressed, says Michelle Brody, lifestyle director at Pioneer Ridge. "In this type of environment, that doesn't happen," she says.
Indeed, there's increasing evidence that social engagement preserves cognitive health and stops the aging blues. The Rush
Alzheimer's Disease Center in Chicago, which studied 700 older adults without clinical signs of dementia, found the more they participated in social activities, and the more social support they were given, the higher their level of cognitive functioning.
Similarly, a 2016 study of 9,000 adults by the University of Southampton concluded that recreational, social and leisure activities are linked to higher levels of well-being and lower levels of mental illness.
Heller, who can often be found riding throughout Pioneer Ridge on an adult tricycle, is freewheeling proof. "I don't feel that hole of loneliness," she says. "The activities here keep me going and going. I feel like the Energizer Bunny."
Her schedule is more packed than most: fitness classes, participation on the buildings and grounds committee, Wii bowling, happy hours, breakfast outings, ladies' poker night, Rummikub and event planning meetings.
"This isn't checkers," Brody quips. "It's not bingo or casino trips. It's different."
Dennis Jonke, who lives at Pioneer Ridge with his wife, Jo Ann, enjoys the strong community vibe. He heads up the wine club and sits on the homeowners association finance committee.
"I have made more close friends here than I have made during the rest of my life," he says, "people I would do anything for, and they would do anything for me."
Bruce Barden keeps busy with Pioneer Ridge's investment club, homeowners association board and photography club. Joining the photo club reinvigorated his interest in the hobby he just didn't have time for during his career and family years.
"I go out looking for the best pictures of birds and other subjects in nature," he says.
Barden and his wife once considered buying a home on the lake. "We would have been isolated," he says. "We decided that wouldn't be the best thing for us."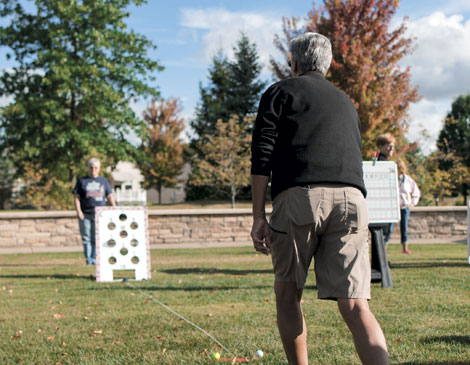 Awakening New Interests
Feeling connected is an integral part of overall health and wellness, according to senior care professionals. So senior living communities are engaging older adults to inspire conversation, learning, relationship-building and good old-fashioned happiness.
Danbury Senior Living in Broadview Heights, for example, focuses on bringing the community to residents. The assisted living facility hosts events for the Broadview Heights Historical Society and attends programs at the senior center near City Hall.
Danbury also holds programs and events like ice cream socials open to families and friends, giving residents a chance to be the hosts and hostesses. "We are helping residents get out into the community and bringing the community into our building for them," says Cheryl McCallum, Danbury's sales and marketing director.
Danielle Paluscsak, life enrichment director at Jennings in Garfield Heights, understands the benefits of active, engaged residents. She points to Jennings' Music and Memory program in which residents with memory impairment are provided iPods to build their own playlists with the help of family or staff. When a resident begins feeling agitated or needs a lift, the iPod is there.
"The more mentally active they are — that reduces stress," Paluscsak says. "You see less depression, less medication."
Jennings studied the effectiveness of the program by following the progress of residents. After a yearlong census, they observed a 59 percent decrease in agitation and medication use because of the program.
Paluscsak cites the success of a resident who is memory impaired and rarely moves. Prior to the program, she had a tendency to get agitated in the early afternoon.
"As soon as we put her headset on, she began tapping her toes," she says. "She'd look out the window, and you could see her anxiety slowly dissolving."
Sparking memories and meaningful conversation also can happen when programs entice adults to reach beyond their comfort zone. When Verb Ballets performed at Jennings, the director told residents, "You can do ballet!"
With some in wheelchairs and others far from their pirouetting prime, residents were skeptical. But the director showed them how to do some moves in their wheelchairs.
One gentleman, after the program, told Paluscsak: "My daughter used to take ballet and I miss watching her perform," he said. "I never did ballet with my daughter, but I did it here on Saturday!"
Paluscsak knows that many older adults who come to Jennings are unsure of what their lives will be like after they make the transition. "People have to change their minds about what senior living is," she says. "We let them know, 'This is your home. This is a change, and you're not done living. It's just a different path.' "
Trying different activities helps keep the brain active and challenged. That's what Judson resident Ruth Thompson realized during a program called Action/Reaction, a mash-up of poetry and dance. Judson, which has three independent and assisted living locations in Northeast Ohio, partners with GroundWorks DanceTheater to host annual workshops where residents watch a rehearsal and then express how they feel about it through poetry or art. Then, dancers interpret residents' creations through movement.
"It's a constant circle of creation," says Rob Lucarelli, director of communications at Judson.
Thompson admits she wasn't sure how her poetry, which she calls "short and sometimes silly, mostly about nature," would translate to dance. She participates in a regular Judson poetry group, and her Fall Falls was published in the community's magazine.
"When we did see the dance performance, it opened up a new door," Thompson says. "We could actually see a performance that demonstrated our poems."
Judson residents have the opportunity to pursue interests they've always enjoyed. More importantly, they can try new things, Lucarelli says. For example, Judson offers Expressive Arts Centers, which are fully stocked visual arts centers, open 24/7 for residents.
"They can drop in whenever they like to work on individual projects, take a class in ceramics, watercolor painting, acrylic painting and more," he says.
Some adults don't realize the impact of artistic expression until they try it. Judson resident Reid Isaac served as an Episcopal minister and spent much of his life writing and speaking.
"The words weren't coming as quickly as they used to," he says. "So then, I started painting."
He needed some coaxing to try the studio but has been painting ever since his first lesson, spending hours each week at a canvas.
"Art provides a wonderful way for people to let go of stress and pain," says Cathy
Bryan, art therapist at Judson. "It lets our brains take a break and helps put everything into perspective."
"I discovered we can always grow and learn, and do something new," Isaac adds. "That has been a very positive experience."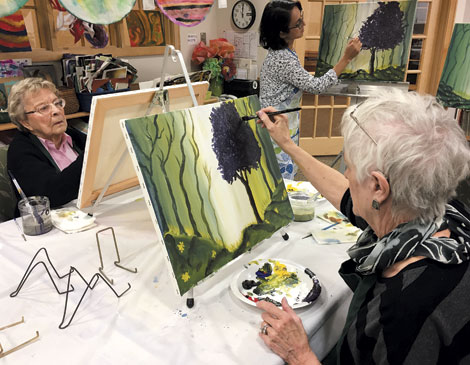 Working the Brain
Learning about new subjects can be a gateway for developing conversation, friendships and improving cognitive function. A Mayo Clinic study published in January found that engaging in mentally stimulating activities — using a computer, doing crafts, socializing, playing games — can prevent new-onset cognitive impairment.
Embracing this, Distance Learning at Jennings gives residents an opportunity to deep dive into subjects such as the Great Barrier Reef. Via a live video hookup, a scuba explorer interacted directly with residents during a dive. "We got to see him moving through the reef," Paluscsak says. "We could see him, he could see us."
Residents also heard a Cleveland Museum of Natural History lecture about Balto, the taxidermied sled dog known for his trek through the snow to deliver medicine to those suffering from diphtheria in Alaska. "Our residents can talk to presenters in these museums and ask questions," Paluscsak says.
Residents often come up with suggestions on Distance Learning destinations, and Jennings tries to make it happen.
A partnership with Cuyahoga Community College and its Lifelong Learning program allows seniors to take courses at the Jennings facilities twice a week during September and October. This fall, residents attended seminars on award-winning music, the vehicles at the Western Reserve Historical Society, Duke Ellington, American Sign Language and more. Garfield Heights High School students even participated in a Tri-C-led music presentation.
"Yes, we do bingo and dominoes," Paluscsak says. "But we balance their life out with meaningful programs that either enhance what they already know and enjoy doing with other things they've never done or never learned."
For many, activities are significantly more engaging and beneficial when residents run the show. At Jennings, one woman heads up bingo every Tuesday at 10 a.m. for a group of 20. "They play together, and it's their game," Paluscsak says. "They own it."
The same is true at Pioneer Ridge, where residents take homeowners association positions and lead events on the program committee. The 210-member wine club got so large, in fact, that a board of residents runs the meetings now.
In a survey of homeowners on what they appreciate about living at Pioneer Ridge, Brody discovered a common theme: Their lifestyle had changed as a result of moving there. One woman's comment summed it up best: "It's a really great feeling when you walk into a room, and everyone knows your name."