It wasn't what Cathy Lewis expected. There was no sitting cross-legged or chanting, no incense or oms. "Meditation went against a lot of the perceptions I had," she says. "I realized you can meditate any time, anywhere."
Lewis, 82, lives at South Franklin Circle in Chagrin Falls with her husband, John. Both were hikers earlier in life, and they stay active in the independent living facility's exercise classes such as the Posture program, which focuses on building core muscles. "I am determined not to get feeble," Lewis says. "Because that's what I remember happening to my mother and aunts in their later years."
Lewis has found the mental lift from meditation has introduced a lovely balance into life. She started taking weekly classes five years ago, but uses the practice whenever she needs it.
"Calming yourself that way through imagery, breathing to music and concentrating on your breath really relaxes me," Lewis says, "so much that I can actually feel sleepy."
In fact, studies have found meditation to be an important part of overall well-being, especially as one ages. In 2016, researchers at UCLA's School of Medicine found that brains of 50-year-olds who meditate regularly were estimated to be 7.5 years younger than those who did not practice meditation.
Meditation reduces stress, which has a significant impact on your brain, says Dr. Michael Roizen, the Cleveland Clinic's chief wellness officer and author of You: Staying Young and AgeProof.
For Lewis, meditation provides a variety of benefits from stress reduction to ensuring a good night's rest. "If I'm having difficulty falling back asleep at night after waking up, I can go into deep breathing and that helps," she says.
While proper sleep may seem trivial, it's not, says Dr. Elizabeth Bradley, the medical director for Cleveland Clinic's Center of Functional Medicine. "Seven-and-a-half to eight hours of sleep with no disturbance equates to a healthier, longer and more chronic disease-free life."
Indeed, a whole-health approach for older adults, which includes exercise, healthy eating, mental stimulation, social interaction and a sense of purpose, can make for a longer, happier life.


Try something new
As a SilverSneakers instructor at Avon's French Creek Family YMCA, Kathy McKean taps into meditation's greater sense of awareness during her Nia classes. A fitness technique that combines mind and body practices, Nia means "purpose," she explains. (When it was created 35 years ago, the word was an acronym for nonimpact aerobics.)
Practiced barefoot like yoga or Pilates but set to music, Nia teaches posture and body awareness by drawing on dance, tai chi and other martial arts.
"When we move with purpose and intention, it's totally different than just working up a sweat," she says. "It's very systemic and all about sensation."
McKean, 70, has been teaching fitness classes for more than a decade and enjoys introducing others to the practices that have helped her.
"It has really allowed me to discover facets of myself that I did not know were there," she says. "I have such a sense of connection to everyone that's in my class."
McKean compares taking a new class or exercise program to sampling a food you've never tried.
"You don't know until you taste it," she says. "You can look at it, but unless you take a bite you will not know the flavor. You might find that a food that looks really bad is fantastic."
The value of new experiences shouldn't be underestimated. A 2014 study published in Psychological Science found that engaging in new, stimulating activities such as learning to quilt or digital photography enhanced memory function.
That's one reason the YMCA's 17 branches offer programs for seniors ranging from classes like McKean's to pickleball leagues or sightseeing bus trips to New York City.
"More than 75 percent of seniors [over age 75] suffer from depression associated with isolation, because they lose touch with their families and friends or they lost a sense of purpose," says Loni Beverly, YMCA of Greater Cleveland's active older adult director. "We need to meet people where they are, whether it's biological or chronological age and create a community where everyone is included."
That's especially true for those who have lost a spouse or have limited mobility.
McKean suggests a mindset shift, though. "You are going with yourself," she says. "You never go by yourself. You never travel by yourself or eat by yourself. You are with yourself."
Realizing others are in a similar situation opens you up to new experiences and new friendships, McKean says.
"Once we can break a barrier to trying new things, it opens up possibilities and connects older adults to different experiences," Beverly adds.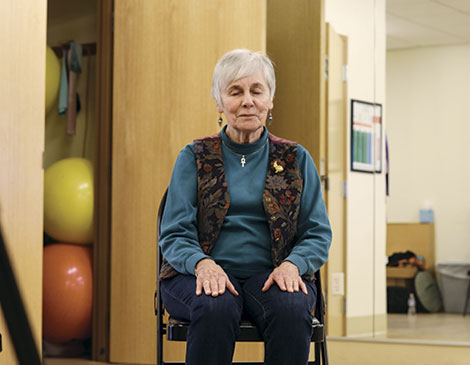 Strike a balance
Diane Menges, community wellness coordinator at Judson, passes out stickers in her balance class so participants remember to take the concepts they learn in the program into their everyday lives.
"It's a quick visual," she says.
Balance and core strength are essential for maintaining good posture, which can help prevent slips, trips and falls.
"Blood pressure can affect the feeling of balance," Menges says. "For many people when they age, their posture shuts down a bit and they become at risk of falling backward, because they tend to lean back. If you can pay attention to that and create better habits, you will be less prone to falling."
Bradley recommends a simple exercise for testing balance. Start by sitting in a chair with your arms crossed. Then stand up and walk across the room.
How long does this take you and how difficult was it to get up? By repeating this exercise, it can gradually improve your balance, strength and stability. "This directly relates to the risk of falling," says Bradley.
Similarly, simple lunges, squats and resistance exercises can boost lower body strength and mobility. "You really have to work the muscles in your butt and thighs," Bradley says. "They are a major support for your body for walking, standing, sitting and climbing stairs."
Since getting to the gym isn't always easy for seniors, Judson Manor is finding ways to get them moving to a different drum. The University Circle senior living facility offers a cardio drumming class, which combines exercise with rhythm, music and memory stimulation.
"It's an improvisational workout, really," says Scott Curtis, coordinator of wellness at Judson Manor.
The classes use a Swiss ball on a stand and drum sticks. Participants can either stand or sit while tapping to the beat of music ranging from John Philip Sousa to the Beatles.
It gets them moving, thinking and creating. "The music really takes them back in time," Curtis says. "There's a lot of stimulation in doing that."


Keep active
"Sitting is the new heart disease," Bradley says. That's because the body naturally loses muscle tissue as one ages. As lean muscle and skeletal mass degenerates, the fat stays — even if it's not evident in weight gain. Known as sarcopenia, it can lead to a dangerous downward spiral.
"You can feel increased fatigue, because there isn't the muscle mass to sustain normal daily activities," Bradley says. "So older people might do less, then start losing more muscle and fat replaces the muscle."
To keep active and ward off muscle loss, Bradley recommends some simple home exercises. "You can use soup cans or milk cartons as weights," she says.
Yoga has also proven to help activate bone growth or "osteoblast" activity by putting stress on tendons connecting muscles to the bone, Bradley says. Thus, the benefits are twofold: improving strength and potentially increasing bone mass.
For those who don't exercise regularly, Bradley suggests chair yoga, which can be an active and gentle way to improve flexibility, strength and stress management.
"Start there and build up," Bradley says. In fact, even the smallest improvements can make a big difference. "Just 15 or 20 minutes walking in the morning is a great start."
While federal health guidelines recommend adults get about 2 1/2 hours of moderate activity per week, walking even below those levels has shown to increase lifespans, according to a 2017 study published in the American Journal of Preventive Medicine.
"Walking is simple, free and does not require any training," the researchers concluded. "Thus is an ideal activity for most Americans, especially as they age."
Exercise combined with proper nutrition promotes strong bones, muscles and brain function. "Get the processed food out of your house," Bradley recommends. "Increase your intake of fresh fruits and vegetables."
Your plate should look like a rainbow with bright colored foods as always the best choice. Add flavor with herbs and spices, not salt, and drink water or low-fat milk frequently. In addition, eat lean sources of protein, says Bradley, and the Mediterranean diet of olive oil, nuts, seeds and legumes.
And beware the tricks of food marketing, such as "nutrition bars" that are actually packed with sugar or gluten-free products loaded with tapioca, advises Roizen.
"I run into people all the time who say they have a high-quality diet, and then we get into the specifics and they are eating the stuff that will kill them," he says.


Find your voice
McKean recalls a conversation she had with her grandson, Noah, when he was 13.
"What is the biggest challenge being your age?" she asked.
After he thought about it for a moment, he told her: "No one really listens to us."
When he asked about the toughest thing being her age, McKean replied: "Ours is the same challenge."
In some ways, isolation can contribute to that lack of voice. When you spend most of your time alone, you might go much of the day without speaking, says Menges.
"It affects your breath capacity and your whole energy level," she says. "Socializing is a very important part of well-being."
Older adults, especially those still living at home, need to find ways to connect, whether it's through community groups, recreation centers or senior centers. Senior living facilities also support independent living with services such as social work, fitness and nursing assessments, or access to facilities and dining options through operations such as Judson at Home.
For some, transitioning into a living environment that promotes community can be a move toward better health. "Assisted living communities offer an independent option," says Cheryl McCallum of Danbury Senior Living in Broadview Heights. "Independent residents are provided dining options and new friends and neighbors right outside their front doors."
Creating connections can go back to the simplest practices, like show-and-tell, which is a popular program at some YMCAs, Beverly says. "Everyone shares something about their heritage, interest or anything they want," she says. "They get an opportunity to share a piece of themselves."
Connecting with others who share that interest, experience or background can build relationships and confidence. "We try to give people opportunities to make friends that they otherwise might not have," she says.
It all adds to a greater sense of purpose, which dozens of studies over the past two decades have shown to lessen the likelihood of Alzheimer's disease, heart disease and mild cognitive impairment while increasing a person's life expectancy. In fact, a 2017 study in JAMA Psychology, noted a connection between a greater sense of purpose and better physical fitness, such as grip strength and walking rates, among seniors.
"Get engaged and find a purpose that touches you," Bradley says, whether it's learning something new, taking a trip or volunteering to help others.
"Some people work their whole lives," she says. "After retirement, you want to stay engaged to avoid social isolation."
Look at the whole person
As you age, consider finding a geriatrician who specializes in the particular issues facing older adults.
"Geriatrics focuses on the whole person," says Dr. Taryn Lee, geriatrics fellowship program director at University Hospitals. "Maybe you have concerns about mood, memory function, mobility, getting more help."
While some patients consult with a geriatrician for a specific condition, others move to one as their primary care physician.
Lee sees 90-year-old patients who play in senior softball leagues and those decades younger who want to take a good, hard look at their medications and overall health.
Yet, she says, there are some common traits healthy older adults share: They engage in a regular activity that gets them out or connects them with others whether it's a phone call to family or a friend, a group meeting or a daily walk.
"The people who stay active in some way do better overall," she says.
Because there's no hard and fast prescription for the best way to live life, a geriatrician can help pull together the medical, mental and spiritual wellness pieces to guide a person toward making the most of these years.
And, simply enjoying the years can do wonders for one's health. "A lot of my patients have a great sense of humor and take everything in stride," she says.
For Lewis, that's where meditation comes in. It helps her tune into the good things.
"So much of life these days is rushed," Lewis says. "We don't stop to appreciate the gifts around us."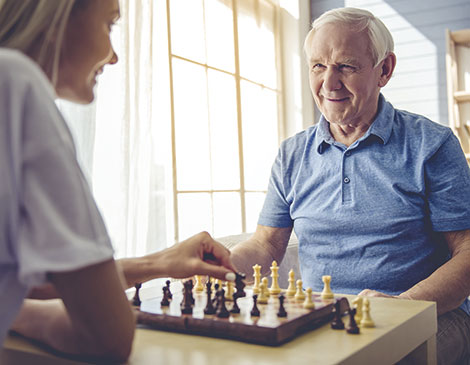 10 Ways To Stay Younger
We asked Dr. Michael Roizen, chief wellness officer of the Cleveland Clinic, for 10 things you can do to age better, be healthier and live longer.

1. Manage stress. "Stress is the most important and greatest ager of your brain," he says.
2. Stay active. Older adults should strive for 10,000 steps per day; 30 minutes a week of resistance training for the eight core muscle groups; 20 minutes of cardio three times a week; and 20 jumps up and down in the morning and 20 at night ("That's what you do for hips, spine and spine disc health," he says).
3. Play games. Try speed-of-processing games such as sudoku, chess, puzzles and online brain games. "[They're] the only things shown in brain stimulation to directly make a difference in whether or not you develop dementia," he says.
4. Eat fatty fish. Salmon, ocean trout or 900 mg of omega-3 fatty acid per day helps decrease brain dysfunction.
5. Avoid the five "snake oil" foods. Simple sugars, added syrups, simple carbohydrates, saturated fats and trans fat turn into sugar fast, Roizen says. These are empty calories like a flimflam man's empty promises.
6. Give sleep respect. Roizen recommends 6 1/2 to 8 hours of sleep with uninterrupted periods of 90 minutes, so you can complete REM and feel rested in the morning. "Your brain shrinks a little during sleep, because water leaves each cell," he says. That allows passages to open in the brain to get rid of waste products in brain cells. "The period of time in sleep when you go without eating or drinking appears to be important to get rid of toxins that stimulate inflammation."
7. Avoid toxins. "The greatest one is tobacco," he says. But bisphenol A (found in polycarbonate plastic used to line many food cans) and bisphenol B (found in thermal cash register receipts) are also harmful. "Wash your hands very well with soap and water before you eat," he says.
8. Drink coffee and eat nuts. If you're a fast metabolizer, you can gain benefits such as reducing the risk of Parkinson's disease, cancers, Type 2 diabetes and Alzheimer's. Sorry slow metabolizers, but coffee can trigger headaches or anxiety, and you won't gain those benefits, Roizen says.
9. Supplements shown to slow aging. Roizen recommends half a multivitamin two times daily. In addition, vitamin D, calcium citrate with magnesium, docosahexaenoic acid (or DHA), baby asprin, statin, coenzyme Q10 (or CoQ10) and probiotics have individually shown positive effects against aging in at least four studies in humans.
10. Enjoy an infrared sauna. Relax in an infrared, low-energy sauna (105 to 110 degrees) for 20 minutes, four times weekly. Studies show a 60 percent reduction in dementia during a 10-year period of this sauna habit. "We don't know why it works, but it seems to work consistently in all the studies," Roizen says.