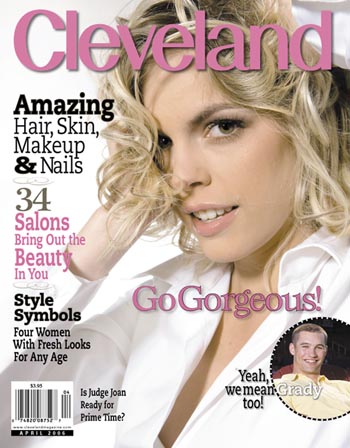 Food + Drink
A circle of friends makes picking the perfect bottle a pleasure.
In the CLE
Style
Indulgences. Decadence. Lacy, frilly, girly, sexy fashion. Feel-good, look-good, make 'em melt clothing. Meet four women who tap into their own inner fashion guru every day, from the 20-something with her own line of clothing to
Spring has finally arrived, and we're celebrating. It's the time of year when the days have a shimmer of anticipation, when we remember how exciting it is to dress up and play with our look. So, we primped, cut, colored, waxed and pampered
Travel & Outdoors
Think Nashville's just big hats, honky-tonk, and Dolly Parton? Think again. Discover jazz, funky neighborhoods and Mexican Popsicle stands in Music City, U.S.A.
Health
Question: Over the last several months, plastic surgery has been highlighted a lot on daytime talk shows, specifically the "lunchtime procedures" that have patients in and out and back to