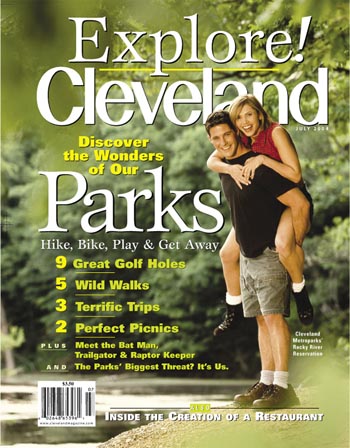 Travel & Outdoors
From hiking and biking to flowers and photo walks, discover 66 ways to enjoy the pleasures of our parks.
Whether you're drawn to the fine food and floor-to-ceiling windows of Geneva's new resort lodge, the tent-times-10 appeal of a Kelleys Island yurt or the cozy solitude of a log cabin in Mohican, Ohio's state parks have just the place for you to enjoy our
They trap bats and rescue raptors. They protect and they photograph. They amble with their dog and they run alone. But the one thing they all have in common is that they're ...
Health
. . . and Other Reasons Plastic Surgery Can Go Wrong
A national survey suggests that most people prefer subtle changes to their appearance.
For Cynde Baker of Niles, Ohio, becoming the subject of a WKYC-TV 3 "Ultimate You" makeover by Beachwood plastic surgeon Dr. Mark Foglietti was the chance of a lifetime, an aesthetic-surgery luxury she could never afford on her own. But what's it really l