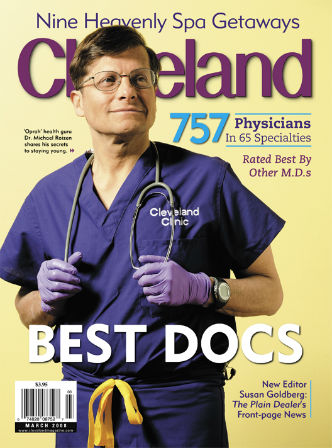 Style
Step Into Spring A new season requires a new look. Get a fresh take on fashion with bold colors, edgy coats and flirty makeup.Top it off with a sleek piece of jewelry and step out in style.
Juicy Lucy brings fashion from across the pond to Cleveland.
Health
Emergency medicine
Akron General Medical Center
Dr. Jerrold P. Saxton
Radiation oncology, head and neck
Cleveland Clinic
Dr. Hani A. Hennein
Pediatric cardiothoracic surgery
Rainbow Babies & Children's Hospital
Dr. Dale P. Murphy
Internal medicine
Summa Health System
Dr. A. David Rothner
Pediatric neurology
Cleveland Clinic
Dr. Laurie S. Sadler
Internal medicine
St. Vincent Charity Hospital

Physical medicine and rehabilitation
MetroHealth Medical Center
Dr. Brian N. Victoroff
Orthopaedic surgery
University Hospitals Case Medical Center
Medicine is the heart of this city. It should come as no surprise that more than 750 of the region's physicians were chosen to be included on this year's Best Doctors Inc. list. And one of the most recognizable,
Dr. Anne Lyren, of Rainbow Babies & Children's Hospital, brings a philospher's mind to the most complex children's cases.
When St. Ignatius freshman football player Mark Tupa was paralized during a game, he saw his injury as his new competition. With lots of therapy and the help of MetroHealth's Dr. Greg Nemunaitis, Tupa is walking once again.
Dr. Sarah Friebert provides comfort — and a voice — for seriously ill children and their families.
University Hospitals' Dr. James Liu is finding answers to important women's health questions — everything from how to lessen menstrual cramps to how to get better results with in vitro fertilization.
How does your doctor ask you all those personal questions without a hint of embarrassment? Our staff's resident actor pitches in to help medical students at the Cleveland Clinic's Lerner College of
Education
Gone are the days of plastic trays and fried mystery meat. More schools at every level are offering more healthful menu choices and welcoming environments.