Hanukkah has always presented a Judaic conundrum. Although joyously celebrated around the world for eight December days, it's also regarded as a minimally religious holiday, having no real Biblical origins. Still, the commemoration of a group of Jews overthrowing their oppressors in 200 B.C. is a chance to recognize the miracles and light that surround the Jewish faith. "Hanukkah is my favorite holiday," says Rabbi Yossi Freedman of the Chabad of Downtown Cleveland. "It is relaxed and enjoyable with a full eight days to appreciate the universal lessons of struggle and triumph."

1. Top Notch:




Every holiday needs a little semi-competitive gambling, right? While its origins are uncertain, dreidel is definitely the official pastime of Hanukkah. "Some say it was a way for Jews to covertly learn Hebrew," says Rabbi Scott Roland of Congregation Shaarey Tikvah in Beachwood. "Others say it connects us to the entirety of our being." Here's how to play a game of dreidel.

Ante up: Each player starts with an equal number of game pieces such as raisins, pennies or gelt, the Hanukkah favorite of chocolate coins wrapped in gold foil. At the start of each round, each player puts one piece in the center.
Turn, turn, turn: Players take turns spinning the four-sided dreidel. When it lands, the upright Hebrew letter determines the player's action: nun, do nothing; hey, take half the pot; shin, add a piece to the pot or gimel, win the entire pot.

Losers and winners: When you are out of pieces, you are out of the game. The last one left standing is the dreidel champion. Sharing your winnings is always greatly encouraged.

Connect with others: The Hebrew lettters on the dreidel create the saying, Nes gadol haya sham, meaning, "A great miracle occurred there." "As you spin the dreidel, so too are Jews around the world," says Roland. "It connects us all back to the land of Israel."


2. Good Buys: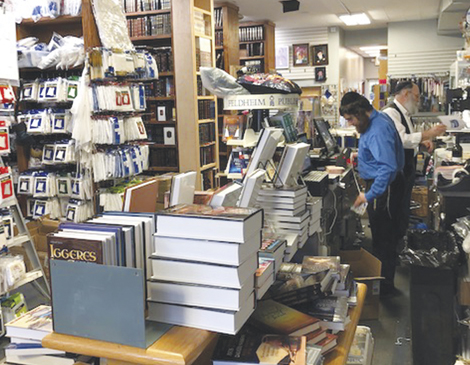 Grand Judaica's floor-to-ceiling shelves are filled with all things Judaica, from wines and kippahs to dreidels and menorahs. Our pick: A 1-foot-tall black enamel Bike Menorah ($29.99) has a candelabrum stretching from the bike's handle bars to the red seat. 1873 S. Taylor Road, Cleveland Heights, 216-321-7200, grandjudaica.net
Frank's Hebrew Bookstore specializes in the Jewish written word, including prayer books, modern Jewish philosophy and children's books. Our pick: The Hannah the Hanukkah Hero boxed set ($29.99) includes a plush doll and storybook about one girl using kindness, intelligence and strength to unleash her inner hero. 14425 Cedar Road, South Euclid, 216-291-9847, franksbooks.com
The Maltz Museum of Jewish Heritage's Museum Store offers fair-trade jewelry, wine glasses and more crafted by artists from around the world. Our pick: Embrace the Hanukkah spirit of tikkun olam ("repair of the world") with a Tzedakah Box ($95), a coin container for your charitable giving. 2929 Richmond Road, Beachwood, 216-593-0575, maltzmuseum.org
3. A Whole Latke Love:
Latkes have long been a staple of chef Zack Bruell's menus, whether at Z Contemporary Cuisine in 1985 or today at Parallax. "Here, latkes are essentially like tacos," says Bruell of the Hanukkah fried delicacy. "The potato pancake is your base, and you can build up from there."
French: "Fresh, smoked salmon and capers have that classic Jewish feel, and they go really well piled on top of the potatoes," says Bruell. He recommends finishing the combination with a dollop of sour cream and a rich beurre blanc made by reducing shallots and vinegar or white wine into butter.
Mediterranean: Braised lamb sits at the center of this striking flavor combination. "Start thinking, What goes with lamb?" says Bruell. "Take it from there." He suggests serving with mint, eggplant and thyme-infused butter to top things off.
Mexican: After your Hanukkah dinner, Bruell recommends you look back through the fridge for a South of the Border latke. "Shred that leftover chicken with lime, cilantro, pickled jalapenos, onions and tomatoes," says Bruell. "For an authentic kick, add in some Tajin Clasico Seasoning."
Bonus: Wash down the latkes with Collision Bend Brewing Co.'s 8 Crazy Nights, a Hanukkah alternative to Christmas ales that Bruell helped create. "With flavors of apples, honey and cinnamon, this brew has all the great flavors we associate with the holidays," says Bruell.
Not a fan of set-in-stone recipes, Bruell throws out a more free-flow take on making latkes:
"Take an Idaho potato, peel it, and shred it on a box cutter. Mix in one egg and maybe a spoonful of flour, salt and pepper. Mix it all together and that's your base recipe. You can flavor it with herbs and spices, anything from thyme to terragon. Get your saute pan hot with olive oil and put in enough of the mixture to cover the bottom of the pan. Once it's the shade of brown you like, flip it, brown the other side, and you're done. You can make them ahead of time and heat them up when you're ready to serve."

4. Oil Rigs: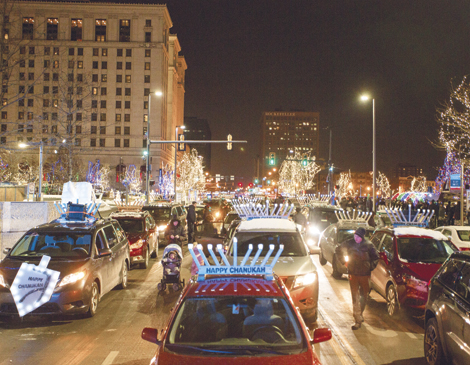 Cleveland was late to the parade. Other cities have hosted caravans of cars with massive menorahs attached to their roofs for decades, but Cleveland's Car Menorah Parade fueled up in 2014 with about 10 to 15 cars. On Dec. 9, about 50 cars are expected to travel from the East Side to light a large menorah on Public Square, says Rabbi Yossi Freedman of the Chabad of Downtown Cleveland.
When you have more than 40 cars with big, lit-up menorahs and music blasting, it gets a lot of attention. It's supposed to. Part of the mitzvah of Hanukkah is to let people know about the miracle of the holiday, to help bring light to the darkness. As we drive from the high concentration of Jewish communities on the East Side to downtown, we go against rush hour traffic heading home, so everyone sees the menorahs. People honk their horns and flash their lights at us, which is an uplifting feeling as Hanukkah is supposed to bring people together. We stop along the way to give out small menorahs to whoever needs one. Every interaction is special and connects Jews throughout Cleveland. — as told to Ken Schneck