Dating is hard.
At least that's what all my fellow Gen Z friends say about the current romance scene in Ohio. I consider myself lucky to have my wonderful high school sweetheart every time I hear the tragic tales of ghosted text messages, awkward first-date chats about ex-partners and Hinge meet-ups in Parma. Granted, I've been hit on multiple times in Edgewater Park — and more than one of those pick-up lines had to do with my feet. So, we're all fighting the good fight to find love, it seems.
That's why I became intrigued when Matthew Wurnig came to town. The 25-year-old North Dakota State University grad transformed an isolation-fueled idea into a full-fledged TikTok viral streaming show. 50 Dates 50 States began by featuring virtual dates with one girl from each state thanks to the Tinder location feature. As he shared his virtual dates on TikTok, his growing fanbase wanted to see more. So, once COVID restrictions lifted, he knew it was the perfect opportunity to take 50 Dates 50 States on the road and meet each person face-to-face.
Now, Wurnig is in his second season, traveling the country all over again with a branded Dodge Challenger. I'm thrilled about this dating format — for him. If it were me going around across the country, I would end up in a trunk around the time I arrived in my fifth state.
In a change-up from his first season, however, the "TikTok bachelor" offers a prize at the end in true binge-able reality show fashion. Following his dates, he will invite 10 girls to come to hang out in Miami, where he will choose one girl to take on a four-day trip to Puerto Rico. A dating show that ends with a vacation rather than starting with one — or forcing contestants to endure one throughout the whole season — is refreshing and ultimately grounded in reality.
Meeting Wurnig and third-wheeling with his Ohio date, Olivia Larabee, was delightful, to say the least. Larabee, a recent Bowling Green State University graduate and the 21st date of the run, shares that, "Matt had been popping up on my 'For You Page' since quarantine. It was super weird because he just kept popping up all the time, so then I decided it had to be a sign... then [the date] actually ended up happening."
With that true midwestern hospitality, she gifted Wurnig Ohio staples upon meeting him, including Rhinegiest beer, Skyline Chili, Buckeyes and more. The only way it could have been more Ohio-centric is if it included a pair of Vans that residents think are warm enough for the winter, but never ever are.
Admittedly, it was strange to see a typical brown-haired guy wearing a gray "50 Dates 50 States" hoodie walk into Lekko Coffee with Larabee on one side and his cameraman on the other — rather than an Avengers-level ripped dude with an entire production team following his lead. Wurnig was kind, confident and a complete gentleman, paying for his date's coffee and even offering to pay for mine.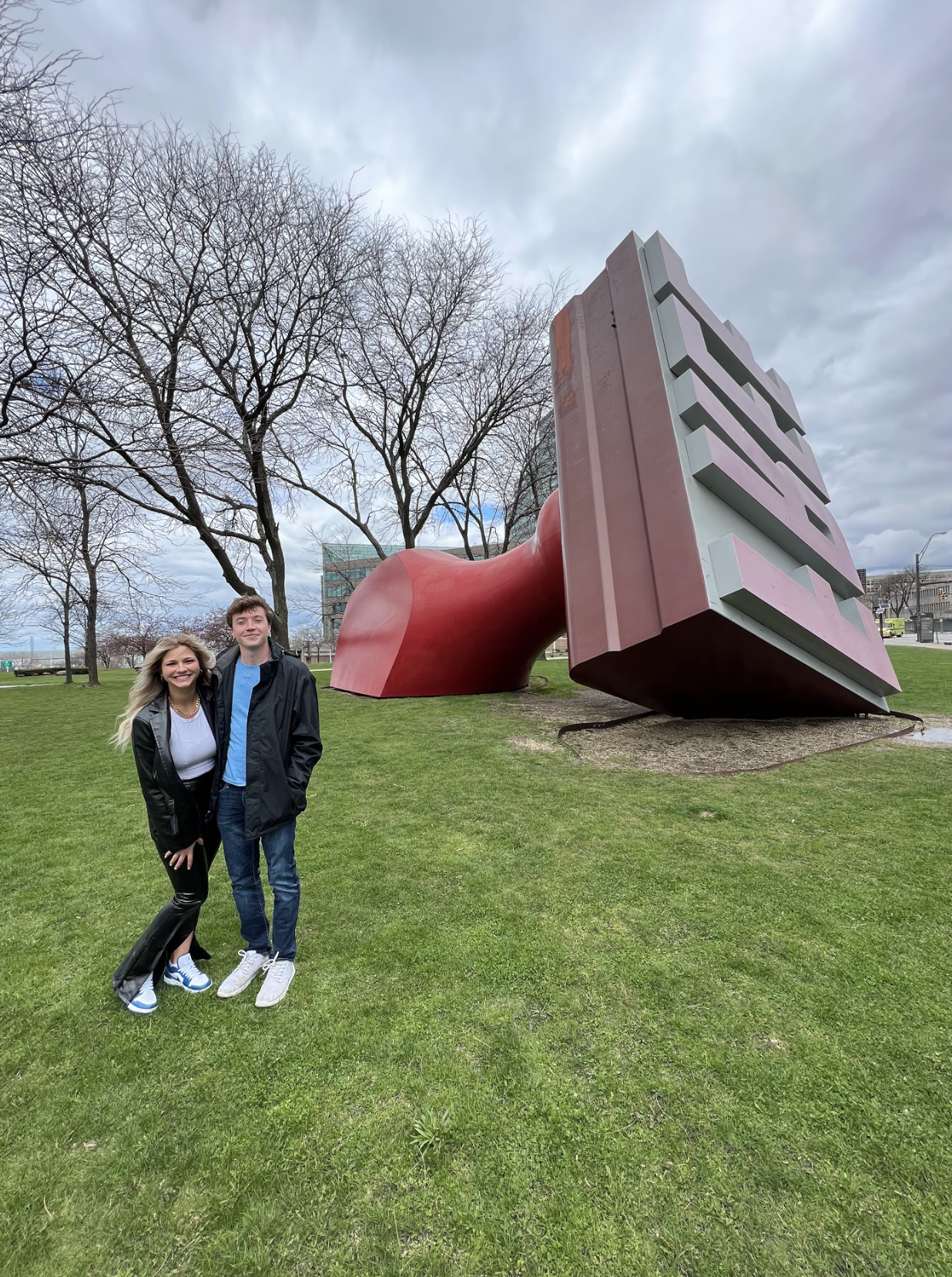 In true tourist fashion, the potential couple headed to West 25th Street's TownHall and the largest rubber stamp in the world, but not before visiting the newly opened Green Goat Cafe Bar. Sampling salads, appetizers, beer and more made up their early afternoon. If Wurnig drinks like this with each date, his liver is made of steel, for sure.
After eating, they tried something well off the beaten path of most romantic dates. Wurnig and Larabee headed across the street to LYV The Wellness Space. If you thought things would turn hot at this moment, you'd be sorely mistaken. The two dabbled in cryotherapy, standing in a -170 degree chamber for roughly two minutes in the name of reducing inflammation. This is a huge departure from my personal go-to, which is dinner and a walk through the West Side Market.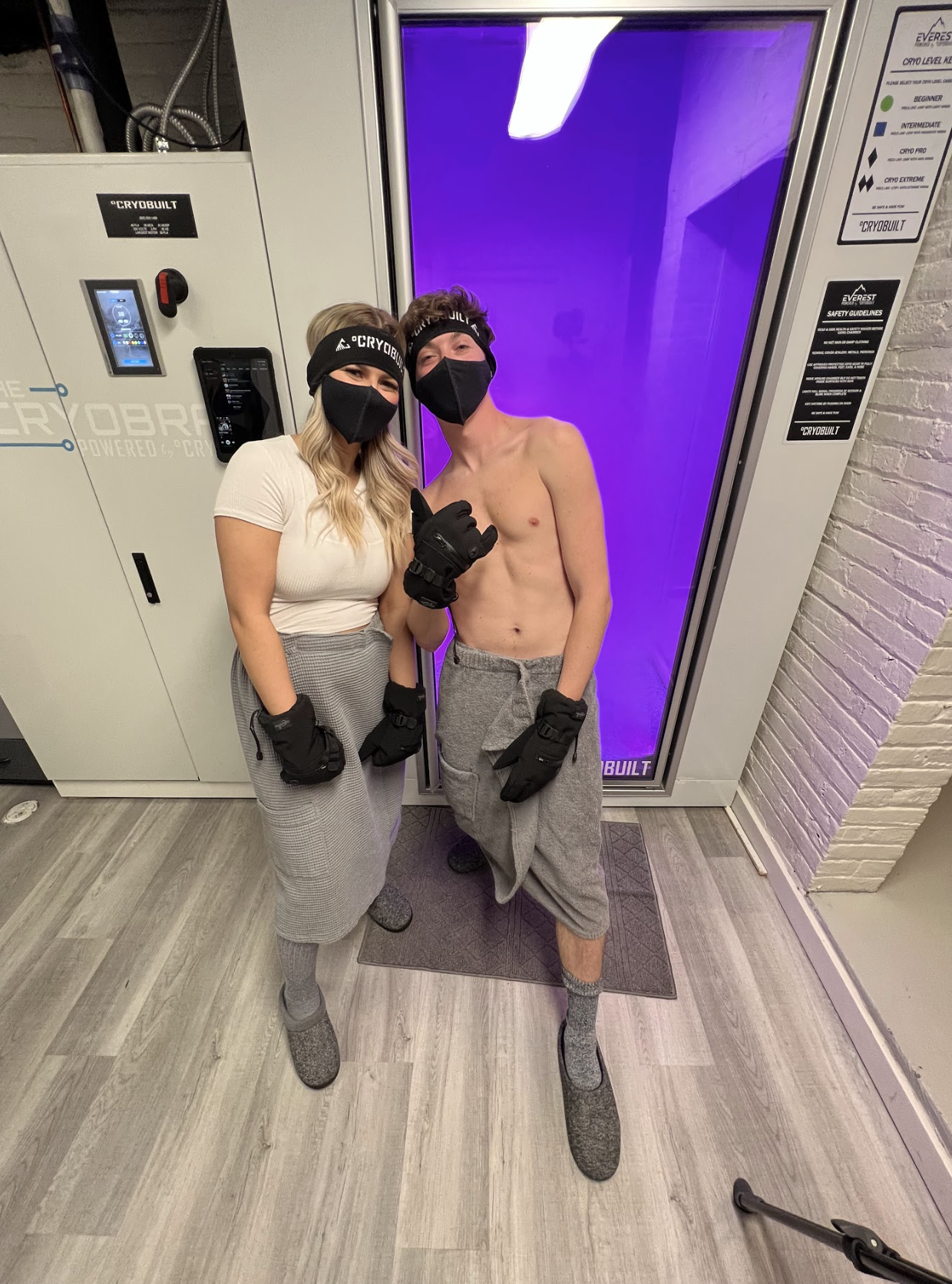 The date was "a success" according to both Larabee and Wurnig. They both enjoyed each other's company, talked about various drink concoctions as Larabee is a bartender and got to laugh about music choices. In fact, the first song Larabee played in the car for Wurnig was "All Summer Long" by Kid Rock. With camaraderie like this, I would not be surprised if Larabee received the invite to meet up in Miami as a semi-finalist date.
With more than 100 dates under his belt, Wurnig has discovered a few tips that others in the conventional dating world should consider: "​​When it comes to dating, they're too hard on themselves. They think too much into it and they set too many expectations," he says. "Go into every date and be relaxed, be who you are."
Easier said than done, but a little pre-date gin and tonic should help that whole relaxation piece of advice.
In full transparency, I am optimistic about unconventional ways to find love. Why not? The normal way is simply exhausting, and often time-consuming for many young professionals. On top of that, reality dating TV shows could use a refresh like this as well. Handing out roses on an island? No thanks. I prefer watching two kids have a great time — and possibly fall in love —while they inadvertently share the coolest dining spots and date ideas across the U.S. along the way. If roses are involved, that's merely a perk.
To wrap up our night — or at least my portion of it — I threw out a few rapid-fire questions to Wurnig and Larabee.
First Date Faux Pas:
Wurnig: A guy — if they ask a girl out, they should pay. I've heard horror stories from girls.
Larabee: If you're on your phone the whole time, I find that to be super rude.
Best First Date Outfit:
Larabee: So, yesterday, I wore black leather pants with a pair of blue Jordan 1s and I had a white crop T-shirt and I just threw a leather jacket over it.
Wurnig: I'm a very casual dresser. I usually wear jeans or chinos and then a long-sleeve.
Best Thing to Share:
Wurnig: Nachos, mozzarella sticks, pretzel bites, stuff like that.
Larabee: Fries are good.
Follow along with Matt's journey via his TikTok, YouTube and social pages. You can check out even more on his Ohio date with Olivia on his podcast here.