A socially distant lifestyle may not seem conducive to dating, but matchmaking service It's Just Lunch Cleveland might have to disagree.
In fact, Ashley Bakewell, lead matchmaker at It's Just Lunch Cleveland, says the company has been especially busy with new clients, and she has seen more couples going on second and third dates than ever before.
Bakewell believes the uptick in new clients comes from the pandemic prompting people to reevaluate their priorities and find partnership.
"I think in the world of uncertainty, which was a lot of 2020, people tend to crave comfort and support," Bakewell says. "So, singles, they're realizing they need to take some massive action on their dating life, especially during the pandemic. They're making dating a priority."
The matchmaking service, which connects singles across Northeast Ohio, has shifted from setting up clients on person-to-person dates to virtual dates via Zoom. Virtual dating has resulted in even deeper relationships than before.
"Virtual dating creates a level playing field for all singles because the current pandemic is new for everybody," Bakewell says. "And because of those things, we're seeing more singles be more authentic than they've ever been before. They're having more open personal conversations earlier on in the relationship, which is leading them to get serious a lot faster."
Bakewell encourages any singles interested in finding love during the pandemic to keep conversations open and light, be optimistic and honest, and most importantly, pay attention to chemistry.
"Give chemistry a chance," Bakewell says. "Don't make a snap judgment call on a first date. No one will likely check off every box on your must-have list. It might take a couple dates for you to realize the person and the relationship may have potential."
Playing Cupid
Whether you are at home with your loved one, apart or looking for a way to get out of the house, Valentine's Day can still be made special.

At home: Order from L'Albatros Brasserie & Bar in University Circle for some authentic French cuisine takeout. Try the cassoulet and chocolate napoleon and and don't forget to grab a bottle of wine. Check the brasserie's website for
Valentine's Day specials, which will be available
Feb. 9-14.

Apart: Send your partner a Cleveland-themed care package with items such as Cleveland Candle Co.'s CLE Magic candle ($15), Emily Roggenburk's Return to Cleveland hoodie ($60) and the "I Can't Wait to Hug You Again" card from Lovely Paperie & Gifts ($6).

Outside: If you and your significant other want to get some fresh air this Valentine's Day, head to the Rink at Wade Oval for some romantic ice skating surrounded by the beautiful architecture that University Circle offers. Make sure to reserve your one-hour slot in advance online. Due to COVID-19, capacity has been reduced from 100 skaters to 10, and face masks must be worn at all times.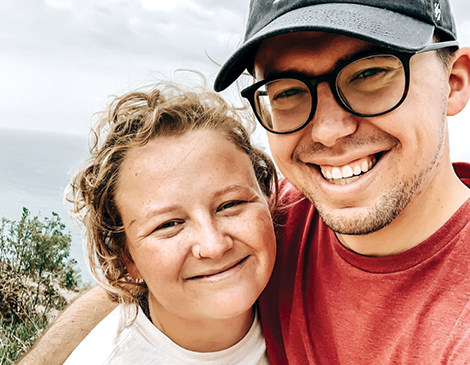 A Pandemic Love Story
Cleveland native Nicole Parke has lived in a few different cities, but recently returned to her hometown. While adjusting to life alone and running her small business that supports local political candidates running for state and local office, the 26-year-old found herself feeling down on her luck. That is, until she met Lucas Sigurdson on a dating app. Here's her pandemic love story.
I'm really not good at putting myself out there, but I want to be happier and see changes in my life. It was really the loneliness and lost feeling that led me to try the dating app Hinge. Within a couple days, I started talking to Lucas. The first thing that drew me to him was that he was authentically interested in getting to know me and really listened to what I was saying.

We were both pretty interested in politics and sports, so that was easy, and we shared the same favorite movie. But what really sold me was how genuine, selfless and compassionate he is. We seemed to both share this desire to do 'more' with our lives and leave the world a little better than we found it. [The pandemic] was actually a good setting to really build our relationship.

I don't have to worry about us not being able to have fun together, because we've been able to have fun in the most dire of circumstances. I feel like if we're able to enjoy each other's company just doing nothing, it sets it up well for the future when we'll be able to do more. — as told to Carly McFadden