In Cleveland, St. Patrick's Day is an all-day affair. But behind the bar, keeping Irish eyes smiling on March 17 is a monthslong process. "People don't understand how much preparation there is leading up to the day," says the Harp's owner Karen O'Malley, who begins securing staffing, supplies and entertainment in January.

With a County Mayo-esque view of the lake, stained-glass bar adornment and knotty pine walls, you won't find green beer at the authentic Irish pub. But live Irish music, a loyal following and a seemingly never-ending supply of corned beef makes the Detroit Avenue pub one of Cleveland's favorite Paddy's Day hangouts.

Before an Emerald-hued crowd streams in faster than the River Shannon, we asked Karen and bar manager Phil O'Malley (no relation) what it's like to work a typical St. Paddy's Day — if there is such a thing.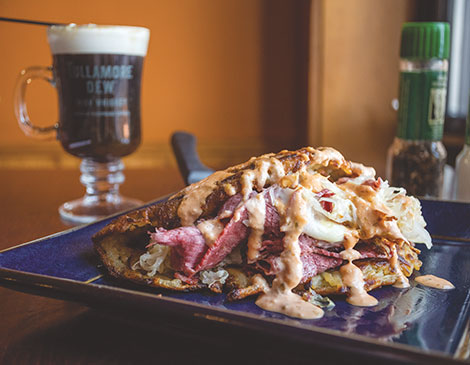 The Night Before
The restaurant prepares about 800 pounds of salt-cured beef brisket to be used in eggs and hash, boxty and sandwiches. "The week leading up, it's cleaning, cutting and cooking all day," says Karen. The pub readies 40-50 kegs of Guinness and Harp Lager, and a security crew guards the beer all night. "We don't want anyone coming in and having a party before the party," she says.
7 a.m.
About 40 employees arrive for the first of two shifts. "We have staff members that have moved on come back and help us," says Karen. "They know what to expect." Last-minute preparation includes pitching the heated tent on the patio, getting the outdoor bar stocked and swapping out plasticware for glassware. Before any of it is done, a thirsty line has formed.


8 a.m.
About 20 to 30 people stream in as the doors open. The crowd ranges from those grabbing a pint before work or mass, to people already an Irish breakfast (or three) deep. Festive drinks reign supreme early in the day, especially Irish Coffees, a whiskey-spiked cup of joe with sugar and whipped cream on top. "The crowd takes off right away," says Karen. "It's just nonstop."


10 a.m.
The Guinness flows as the pre-parade crowd makes up the first of the day's three peaks. It takes nearly two minutes for the foam head to settle on the stout before it's served, which makes foresight a job requirement. "When you see a big surge of people coming towards the bar, one bartender starts [pouring] three or four," says Phil.


Noon
Paradegoers begin streaming out to claim prime real estate along the processional route, which runs from Superior Avenue and 18th Street to Rockwell Avenue and Ontario Street, kicking off at 1:04 p.m. "During the parade is the slowest time of the day," says Phil. "That's when you take a little break, go get something to eat and then get back at it."


4 p.m.
The crowds are a bit livelier after the parade. Unsurprisingly, they're also hungry for corned beef sandwiches. The dining room fills up, and the impatient flock to the express sandwich lane in the beer tent outside. "It's a little harder [for waitresses] to get through the crowd at that point," says Karen, "but the crowd is always so accommodating in helping us get through to serve the guests."


8 p.m.
All-day drinkers start dropping like flies, but the Pogues tribute band the Boys From the County Hell shows up to give the party a kick in the kilt. "They have a following of fans from ages 20-60, families, traditional Irish dancers," says Karen. "They play all day downtown, and then their loyal fans follow them to the Harp."


11:30 p.m.
As the pipes of "Danny Boy" make their last call, so too do the bartenders and Uber riders. "People stay a bit longer on weekend [St. Patrick's Days]," says Phil. "But on a weeknight, people have stuff to do the next day."


3:30 a.m.
The beer tent is torn down, but the party isn't over yet. Before clocking out, staffers prep corned beef and kegs for the next day's belated celebration. "A lot of older people and people who didn't want to brave the crowds come out the next day," says Phil. Karen has her own celebration. "I drink a really nice bottle of wine and go to bed," she says. "It's a long day, but it's so worth it because everyone's having a good time. It's like our official start of spring."