Editor's Note: Pending council approval, Cuyahoga County is moving its enforcement of the plastic bag ban from July 1, 2020, to January 1, 2021.

Giant Eagle set a big goal in December: to eliminate single-use plastics in its operations by 2025, including bags, single-serve fresh food containers and bottled beverages. Dan Donovan, the chain's senior director of corporate communications, talks about the shift and how customers are adjusting.
Q. What prompted this?
A. Over the past two years, this notion of removing single-use plastics has been top-of-mind internally and in the media. The mid-December announcement was very important for us to be ahead of the January ban to create as much awareness as possible to prepare our customers. Change is not easy.
Q. How are things going so far?
A. It's come a long way. Some customers are bringing their own bags, other customers are purchasing reusable bags and taking advantage of the convenience of purchasing paper bags [for 10 cents each], and you see some customers walking out with items in their hands.

Q. How have you incentivized the move?
A. Since mid-December, we've awarded 5 million Fuelperks to customers across our markets [for bringing in reusable bags]. We translate [that] into approximately 10 million plastic bags that we've kept from littering our communities. That's a stat we're all really excited about.


Use Cases
Take a peek behind the numbers of plastic bags and the effort to ban them.
1977: Year plastic grocery bags were introduced at supermarkets
319 million: Number of plastic bags that become waste in Cuyahoga County each year.
100 million: Number of plastic bags Americans throw away annually.
1 Percent of plastic bags that are returned for recycling.
15 minutes: Average working life in minutes of a single-use plastic bag.
8: Number of states that have banned single-use plastic bags, including California, Hawaii, New York and Oregon.


Business Bust
The Cuyahoga County-wide ban on plastic bags was not lauded by everyone. The city of Cleveland enacted a temporary exemption of the ban, and suburbs such as Strongsville, North Olmsted, Independence and Brooklyn opted out. "[The ban] really doesn't solve the problem, which is single-use bags, whether they're paper or plastic," says Heinen's co-owner Jeff Heinen.
He estimates that switching from single-use plastic bags to traditional paper ones will cost the local chain $1.6 million per year. Instead of ditching plastic bags, which Heinen's will have to do when the county starts enforcing the ban July 1, he preferred a previous measure that would have added a 10-cent per-bag fee on plastic and paper. He says it would've led consumers to opt for reusable.

For now, Heinen's distributes 10,000 free reusable bags per year and incentivizes customers to use them with gift card drawings. "If Cuyahoga County had chosen to think about this more, maybe they would have come up with a solution that's a win for consumers, a win for the environment, and not a disadvantage for retailers."

Grab Bag
As you say goodbye to flimsy blue bags, say hello to these stylish reusable totes we love from local stores.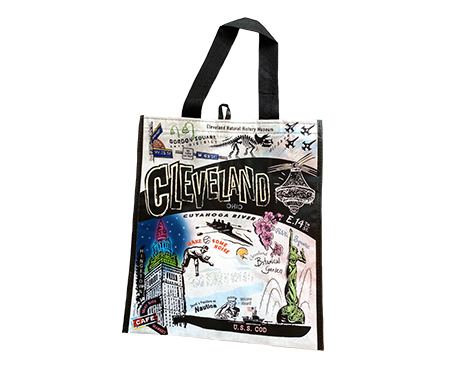 1. Illustrated reusable shopping bag, $1.49, Heinen's
At the front of the store, snag one of these totes with a funky, Cleveland-themed illustration by local artist Jeff Poplar to show off your civic pride while you stock up on your weekly provisions. Various locations, heinens.com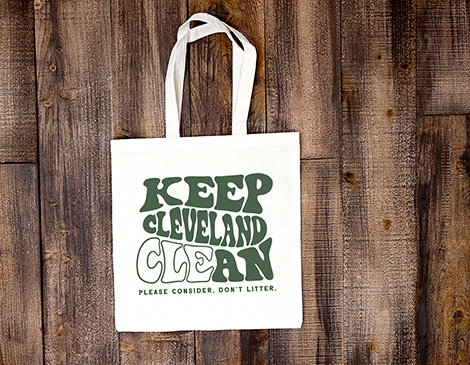 2. Keep Cleveland Clean canvas tote, $10, CLE Clothing Co.
Embrace your inner hippie with this market carry-all tote designed and printed in Cleveland. It's made of 100% recycled cotton, and best of all, you can toss it in the washer as needed. Various locations, cleclothing.com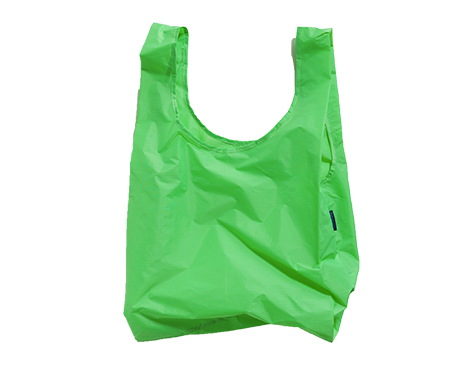 3. Standard Baggu reusable bag, $12, Wild Cactus Boutique
Carry groceries and more in this stylish nylon bag that folds into a flat, 5-by-5-inch pouch, perfect for stashing in your handbag or glovebox. It comes in a variety of colors. 2138 W. 25th St., Cleveland, wildcactuscompany.com