Exercise doesn't need to feel like punishment. Whether it's Title Boxing Club's perfect location for an after-class brew in Ohio City, Rise Nation's light show designed to distract from the pain or Sky Zone's flashback to childhood, fitness studios that feel more like social engagements are cropping up throughout the city. Here are three classes that will help you increase the intensity but decrease your own resistance to your 2018 workout regimen.

Sky Zone | SkyFit Class
Kick up your heels while burning up to 1,000 calories in this trampoline park class. Conducted on and off the trampoline, the hourlong, boot camp-style workout has strength components, including core work and battle rope exercises, and plenty of jumping for cardio. Instructors often disguise workouts as games such as dodgeball and relay races. "You'll see the calories burning off," says David Dabney, director of marketing for Sky Zone Cleveland. "At the same time, you're jumping around and having tons of fun." $12 per hour. 750 Alpha Drive, Highland Heights, 440-467-5867, skyzone.com



Rise Nation | Level 2: The Climb
In an ultramodern, club-inspired downtown studio, Rise Nation offers an intense workout based on the VersaClimber — a 1980s cardio machine that saw a revival after LeBron James claimed to be a user. "A lot of pro athletes use it in-season because it doesn't add wear and tear on the body," says CEO and founder Jason Walsh. Once you've got the hang of the 700- to 2,500-foot intro climb, step up to The Climb, a higher-tempo workout of about 1,500 to 3,500 feet in the same 30 minutes. $20 per 30 minutes. 1026 Euclid Ave., Cleveland, 216-415-5398, rise-nation.com

Title Boxing Club | Mixed Martial Arts
Get your Stipe Miocic on with Title Boxing's mixed martial arts-inspired class. Launching in February for members who've conquered the lower-level boxing and kickboxing courses, this one-hour, small-group workout invites you to strap on open-finger MMA gloves, hit the heavy bag and toss the body bag. "This is an exclusive advanced class in an intimate setting," says director of operations Nichole Frato. "It's a great complement to our workouts for members who are looking for something a little different." $89-$129 per month. 2885 Detroit Road, Cleveland, 855-269-4649, titleboxingclub.com

Gut Check


Thanks to lactobacillus, a live bacteria present during fermentation, probiotics have been linked to a boosted immune system, weight loss, improved heart health and even mood regulation. "They heal nothing but help everything by putting that beneficial bacteria back into the gut," says Aaron Powell, owner of Bearded Buch. Here's how to work probiotics into your diet.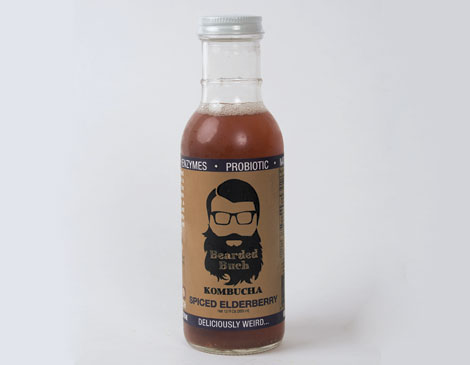 Bearded Buch Kombucha ($3.99)
Don't let the pancake-like blob, or scoby, scare you away. During fermentation, this bacteria-and-yeast culture creates antioxidants, enzymes and acids that offer an afternoon pick-me-up in a bottle. "It's left in because we want people to realize this is a living drink," Powell says.




Cleveland Kraut ($5.99-$6.99)
Endorsed by the Cleveland Clinic, this corned beef topping comes in seven flavors and aids in muscle development, weight loss and overall digestive health. "Put the spicy Gnar Gnar in scrambled eggs for a healthy spin on huevos rancheros," says Mac Anderson, the brand's chief marketing officer.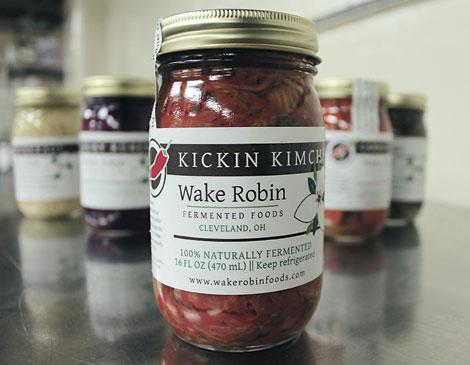 Wake Robin Fermented Foods Kickin' Kimchi ($5-$7)
A Korean staple, this fermented blend of cabbage, red pepper, daikon radish, bok choy, ginger and more goes great in stir-fry. "The juice is where a lot of probiotics are," says Molly Murray, co-owner of Wake Robin. "Use it like a hot sauce on tacos or bloody marys."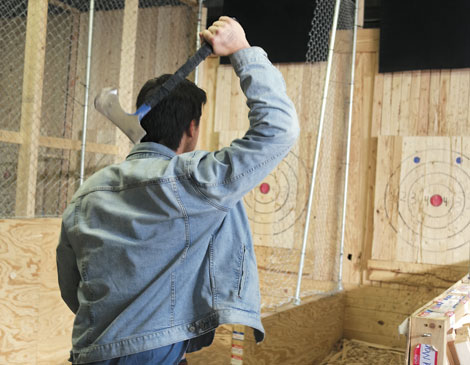 We Tried It: Ax Throwing

Wielding an ax is a powerful feeling — even as my first dozen throws ricochet off the large target painted on a series of wood planks at the end of the lane of wood and chain-link fence at Cleveland Axe Throwing in Valley View.

Luckily, my instructor, or "axepert," coaches me on how to keep the ax level, snap my wrist and follow through like a baseball pitcher. Soon a one-handed toss with a 1.25-pound wooden ax starts to feel comfortable. My confidence grows as my tosses begin to stick with the frequency of a dart game.

"You've got the hang of it," the axepert says. "Let's play."

He warms up with trick shots: no-look bull's-eyes, two axs at once. I'm in trouble. Quickly, I drop the first two games — a first-to-25 contest and T.I.M.B.E.R., played like H.O.R.S.E. but with the lower score in each round earning a letter.

Going into the final game — tic-tac-toe — I'm determined to record a victory. After the axepert takes an early lead, I block his scoring opportunity and create my own. With my Xs in the top right and left spaces, I stick an ax into the target corresponding with the top center space. Tic. Tac. Toe.

While my future probably isn't in lumberjacking, I leave with "Lumber Lord" stamped on my forearm. My prize for beating the axepert has me feeling as tall as Paul Bunyon.