The unassuming brick buildings and parking lots lining downtown Akron's South Main Street hide something remarkable.

On the third floor of the 110-year-old former BFGoodrich tire factory, a 6,000-square-foot, purple-lit greenhouse resembles a mad scientist's laboratory. But instead of plotting a world takeover, Vigeo Gardens uses custom-designed and -engineered hydroponic vertical gardens to change the way Northeast Ohioans' food gets from farm to table.

"We're not just farmers," says Jacob Craine, chief marketing officer. "Vigeo is focused on agricultural technologies that highlight integrity, producing products we would actually eat with the highest nutritional value possible."

The seed for Vigeo — which means "to thrive and flourish" in Latin — was planted in 2015 at the University of Akron. Childhood friends CEO Vincent Peterson and Craine saw a chef harvesting microgreens, a fast form of farming in which the crop is picked just after the first leaves sprout. Both restaurant employees, the pair thought it could be the key to putting better crops on diners' plates.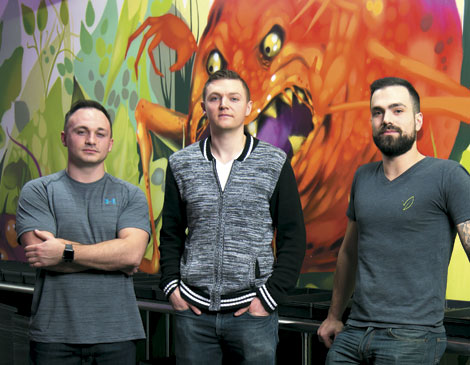 "We decided to set up a garden in my girlfriend's basement," says Craine. "We were constantly coming up with ideas to increase our harvest in the most chemical-free, pesticide-free, non-GMO way possible."

Three years later, after adding chief operating officer Mark Preston and upgrading Vigeo Gardens' basement digs to its current space, the company is harvesting thousands of heads of lettuce, hundreds of trays of microgreens and a few hundred pounds of basil every week.

Three giant fertrollers maintain the pH and nutrient levels of the water that is constantly cycled through three zones and 37 giant racks, feeding the roots of eight types of lettuce and 25 varieties of microgreens.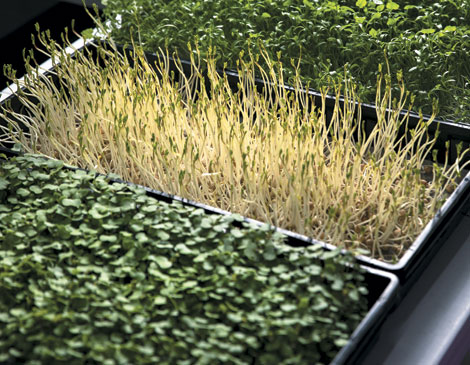 This closed system, which lets plants grow even in the harshest winter months, helps reduce clients' carbon footprint by removing the need to truck greens from California to meet Cleveland diners' demands in February.

Its client list includes more than 60 restaurants, including Zack Bruell's restaurant group, and grocery stores such as Heinen's and Giant Eagle. The company, on track to hit $1 million in sales this year, even inked a deal with Quicken Loans Arena in December.

Next stop for Vigeo Gardens? An abandoned warehouse near you.

"We want to take old Rust Belt factories sitting there doing nothing and create an efficient vertical farm producing food that people will be proud to have on their plate," says Craine. "You don't have to knock down buildings to make room for the innovation we desperately need in our food system."