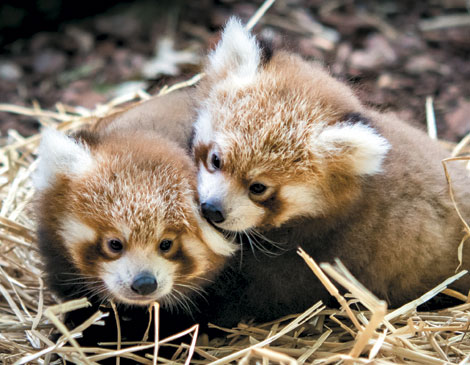 Asian Small-clawed Otters
Born in September, this trio of small otters is expressive and boisterous. Growing Pains: The 2-pound, 1-foot otters grow to be about 7 to 13 pounds and 32 inches long. Name Game: Adhi, Bejo and Cipto are traditional names from their Indonesian homeland. Home Sweet Home: The zoo's RainForest waterfalls make a perfect home for the aqua lovers. Dinner Menu: Partially webbed paws help pry apart mollusks. "There's a lot of strength in those little paws," says animal curator Tad Schoffner. Report Card: The pups have discovered their natural acrobatic talents through solo swims, but still huddle together in burlap sacks to dry off.




Red Panda Cubs
Born June 20, these playful branch-dwellers with bushy bodies and red-striped tails and heads look like teddy bears come to life. Growing Pains: About halfway to full-size, the panda bros weigh about 7 1/2 pounds. Name Game: Jacob and Wilhelm are named after the Brothers Grimm. Home Sweet Home: The pandas move in to the new Asian Highland exhibit later this year. Dinner Menu: Technically carnivores, red pandas opt for a vegetarian lifestyle. "The zoo grows bamboo for them," says animal curator Elena Less. Report Card: The cubs are mastering the panda pounce, but still find comfort in the straw-filled wooden nest boxes that served as cribs after birth.