Some of the most magical relationships between humans and animals that Sharon Harvey has ever seen started with an impulse adoption of a shelter dog or cat. But before bringing an animal into the home consider how a pet will fit into your world after the pandemic.
"You may have the time now," says Harvey, the president and chief executive officer of the Cleveland Animal Protective League. "But if you're going to adopt now, make sure you have a plan."
Pre-pandemic work, school and home schedules, travel plans and lifestyle are among the factors that should be considered, along with any condominium or homeowners' association restrictions, home size and owner's energy level and the ability to pay for food, veterinary care, grooming, dog-walking, pet-sitting, etc. These factors will play a part in determining the pet best suited for an individual or family. Harvey notes that a cat, for example, requires less care than a dog. Regardless of the animal chosen, the goal should be the same.
"The intent should be that you are planning to keep that pet for life," she says.
Before the pandemic, a prospective pet owner could select a new family member at the Cleveland APL's facility. They would fill out a survey that helps assess their lifestyle and what is desired in a pet, then discuss those needs with a staffer before meeting any animals.
"If somebody hasn't seen an animal that they've gravitated toward, [our team] might make some suggestions and guide them toward some animals that seem to be a fit," she says. "If they've already found something they really like, then the conversation is more about, 'Is that animal going to be a good fit?' "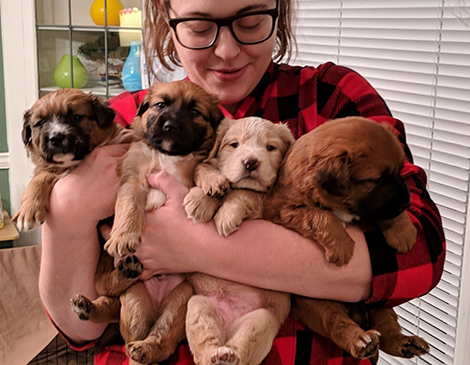 COVID-19 has moved much of that process online. Photos of animals available for adoption are posted on the organization's website along with directions on how to adopt them. Generally, that involves completing the aforementioned survey online and talking to a staffer by phone.
Those interested in adopting a dog can then make an appointment to meet a set number at the shelter. Those interested in cats usually adopt based on posted profiles and, in some cases, videos. "We can probably show them more of a cat's behavior virtually than we can by [their] coming in and looking at a cat for that finite amount of time when they're in the cage," Harvey says.
She stresses that every shelter is conducting business differently. "Look on the websites for the shelters you're thinking of adopting from and find out what their adoption process is now," she advises.
Harvey says that there are legitimate reasons for obtaining an animal from a breeder. Some people require a service dog or a breed that doesn't aggravate allergies. But adopting a pet comes with the satisfaction of helping an animal that's already been born.
"This is an animal who, through no fault of its own, has ended up in this situation and can only be helped by somebody coming forward and saying, 'I have a place in my home and my heart,' " she says.