"The Forum" is not your typical discussion panel … at least, that's the aim of Fashion Talks founder and director Aimon Ali.
Coming down from the emotional high that is New York Fashion Week, the Cleveland-based entrepreneur spilled the tea (pun welcomed) on this fall's Fashion Talks Foundation collaboration with The Ritz Carlton. In one afternoon of conversation, breaking news was shared, schedules were broken down, and important reminders were raised. For those curious and keen, here's what to expect on Oct. 1.
What is The Forum?
A premiere panel-led event hosted by Fashion Talks Foundation at The Ritz Carlton in Tower City Center. From 11 a.m. to 2:30 p.m., fashion enthusiasts and up-and-coming creatives are encouraged to attend afternoon tea while hearing from an impressive lineup of professionals seasoned in navigating the business side of the fashion industry.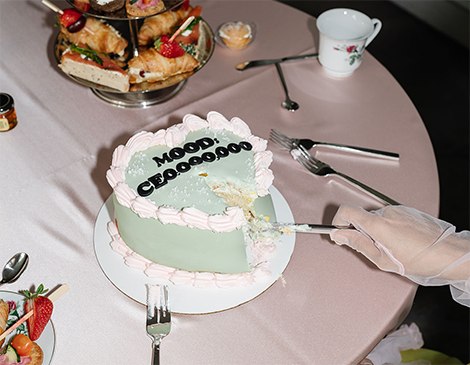 (Photo by Gabby Mae)
What Sets The Forum Apart?
The panel of guest speakers lined up for Oct. 1 has more than a general career field in common. They also share the struggles of pursuing those fashion-centered roles as minority women.
"We're going to talk about our backgrounds, how we got into business, how we struggled and what those specific struggles were. We're going to talk about how we overcame them and how we see other women around us doing things that ultimately led them to success," says Ali.
At its core, the afternoon of tea and talk seeks to be an informative unveiling of numerous paths trekked and tests tried in the pursuit of growing a brand, launching a business or constructing creative products within the crazy, and previously hyper-exclusive, world of fashion. If anyone gets the confusion and chaos around stage 1 of getting started in this industry, they do.
Ali, along with The Forum's panel (yet to be announced), intends to offer ways of expediting that initial, intimidating process. "I don't want others to have to struggle as much. That's what's great about being able to hear from these different perspectives and shine a light on these diverse backgrounds and backstories," shares Ali.
"We're going to cover the basics of who we are and what our journeys were, but that's far from where we'll end. We are going to have specific questions on entrepreneurship and management, and not just in a professional sense," says Ali. "We're going to be covering life management in addition to taking questions from the audience the day of. We'll have a little question box where people can drop questions and we'll be answering them at the end."
Ultimately, Ali wants this to be a relaxed and unfiltered afternoon that empowers those new to the fashion scene to pursue their dreams through practical means. "I want it to be honest and personal, even down to the physical set-up of the space with table seating accessible for speakers to pull up a chair and mix and mingle throughout the room."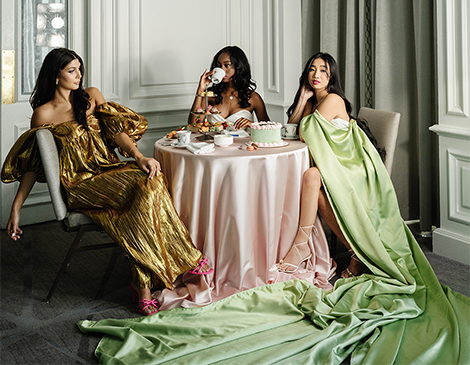 (Photo by Gabby Mae)
Why Tea?
A set theme can enhance any event, but I was curious to learn why afternoon tea was selected as the chosen medium for The Forum.
"I've always picked places [to host events] and activities that were traditionally not open or accessible to minorities or people of color. Take last year's The Runway show which was held at the [Cleveland Museum of Art], for example, or this year's [show] at the [Severance Music Center]. There's a certain demographic that's often brought to mind when you think of art museums and orchestras, and in the past, it hasn't been ours," Ali explains. But times are changing, and attitudes are shifting. "I feel like in recent times, this static image is breaking away. The world is adapting, growing, and these younger generations coming in are determined to be the representation they wished to see growing up."
"I love afternoon tea," says Ali, "but I do understand that it's something that has traditionally been reserved for people with more money. Not everyone has had that experience or comes from that background, so why not offer the opportunity when you have the ability to?"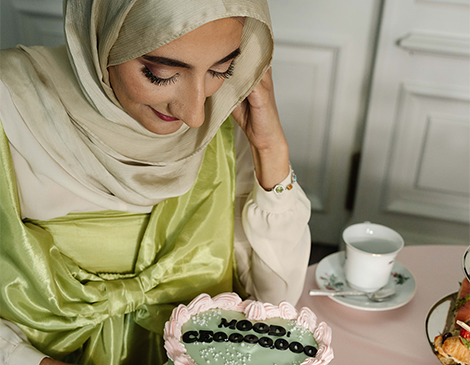 (Photo by Gabby Mae)
Fashion Talks vs. Fashion Talks Foundation: Is There a Difference?
Fashion Talks and the Fashion Talks Foundation may sound synonymous, but Ali makes it clear that they are individual, separate entities. "The Forum event is actually the foundation's soft launch," shares Ali excitedly.
Although born from the baseline of Ali's fashion marketing and event coordinating brand, Fashion Talks, the Fashion Talks Foundation is an all-new non-profit created in the hopes of helping to further break down barriers within the fashion industry.
"Fashion Talks is my business that produces events and provides services like social media marketing, website branding, you name it," laughs Ali, noting that with the glitz and glamour of their annual fashion show, the general public may forget that the business does a whole lot more on the marketing services side of the business spectrum.
"While I was doing fashion talks, I felt like something was missing. I loved, and still love, that we provide these services, but I feel like there's people that need more help in terms of education, mentorship and resources. I feel like that was really lacking, specifically here in Cleveland," shares Ali.
After doing some research, and hearing suggestions from trusted friends, Ali committed to building her own non-profit to offer additional aid, and hopefully soon, it won't just be a helping hand for Clevelanders.
"I want this to be national," says Ali. "I want to be a resource in New York, LA, Dallas, you name it. I want it to be where the creatives can benefit from it, and from what I've seen, that's everywhere."
To purchase tickets to The Forum, click here. For further information, and to stay up-to-date on future collaborations and launches from the Fashion Talks Foundation, follow their socials here.
Start your day the best way by signing up for our free daily newsletter. Arriving in your inbox every morning to keep you in the loop on the best guides, home and style tips, and news briefs for all things Cleveland. Click here to subscribe.