Even as life settles into a new normal, the world is a scarier place than it was three months ago. But hopeful stories are still emerging, and we need them now more than ever. From artists to distillery owners, medical equipment suppliers and more, here are five pieces of good news we're championing to help lift our spirits.

Changing Gears
When Cleveland Whiskey CEO and founder Tom Lix received a call in March from a Cleveland Clinic pharmacy director about producing hand sanitizer, he had already been brainstorming ways his company could help the community. Within three days, and with some help from Clinic pharmacists, Cleveland Whiskey had a production line up and running. "[This] is part of doing the right thing and being part of the Cleveland community," says Lix. He estimates Cleveland Whiskey has donated thousands of bottles of hand sanitizer a week to Cleveland Clinic heath care workers since then.
Local Looks
With many people still not comfortable traveling, the tourism industry has come to a halt. But that doesn't mean TourismOhio has stopped working to promote Ohio. The state's travel agency shifted its focus, encouraging Ohioans to support local restaurants, shops and special attractions this spring with its "Support Local" campaign. "What we're doing is encouraging people to not forget about those local establishments that are key to the fabric of these communities," says Lydia Mihalik, director of Ohio's Development Services Agency, which oversees TourismOhio. "It could help keep Ohio restaurants, retailers and attractions in business."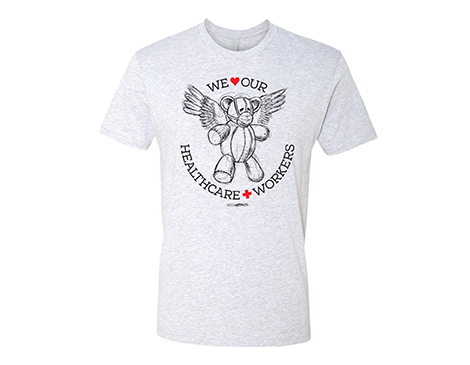 Adapted Design
Mentor-based Steris found a temporary solution to hospitals' face mask shortages. In April, the medical supply company's V-Pro Decontamination device, which is normally used on surgical tools, was approved for small-scale use on face masks by the Food and Drug Administration. Capable of sterilizing 10 masks at a time, it allows health care workers interacting with COVID-19 patients to safely reuse the coverings. "We are pleased to be able to offer a partial solution for health care providers during this crisis, and hope that this temporary authorization will provide some relief to them," Steris' president and CEO Walt Rosebrough wrote in a statement.
Drawing Help
One of Cleveland-based artist Derek Hess' signature images has been a teddy bear with angel wings. Recently, he offered a twist on the playful image in his partnership with health nonprofit Direct Relief, which delivers medical resources to health care workers. Hess created prints and T-shirts featuring a drawing of the bear wearing a face mask and the message "We Heart Our Healthcare Workers" for the partnership, sending 50% of the profits to Direct Relief. "Everybody is grateful for what they're doing," says Hess. "This is a way that someone can really show that to someone they love."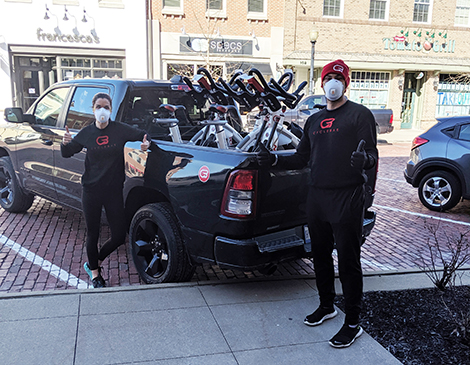 Spin Cycle
When gyms closed in March, CycleBar Hudson owner John Wood knew that he had to do something to keep his community active. Wood decided to install CycleBar bikes in the homes of his customers, with no extra charge or rental fee. Wood and his trainers delivered 45 of the bikes to patrons, some of whom were in their driveways jumping for joy upon delivery. Gym members accessed classes on Facebook and Instagram Live, while their favorite trainers taught from the studio alone. "There's very strong relationships or community that we formed," Wood says. "[This is] not the same as being in-person, but it's pretty darn close."