Alex Baca knows one thing about Clevelanders. When it gets nice, they go outside. The UH Bikes general manager is hoping that holds true as the bike-sharing program comes up on its one-year anniversary in July. The program has expanded from 10 predominantly downtown stations to include 21 with spots in neighborhoods such as University Circle, Ohio City and Tremont. Users can easily rent a bike via a smartphone app for $3.50 per 30 minutes, $21 for four hours or by using a monthly or annual plan. By looking at ride data from last September — when users took nearly 1,800 trips — Baca takes us for a spin through the numbers.

1. Downtown activity: Although uses are varied, the majority of rides still take place downtown, which hosts 12 hubs. "It's accessible to people who are using it for commuting," she says. "It's people who are driving into Cleveland on the weekend and getting around downtown. Lots and lots of different people can use them."

2. Near West Side: While a study showed, among other things, that the bikes could work in places with a concentration of employers, such as downtown, people in near West Side residential spots said they would ride. That has proved to be true. Many people are taking cycling trips to Edgewater Park or to the bar to meet friends. "That can be really powerful in eliminating car trips," Baca says.

3. Euclid Avenue: A lack of bike infrastructure throughout Northeast Ohio can especially be felt by riders commuting between downtown and University Circle. They almost exclusively take Euclid Avenue for its bike lanes, but it isn't the most aesthetically pleasing trip. "If we had that infrastructure, you would see a lot more emphasis on other corridors," Baca says.

Out-of-hub Lockups In University Circle for September 2016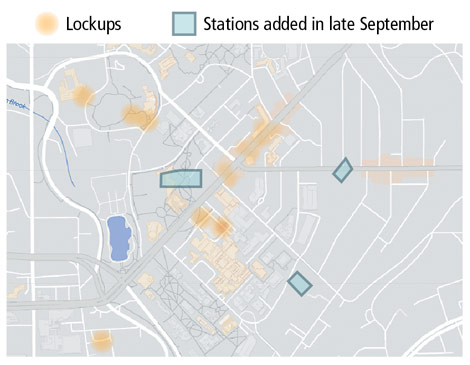 Lockups: Each bike comes with a lock so users can secure it anywhere in Cleveland for $2 if there isn't a hub nearby (lockups outside of the city jump to $20). If there's a concentration of out-of-hub lockups (like those in the above map of University Circle from September), Baca can use the data to outline new stations. "People are locking bikes up in front of places where people go," she says.