The light he saw was green. One moment later he was flying through the air, the ground screaming up at him.
On a Monday in October, Alex Nosse had locked the doors to his Ohio City bike shop, geared up for the brief ride home.
It was on Fulton Road, crossing Lorain Avenue not even a mile away from work, that Nosse kept up speed toward an obvious green light. Unfortunately, a light-colored sedan traveling down Lorain couldn't wait for their red one.
Nosse's bike jerked out from underneath him as the car clipped his rear rack. His body whipped toward the asphalt like a rag doll.
"It was a very violent feeling," Nosse recalls. "That's the first time I've actually been hit by a car, like ever. It was definitely a very, very crazy feeling of how vulnerable I felt."
The cyclist and store owner opened Joy Machines Bike Shop nearly a decade ago, becoming a staple in the heavily walked and biked Ohio City. Locals around the area have likely seen him at one point or another, and it's unsurprising when several patrons greet him as he enjoys his morning cup at Phoenix Coffee Co. on Bridge Avenue.
The video of Nosse's accident, posted to Joy Machines' Twitter, leaves little open to interpretation. The car that strikes him pulls up behind a car stopped at the light, and slows ever-so-slightly before going around the other vehicle and directly toward an unaware Nosse.
Unfortunately, incidents like this are all too common in Cleveland.
"I think it was two weeks to the day before I got hit — I had a bad commute," Nosse says. "Like three cars did crazy s**t on my ride home. And I was like, Wow, I'm a mile from home, and I almost got hit three times today in one of the most walkable communities in Cleveland — theoretically."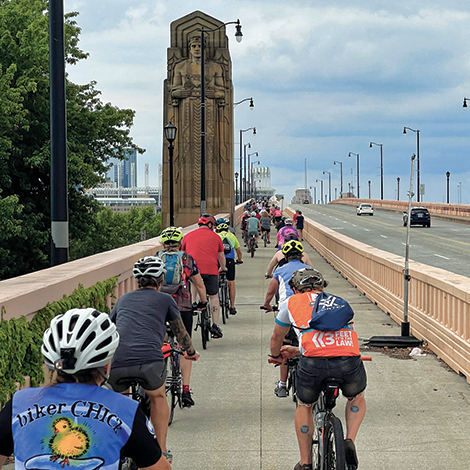 It's difficult to pin down how many Clevelanders get around by bicycle. However, the danger to two-wheeled travelers is clear, says Calley Mersmann, senior strategist of transport and mobility for the City of Cleveland.
In 2022, the Ohio State Highway Patrol reported more than 1,000 bicycle-related crashes in Cuyahoga County, seven of which were fatal; 13 more caused serious injury. And OSHP data shows pedestrians face just as much, if not higher risk. More than 20 died in Cuyahoga County last year; 85 were seriously injured.
Vision Zero Cleveland — a Swedish traffic safety system adopted by the city in September 2022 to identify traffic safety risks and bolster preventative measures — claimed that 68% of bike-related crashes showed no signs of the cyclist making a mistake that might have contributed to the incident, and in January and February of this year, local bicycle advocacy group Bike Cleveland reported more than 70 automotive crashes involving cyclists and pedestrians, says advocacy and policy manager Jenna Thomas.
Such stats dishearten those like Nosse or Thomas, who wonder why Cleveland isn't doing more to protect them.
On occasion, a project pops up like the Superior Midway, a proposed 2.4 miles of protected bike lanes from East 55th Street to Public Square. This type of infrastructure, including extended curbs and speed tables, slows traffic down and often creates a buffer which further protects pedestrians.
Nonetheless, the Midway stalled out for a decade in the planning stages, harangued by design issues and a lack of funding.
After gathering $19.6 million of grant money from organizations like the Northeast Ohio Areawide Coordinating Agency, the Superior Midway very nearly halted altogether in February, when Rep. Tom Patton (R-Strongsville) proposed a transportation budget amendment to House Bill 23, which would strip Cleveland of the ability to build bike lanes on city streets.
Patton cited concerns involving delivery and emergency services, like firefighters or UPS, that rely on the center lane of busy corridors to dodge traffic — a space the Superior Midway would take up.
Such initiatives, from massive infrastructural overhauls to smaller traffic-calming roundabouts and painted bike lanes, are necessary for connecting the city — yet the difficulty in approving and implementing those projects on a city level can feel more frustrating than uplifting, Nosse says.
A connected city, however, is one of Nosse's dreams. Walking into his business, the owner smiles at customers from behind the counter, standing in front of hundreds of parts, tools and accessories. Colorful stickers mark the counters and walls everywhere you look. On one wall sits shiny new bikes, ready for a seasoned rider needing fresh transportation or a newcomer delving into their next hobby. To the left of the front counter, bikes in need of repair hang upside down or next to the workbench. Nosse fixes those bent or broken by careless drivers.
"It's scary especially when it starts getting busy out again, like in [summer]," says Zach Sapatka, an Ohio City resident and Joy Machines patron. "Sometimes you don't know if people are just accidentally driving into the bike lane or if they're trying to be ass****s."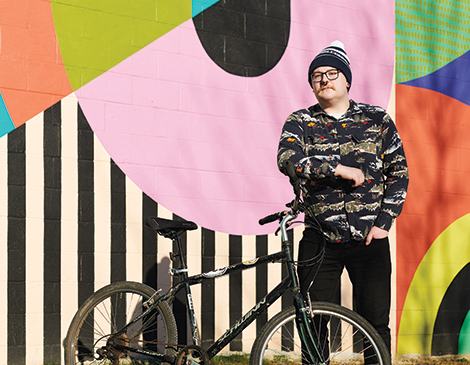 For that very reason, Bike Cleveland education and outreach manager Diana Hildebrand preaches the utmost safety with her friends, colleagues and the young students she takes for rides. "Keep your head on a swivel," she reminds everyone.
As the ones at the most risk on the road, constant awareness is vital, she warns.
Advocating for Safe Riders
Bike Cleveland began, in part, as a response to situations like Nosse's crash. Founded in 2011, the organization formed when several fragmented bicycle advocacy groups banded together for the sake of forming one strong voice.
Hildebrand wouldn't join officially for nearly a decade, jumping aboard in March 2022 after taking up cycling as a hobby a few short years earlier — she needed an active replacement for the football she once played.
At 36 years old, Hildebrand hopped on Craigslist and bought a bike she describes as less than ideal.
"My children just thought it was crazy. I'm like 'No, I'm getting this bicycle,'" Hildebrand remembers. "It was listed on Craigslist, $50, a man's 1975 Schwinn road bike, steel and everything. But this bike had so many issues. I didn't know that the bottom bracket was horrible, the tires were dry rotted, the wheels weren't true anymore, the gear was messed up. But as a beginner, I didn't know."
Her first ride wasn't much prettier.
"The next day, I was like, Oh, I'm going to put some air in the tires, and I'm going to go no-helmet, T-shirt, gym shoes. Eight miles took me three hours," she says, exasperated. "Now, eight miles takes me 30-45 minutes."
She toughed out that first outting and stayed determined, continually improving her bike and attending workshops and group rides.
For this, Hildebrand credits a vibrant, supportive community that suddenly surrounded her.
After a while, the hobbyist-turned-instructor began hosting her own events, including a series of social justice rides for Breonna Tayor and George Floyd in 2020.
She eventually found her way to Bike Cleveland, participating in events and functions — executive director Jacob VanSickle even invited her to instruct on several occasions and, one day, offered Hildebrand her current full-time position as education and outreach manager.
For Hildebrand, cycling became a communal activity more than a hobby. And she's quick to protect the friends and local school children she now takes for rides.
"Keep your head on a swivel," she warns again, leary of drivers like the one that hit Nosse.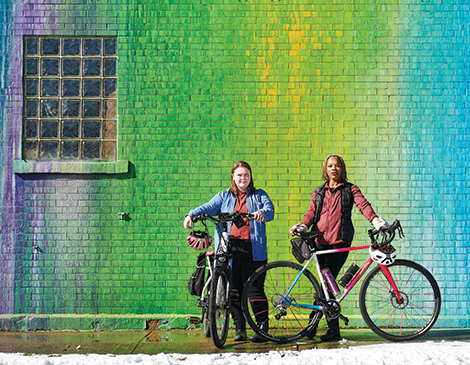 Problem Persists
Back at the Lorain-Fulton intersection, mere minutes from home and work, Nosse found himself face down and reeling on the asphalt
The bike owner and resident of one of Cleveland's most walkable neighborhoods (according to local publications from Cleveland Magazine to Cleveland Scene) had just become one of the thousand cyclists involved in a 2022 crash. He could have been one of eight dead.
Passing locals came over to help; the car that had stopped at the intersection pulled up with hazards flashing as Nosse gathered himself. He calmed down the folks getting ready to dial 911, picked up his bike and continued home — too sore to ride but fairly certain nothing was broken.
When he came through the door, his wife, Krissie, greeted him as if it were any other night.
"She was like, 'Oh. Hey, what's up?' And I was like, 'I just got hit by a car,'" Nosse responded. "I was in a lot of pain; she started to freak out … like anybody, was very concerned."
"Okay, we need to get to the emergency room," she urged.
Kicking into gear, Krissie loaded her husband into the car, stressing that they should file a police report as they made their way to Cleveland Clinic — Lutheran Hospital.
An officer showed up directly at the ER. Nosse filed his report and even felt glad that law enforcement showed up in a timely manner. Despite the report, however, there wasn't much they could do.
Nosse recalls instinctively looking up for the offending vehicle's plate number after he hit the ground — they were already gone. The video that would later detail the crash remains just too blurry to identify the light-colored sedan.
As of this publication, Nosse still has no clue who hit and subsequently ran from him that night.
However, Jenna Thomas, Bike Cleveland's advocacy and policy manager, notes that Nosse did something vital that night when he contacted the police, regardless of whether charges were pressed or not.
As advocates for safer bike infrastructure in the City of Cleveland, knowing how many Clevelanders suffer crashes every year helps relay the importance of Bike Cleveland's cause Thomas says.
Those reports also provide a snapshot of the problem areas around Cleveland, says Mersmann. With the adoption of the Vision Zero Action Plan, the city sets a high goal for itself: eliminating crash-related serious injuries and fatalities by 2032.
Just a few months before Vision Zero, in the summer of 2022, the city also enacted the Speed Table Pilot Program — setting up speed bumps in 10 residential locations to test the results of the traffic-calming measure.
The program then collects surveys from nearby residents and monitors neighboring street traffic. This helps officials like Mersmann understand whether locals see a positive difference, and if the new speed bumps cause an uptick in reckless driving down adjacent streets.
As the city works with Bike Cleveland and conducts its own research, long-awaited changes come into view.
In January of this year, the Cleveland City Council finally approved the fabled Superior Midway project and a resurfacing of Lorain Avenue — a long-awaited overhaul to cost around $54 million between both projects, but provide a 10-foot-wide, sidewalk-height track for two-wheeled Clevelanders to safely make their way around. Picture an extra middle lane, visible-yet-separate as a corridor of trees and a 26-foot median act as a barrier.
And Patton, who threatened to pull the rug out from the now-celebrating local cyclists, rescinded his amendment in late-February, giving the city freedom to carry on.
"I was able to have conversations with Grace Gallucci, executive director of NOACA … to go over some of the issues surrounding the bike lanes amendment proposed in the transportation budget," Patton says in a statement released by Bike Cleveland. "After our discussions surrounding first responders and other concerned parties, we have been reassured that through the development of the plan these concerns will be addressed."
Further assuaging planning concerns, the city and Bike Cleveland partnered together to apply for the help of a national nonprofit agency aimed at addressing issues related to planning, lobbying and stakeholder involvement.
City Thread, based in Denver, acts as a consultant for regions lacking connected public transit, primarily bike infrastructure. Cities they've affected include Austin, Denver, Pittsburgh, New Orleans and Providence, Rhode Island, which came together to build more than 300 miles of protected bike lanes under the organization's guidance — projects just like the Superior Midway.
City Thread did its initial visit to Cleveland in February and is currently in the phase of identifying and unifying proper stakeholders — local officials like Mersmann, cyclists, business owners and advocacy groups.
Before spring is over, the nonprofit should have an implementation guide ready for those pivotal stakeholders, including a budget, miles of bike lanes that should be implemented and their locations, and a recommendation for polling and information gathering.
However, a current campaign by Bike Cleveland serves almost as a warning, calling for the city to allot $500,000 in maintenance equipment — the bike paths are great for the community only so long as they are maintained, says Thomas — and the organization wants to see someone in Mersmann's old role of Biking and Pedestrian Coordinator.
For the latter, the City of Cleveland opened a new position in March for an Active Transportation Planner. Through the winter, the new Transportation Infrastructure Advisory Committee — made of local advocates and agencies, including the Regional Transport Authority and Ohio Department of Transportation — was formed for the sake of reviewing infrastructure projects, and identifying challenges and pitfalls earlier in the planning process.
As for maintenance and budgeting, Clevelanders will likely see such topics addressed in the city's upcoming Mobility Plan, expected to arrive in May. The plan will look "at where we want bicycle connections to be, where we need pedestrian safety enhancements, etc.," says Mersmann.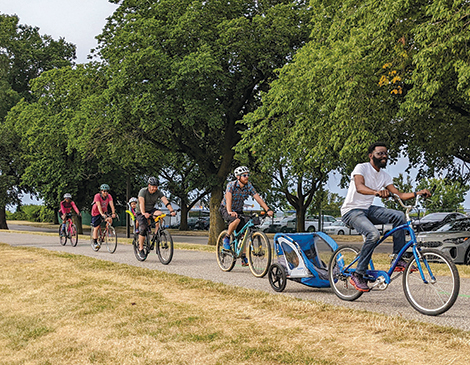 There's Momentum
Back in Ohio City, nearly a month after Nosse's dance with a reckless driver, the still-sore bike shop owner slaps on a helmet and hops back on two wheels.
He isn't nervous to get back on the road — this is his transportation; this is his life, he explains.
"Clevelanders' reluctance to accept change that actually is good for everybody is an endless source of frustration for a lot of us," he says. "I think at a certain point, you just need leadership that says, 'We're going to do the right thing. We're going to make some changes here.' And if it ruffles a few feathers [fine], but people will catch up and they'll be okay. Especially if you can make strong decisions and say, 'We're making this decision in the interest of public safety for all.'"
With his head on a swivel, hope and exasperation tangle in Nosse's mind. Once again, he turns toward the road home.