Stina Aleah has abandoned the well-worn road. In 2015, she was working a miserable office job and needed something to lift her spirits. Painting quickly became her outlet. She went to Michael's, bought "all the wrong things" and taught herself. Fast-forward seven years and she's painting basketballs during NBA All-Star Weekend and working with Marvel Studios to promote Anthony Mackie's version of Captain America in The Falcon and the Winter Soldier. She's worked on 20 murals and had 23 shows throughout the U.S., including her latest appearance at the Museum of Contemporary Art in August. Most of Aleah's free time goes into her craft, but her 7-year-old son, Sol, keeps her going. Aleah wants him to see that creatives can find success.
She wasn't always an artist.
Aleah was an athlete first, running track for Elyria High School. When she broke her femur during a record-breaking long jump junior year, she was devastated. "I fell into a really deep depression because I lost everything that I knew at 16,"
Aleah says. She thought she had to abandon the dream she'd built up in her mind for years: a state championship, nationals and then a full-ride college offer. Because of her injury, Aleah couldn't physically make it to her classes, so school administrators and her parents arranged to keep her in the art room due to its accessibility. That was her introduction.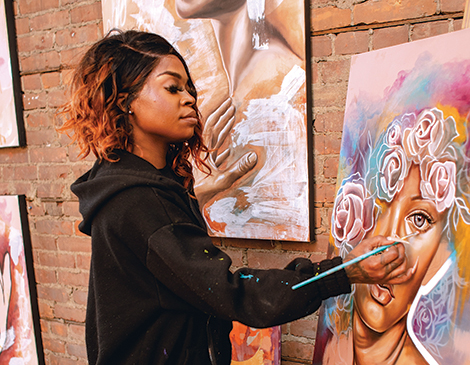 Her style can't be tied down.
Aleah's style is just as unorthodox as her path to success. She dabbles in realism and expressionism, bringing together two movements seemingly at odds. "I created my own style because, when you're self-taught, you don't really fall into a category," says Aleah. Creating things on her own brought a certain level of freedom to Aleah's art — a liberty that remains even in her latest work. The painter chooses to focus on portraiture, which she finds both poignant and personal. Above all else, it's about Aleah being able to express herself through "a little bit of fantasy, a little bit of an abstract; it's kind of a merger."

She gains inspiration from local favorites.
When she needs a muse, Aleah looks to the city around her, including Edgewater Park. "I seclude myself. I need solitude. I need a little peace. I need grounding," Aleah says. "So, anything in nature is big for me, like sitting in front of the water at Edgewater." Aleah also turns to The Cleveland Museum of Art. "I can go in there and get lost for hours," she says. "I'm looking at the stories, the brushstrokes, the lighting and all these things. Obviously, they are there in a museum, and that's where I want to be."

She embraces the journey.
When Aleah started to build her career on Instagram, she was cognizant of the platform's easy slide into superficiality. She didn't want to create an artificial persona she would be obligated to maintain for years to come. Aleah needed to be herself. This unapologetic authenticity has attracted nearly 65,000 followers. "They liked the story, they liked the journey," Aleah says. "It really was helping people step into their own power; give them the courage to either follow their dreams or do their art or just be who they are 100%."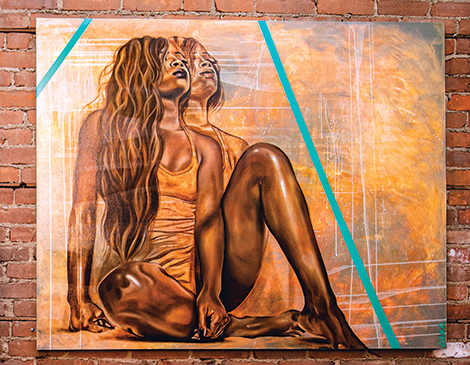 She defines herself.
Of her work, Aleah's favorite is Revolution or Revelation? The enormous, 48-by-60-foot self-portrait painted in 2019 arrived at a turning point in Aleah's life and career and serves as a priceless milestone. "That one is really the staple of me shedding this idea everyone else had of me and what I should do," Aleah says. "I won't sell it! I look at that and I'm like, this is where everything changed for me, when I decided no one is going to define my career, no one is going to define who I'm supposed to be or what I should paint."