Danielle Wiggins hadn't worked at WKYC long before the calls and emails started.
It was 2013 and she'd just joined the station's morning broadcast as a traffic reporter — her first on-air gig after years of behind-the-scenes production work at other local TV and radio stations.
It wasn't a passion for gridlock, orange barrels or broken-down vehicles on the berm that prompted her to take the job. Rather, it was a way into a job she'd dreamed of as a little girl, sitting on a bar stool in her family's dining room and delivering fake news into a mirror, imitating Romona Robinson.
"I knew someday I would be on air," Wiggins says. "I prayed, if someone would just hold an open casting call, then I could show them my personality and how hard I would work. I knew I could do it."
Her mother had called to say she'd heard WKYC was hosting an open audition for a traffic reporter — an unconventional hiring practice in the news business — that would let viewers vote online for the best audition tapes to narrow down the top three candidates, from which WKYC would pick the winner.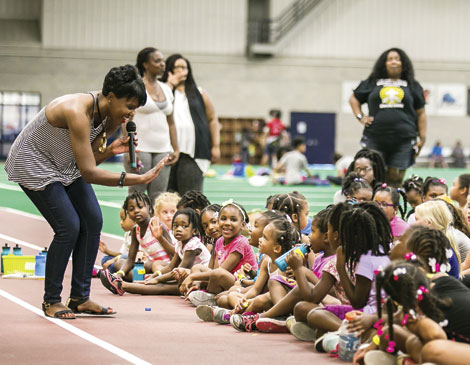 It was an answer to her whispered prayer. She signed up, wore her best blue dress and went in ready to bring her big personality to warnings of road construction and slowdowns on the MetroHealth curve.
"It was" — she pauses with a smile — "something," she recalls. "I only knew my own route. It was definitely not your traditional traffic report."
After friends and family barraged WKYC's website with votes — her sorority sisters from throughout the country stayed up to vote for her in shifts — Wiggins got the job in September 2013.
Then those calls and emails began rolling into the station.
"I would read social media posts that I sounded like I had cotton in my mouth," she says. "One lady tracked me down on Facebook and posted 'You are god-awful. You need to learn how to speak English.' Another one called me illiterate."
Her managers shielded her from the worst of the comments, and the station offered help in the form of a vocal coach on their dime.
She took it. "I felt like, This is what I prayed for, so if that's what I have to do to keep the job, then I'm going to do what it takes," Wiggins says. "I thought about [quitting], but my mom raised me to never quit on anything. I received this job because so many people voted for me. I'm not just here for me. So I said, 'I'm just going to show up every day and give it my best until they fire me.'"
Wiggins worked with the coach for a year. She learned new vocal warmup exercises and got a refresher course in phonics. The coach identified the sounds she struggled with most — like the "d" sound she would often drop, turning "Broadway" into "Brah-way" — and had her practice them.
"I wouldn't wish that first year on my worst enemy," she says. "But at the end of the day, if something is worth having, it's worth working for."
As a kid growing up in Oakwood Village, Wiggins was a TV news junkie. In fourth grade, she and her brother would stay up to watch the 10 p.m. news on Channel 43, anchored by Romona Robinson. When Robinson left to join WKYC, Wiggins and her family all switched allegiances to WKYC.
Robinson's appearance ran counter to what Wiggins thought it would take to make it. "I was given the message through the media that for African-Americans, if you weren't light-skinned, long hair, green eyes, you're not pretty," she says. "When I saw Romona, it was like, Wow, she looks like me. She's brown, and she's beautiful."
But she still didn't believe it was the kind of career that was within reach for her. She didn't think there was an actual college major she could choose that would land her a job in TV news. So she told her high school counselors that she'd be pursuing pre-med, like her brother was at Ohio University.
Then a family friend turned Wiggins on to a program called the Urban Journalism Workshop run by the Greater Cleveland Association of Black Journalists.
Working in that once-weekly program led to an opportunity to join the African, Hispanic, Asian and Native American Journalism Workshop at the University of Missouri at Columbia, which led to her enrolling as an undergraduate in 1999.
But after two years, Wiggins went from being a straight-A student to struggling in her classes and afraid to leave her apartment. As the problem worsened, her parents decided to come to Missouri and take her out of school. She was diagnosed with depression.
"I didn't even know what that was. Looking at the media, it was like, That's crazy people," she reflects. "One of my downfalls was that I always believed I was defined by my accomplishments. I had to be perfect, and that played a lot into the depression."
Back at home, getting the help she needed and with supportive friends and family nearby, Wiggins completed her broadcast journalism degree at Kent State University, achieved her master's degree there in arts, entertainment and media management, and taught a Producing Television News course while starting her TV career.
Her history of depression was one reason why Wiggins opted to stay in Cleveland, even though — as a top 25 media market — it meant she'd have to work longer behind the camera to get her big break on air. She never envisioned traffic as the on-ramp.
But even as she navigated that rocky first year, WKYC higher-ups saw potential in Wiggins that went far beyond morning traffic. When she was selected by the station's parent company — then Gannett, now spun off as TEGNA — to join a national retreat designed to brainstorm creative new approaches to local news, she pitched an idea for a segment called Rising. It would tell the stories of individuals who had triumphed over adversity or were helping others to do the same. TEGNA's vice presidents voted unanimously to fund a pilot of weekly Rising segments.
"They told us, 'Don't be afraid to fail. Be crazy,' " Wiggins says of her instructions from the parent company. " 'If it looks like something we're already doing, you're not doing it right.' "
The first episode, shot in a short-film style, aired in August and told the story of the Bishop family of Akron, whose toddler was diagnosed with a rare genetic disorder known as spinal muscular atrophy. Other segments have told the stories of DeJuan Kelker, paralyzed by a gunshot during his years as a drug dealer, who now pastors the Burning Bush Church in Akron, and Cleveland Heights native Nathan Mumford, who beat cancer three times before the age of 36 and started the Karen E. Mumford Cancer Foundation in honor of his mother, who died of breast cancer.
Wiggins herself appears on camera only to introduce each piece, but her warm and unassuming personality shines through in the trust that these subjects have put in her to tell their stories.
Now, Wiggins gets viewer comments of a different sort.
"Comments on social media now are, 'Thank you for telling these stories,' " she says. "What people think [about local TV news], especially in the African-American community, is we only show up when there's a murder. Let's dig into deep issues people are facing and let them tell their stories of how they overcame."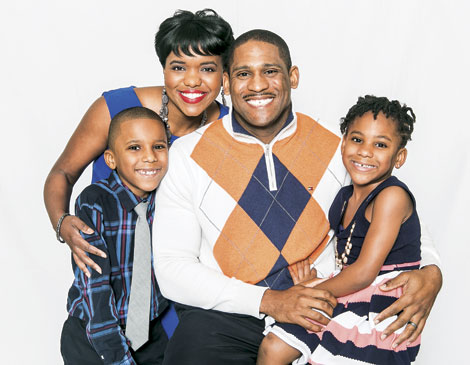 A mother of two, Wiggins lives in Bedford with her husband, Chris, a special education teacher at the I Can charter school in Cleveland. She still juggles writing and producing weekly Rising segments with her up-at-2:30 a.m. traffic shift.
Occasionally, she still hears criticism from a viewer. But today she's taking a page from her new series and rising above it.
"A lady on Facebook was hurling all her usual insults, saying 'I stopped watching Channel 3. The only good thing about Channel 3 is the weather,' " Wiggins recalls. Turning on a brilliant smile, she describes her response: "Good morning! I will make sure I pass your compliment on to the weather team. Hope you have an amazing day!"
Points of Interest
Just Like Me: Many of Wiggins' African-American viewers now look up to her like she once did to Romona Robinson. "When I am out in the community, I hear, 'I'm glad my daughter can wake up and see someone like you. You're a sister. You're dark. You wear your own hair.' My hairdresser said, 'You are paving the way for the next generation.' "
Big Ideas: When Wiggins was invited to take part in Gannett's effort to generate new strategies for local TV news, it was a turning point in her WKYC tenure. "[One of the Gannett vice presidents] was saying, 'Give me your ideas. How would you change the news culture?' I was so invigorated by her. After a year of being beat up, you want my ideas?"
Double Duty: Morning traffic and weekly Rising segments make Wiggins' schedule pretty grueling. Awake by 2:30 a.m., she's at work by 4 a.m. Technically her shift ends at noon but work on Rising often has her staying late. She gets a few hours to nap or exercise. But she enters "mommy mode" when her 8- and 5-year-old kids get home from school at 3 p.m. "I keep my family right here" — gesturing to a family photo on her desk — "to remember they are what's important."