Motogo executive director Molly Vaughan and her husband Brian Schaffran had been thinking about a way to bring their nonprofit's mission of teaching hands-on industrial arts classes to a virtual world. Then Schaffran, a Motogo teacher who also owns Skidmark Garage with his wife, found an old model engine kit while cleaning out their basement.

"We were getting ready to show these girls videos online that were going to be horrifically boring of like internal combustion," Vaughan says. "What if we could get them each a model kit? That was just kind of the beginning of the wheel spinning."

Starting with classes this weekend, Motogo's online program will deliver engine-building kits to students who sign up for one of two classes that meet over Zoom during the month of May. An Engine Build Camp that teaches high school students to build vintage 1970s motorcycle engines will meet remotely on Saturdays. And a Motogo At Home Model Engine Build class geared toward junior high school girls, who will build more accessible 250-piece plastic Haynes engine models, will meet Sundays.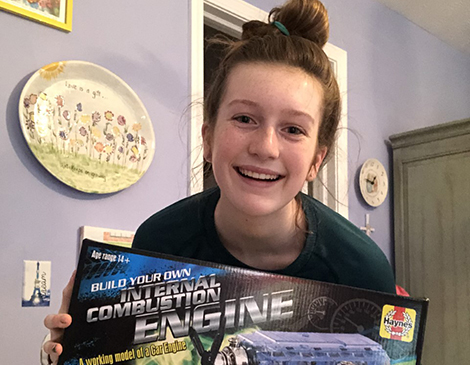 Both classes will get students' hands dirty and keep them working independently, which, Vaughan says, gives parents a break from helping their kids keep up with schoolwork.

"I think we're seeing parents struggle, and we're realizing how valuable teachers are," Vaughan says about the difficulties of distance learning. "[These classes] give students the chance to figure it out on their own while still having some teacher help."

The virtual program was made possible by Haynes' donation of 48 model engines, a grant from Knorr-Bremse Global Care North America and funding from the Cleveland community. The funding also helps Motogo give scholarships to students who have fewer economic resources.

"I think that shop class, it's not something for the rich. It's not something for the poor," Vaughan says about her aim to bring classes to a diverse group of students. "If we can all learn to fix things on our own, not only would we use less resources, but we would just be better problem solvers."