If you've been keeping up with Cleveland Magazine, as you rightly should, you already know that today marks the end of Engage! Cleveland's Young Professionals Week.
Cheers to the weekend, and happy 10th anniversary to the nonprofit organization dedicated to boosting community engagement in The Land.
With congratulations given for not only a decade running strong but also for adapting through a COVID-19 pandemic, we knew we had to experience the action for ourselves. This year's theme: Only In The Cle. If you are anything like me, this sounded like the perfect opportunity to visit a creatively niche small-business crowd-pleaser.
Enter Brewnuts.
On Thursday, Engage! Cleveland hosted Taste of Brewnuts, an evening networking event at the beloved bar-slash-bakery in the Gordon Square Arts District.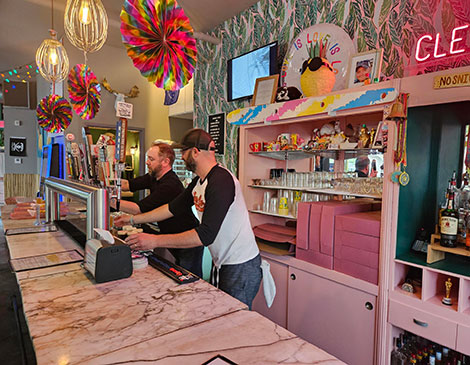 (Photo courtesy Abigail Kussow)

Prior to tasting and socializing myself, I wanted to chat with Brewnuts co-owner John Pippin to get his thoughts on the renewed partnership with the Cleveland nonprofit.
"We always pack the house with this one, but this year being post-COVID, it seemed like everybody was jonesing to be out. They want to be active with their friends and try some things that they may or may not have been able to try prior to the pandemic. A lot of people have moved in and moved back, but we've always been here as a gathering point, and knowing that we could provide the space again [for YP Week] was a big thing for us," Pippin shares while gearing up sampler trays of craft beer and pastries.
Although each combination was special in its own way, there was something unbeatable about that vegan dirty chai done' and Butcher and the Brewer Albino Stout pairing [sigh].
As I sipped away, thankful that I get to do this as part of my job, I had the chance to bump shoulders with yet another host of the hour. This time, Engage! Cleveland's Marketing and Communications Manager Belle Mercurio, who was more than happy to discuss some of the behind-the-scenes magic involved in this year's launch.
"This has been like our killer whale project — our Moby Dick that we've talked about, and really put our hearts into, — so it's been really cool to see it come to life," says Mercurio in regard to Young Professionals Week.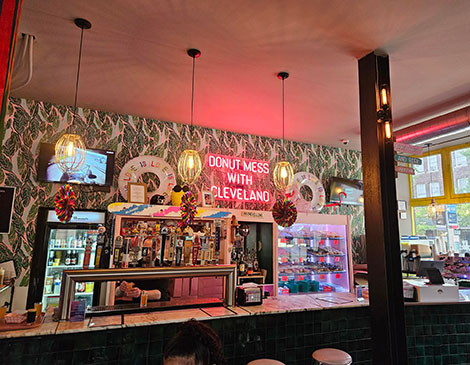 (Photo courtesy Abigail Kussow)

Her favorite event this week?
"Honestly, it was the first event I did, which was a pottery class. I worked at a pottery studio in high school, so I was able to get back to my roots a little bit. We worked with Art House, Inc., and they came ready with great instructors. What I loved most was how everyone was participating, there wasn't any kind of hesitation."
What pulls people to YP Week year after year?
"I think it's our relationship with the organizations in Cleveland, especially this year with our theme being Only In The Cle. A lot of these experiences you can't find anywhere else. Through this, we get to show you how things in Cleveland run from ground level, you get to talk to an owner, ask questions, get answers. Earlier today we spoke with Ronn Richard from the Cleveland Foundation, and he has been there for 20 years. You can imagine the knowledge he brings to the table."
Any hints on next year's theme?
Mercurio shares that although the organization banters that any day now they'll be prepping for next year's launch, the theme is far from being confirmed. However, she doesn't leave me completely in the dark.
"Maybe we'll see more arts and culture organizations and get to work with a dance class or an acting class, you know, really offer young people a chance to engage outside of their comfort zone. I'd love that, but we'll have to see!"
Sign up for our free weekly "In the CLE" newsletter — everything you need to know about Cleveland in your inbox a few times a week. Click here to subscribe.