The Brook Park United Auto Workers Hall is usually just a plain, squat building across from an old Ford Motor Co. plant. But once a month, it's overrun with a Technicolor catalogue of bearded dragons, tarantulas, pythons and more for the All Cleveland Reptile Show & Sale.

For the past 12 years, the event has gathered about 40 vendors and hundreds of visitors to buy, trade or sell a scaly pet. "Reptiles are misaligned, even from biblical times, as being evil," says Amy Zerkle, the show's public relations coordinator. "They're just like any other animal." To test the theory, we caught up with a few of the show's wildest critters.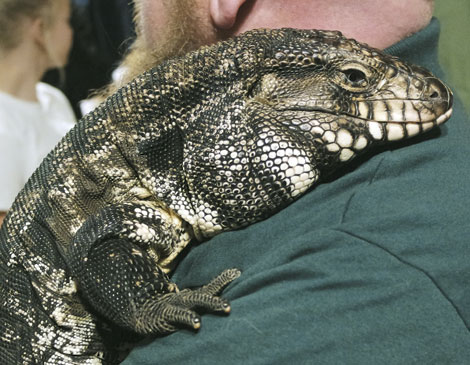 Argentine black and white tegu The largest of the tegu lizards, the species is highly intelligent. In captivity, it eats fruits, small insects, chicks and the occasional rodent. Romeo, a 3-foot-long lizard with characteristic black and white stripes, spent the show snuggled up to the chest of Adam Tripp, flicking its long pink tongue over his shoulder and down his back. "He's a good kid," says Tripp, a volunteer with Herps Alive, a reptile rescue organization.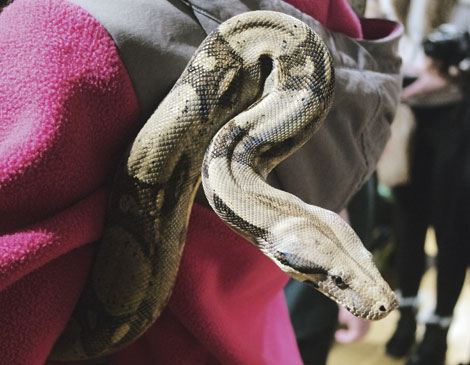 Red tailed boa Often found in tropical forests, the female members of this nonpoisonous constrictor species can grow 8 to 10 feet long in adulthood. Kataya, a 3-year-old boa who measures about 6 feet, is the personal rescue of Jodi Hochevar, the outreach coordinator for Herps Alive. Kataya loves warm baths and snacking on thawed frozen rats. "She's the nicest snake you'll ever meet," says Hochevar.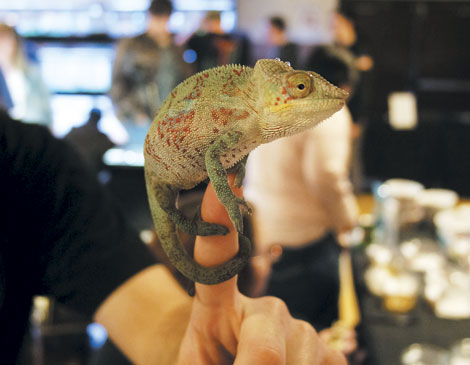 Panther chameleon A rare species found in Northern Madagascar, this chameleon has colorful, highly variable markings and pincher-like feet used for gripping thin branches. It requires a large enclosure with high humidity and mistings from a spray bottle several times a day. "You're creating a little ecosystem," says Mike Schettine of SATOO Reptiles. "You can learn a lot about this animal just by observing it."