Autumn Bland's original goals were clear.
Inspired by photos being shared online of nurses outside tents during the Spanish flu of 1918, the Akron-based photographer set out to use her lens to capture how COVID-19 was affecting Northeast Ohio essential workers and individuals staying at home.
"I knew that I had to document and preserve 2020 in my own way," says Bland.
The process started with Bland texting people she knew to get suggestions for photo subjects. Nominations started pouring in and Bland quickly conducted 30 photo shoots in a two-day span in March.
"Once I put the images on social media, the interest just exploded," says Bland, who recently published Portraits of a Pandemic, a book of 100 images she captured over the last year. "This person knew a respiratory therapist, that person knew a judge, and it just kept snowballing."
Bland kept taking photos and started collecting brief stories to accompany the images on social media, just enough to fit on an Instagram story and give audiences a glimpse into the lives of the subjects. One of these individuals told her she should reach out to Angel Whorton, a cancer survivor.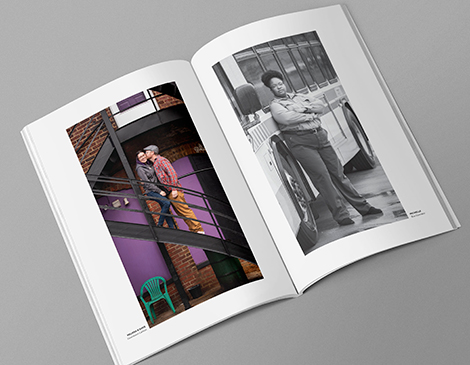 Bland set up a photo shoot with the mother of two and her family in June. In July, Whorton contacted Bland to ask for some of the images from the shoot, and Bland asked how the family was doing.
"Little did I know how much she and her family had been enduring over the previous six weeks," says Bland.
Whorton shared with Bland that she was two days out of her surgery for a double mastectomy and her husband John was in the ICU with COVID-19. Moved to help, Bland took several photos of the Whorton family sitting on the lawn facing John's third-story hospital window where a cross has been placed to mark his room. But it wasn't enough. "I knew I could do even more for them than take their photo," says Bland.
She knew a meal train had been set up for Whorton and her family, so she shared Whorton's story on social media asking her followers to help.
"It's humbling that this photo project led to people coming together to support a stranger in need," says Bland.
John returned home in November and was able to hug his family for the first time in three months. Soon after, Bland was there to capture an image of the family once again, this time with their newly adopted dog, Star.
"These people are so much more than images on a page," says Bland. "I'm honored that I get to play a part in telling their story."