I woke up around 9 a.m. on St. Patrick's Day with way too many pounds of corned beef in my fridge.
If you asked me what I'd be doing at this time a week earlier, when I bought the meat, I would have told you that it'd be half gone and I would be, too, thanks to Guinness and Jameson.
But instead, I was sitting in self-isolation with half a shot of Powers Irish Whiskey in my coffee cup just to say I did it and my co-workers on video conference call wondering how best to cover the ongoing coronavirus, or COVID-19, outbreak.
But then, the tin whistle of "Dirty Old Town" by the Pogues kicked on from the St. Patrick's Day playlist we haphazardly told Google Home to play as we made that Irish-spiked coffee. Memories of hearing the song on the streets of Galway two years earlier came flooding back. Blurry images of early morning shots at Flannery's on East Fourth Street or last call Guinnesses at Mullarkey's Irish Pub in Willoughby sorta came back.
I was determined to make this a St. Patrick's Day to remember — and not just as the one where we were stuck in quarantine.
"Shannon," I told my way-too-Irish fiancee, "put a green shirt on. We're doing this St. Patrick's Day the right way."
In my Mullarkey's hat and a "Get Shamrocked" T-shirt, I fished out of the junk drawer the shamrock beads I'd bought for half-price at the convenience store days earlier while stocking up on canned goods. We put those on and got to work on the corned beef.
Corned beef is a very malleable meat. Besides sandwiches, it goes great with eggs for breakfast, inside tacos for a quick lunch and stuffed in croissants for a carnivorous dessert. But even with all these treatments, we were never going to be able to eat it all.
So we put out a call on Instagram: If you're in need, if you've lost work or if you're just missing St. Patrick's Day, we have a sandwich for you.
With the sanitary standards of a surgeon, we prepared Irish care packages, complete with a melted Reubens with the works and a Miller High Life — sorry guys, I already drank all the Great Lakes Brewing Co. Conway's Irish Ale. The few that answered the call had sandwiches thrown into their passenger windows or fished them out of my mailbox or snagged them from the hood of their car. But for all, it was a time to share a smile, say Happy St. Paddy's Day and find brief respite from worry and isolation — even if it came at a six foot distance or through a closed glass door.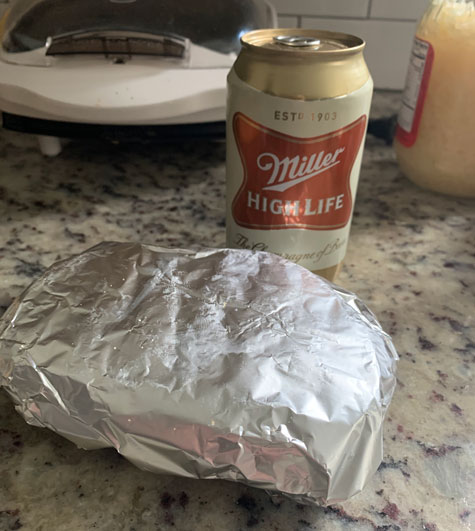 Now that my corned beef and hospitality itches were scratched, it was time to party.
Luckily, the Boys From County Hell had that covered with an eight-hour Facebook Live concert. The audio and livestream was impeccable and made you feel, at least if you were listening at the high volume we were listening at, like the band was right there in your living room. But it was the energy that made it feel like a real live show. The group hopped around like a bunch of Irish Joe Strummers as they played favorites from the Clash, the Dubliners and the Pogues, to which the band's name tips its cap.
Guitarist and mandolin player Chris Allen says St. Patrick's Day is a day the band prepares for weeks. It took the entire weekend to throw together a livestream show that would deliver high quality audio and a seamless stream.
"This is what we do every St. Pat's," says Allen. "It didn't seem right to not be playing to people, and we thought we could bring St. Pat's to people's homes."
Hundreds, if not thousands, of people tuned on throughout the day sending words of encouragement and to say thanks for making St. Patrick's Day feel a little less weird. Instead of just the Harp, Flannery's and Stone Mad, where the band typically plays (places Allen begs you to continue to support through takeout, by the way), its music was broadcasted to people in Buffalo, Spain and even Ireland who were feeling the same sense of isolation on this holiday.
"While we were playing, you know in the trenches, we weren't totally aware of what was happening in the internet world and how many people we touched," says Allen. "But it was a really emotional moment. Our banjo player said this will probably be the St. Pat's we remember when we're 90 years old."
The moment also proved to be a bonding one for the band that has spent 20 years together.
"We probably didn't need it, but it gave us time to reflect on our friendships and playing together all these years," he says. "We were just so jazzed to get together and play the music that we love and create an environment around ourselves that felt good."
As the music played in the background, we bonded with our own friends that we see way too much of but already miss. With everyone decked out in green, we spent the remaining hours of St. Patrick's Day on the video conference app Zoom laughing, playing games and drinking together like we always do.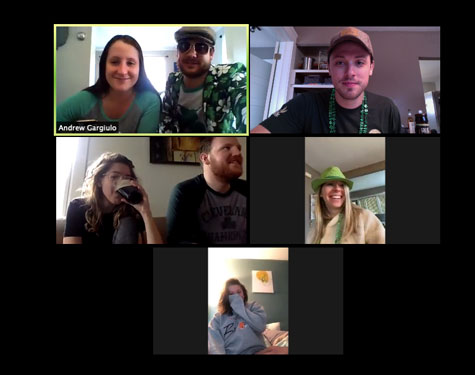 These times are going to get harder before they get easier. We're going to feel more isolated as the days at home stretch into weeks, as our loved ones or people we know get sick and as our economic futures become more uncertain.
But life, creativity, art and shared moments don't have to end. We just need to get creative. Through virtual concerts, markets and more, Clevelanders are already shown how resilient and creative they can be.
St. Patrick's Day 2020 was even more evidence of that spirit — spirit and a day I hope I remember when I'm 90.