This fall, a Cleveland icon gets a new lease on life — 297 of them, to be exact.

That's how many units of residential luxury are up for rent in the Terminal Tower Residences — yes, that Terminal Tower. K&D Group purchased the building in 2016 and converted 10 floors of office space into a swanky apartment complex as part of a $100 million project. When it opened in late August, the skyscraper that inspired Superman became the hottest address in town.

"You can't get more downtown than Terminal Tower as your home and Public Square as your front yard," says Douglas Price, CEO of K&D Group.




The one-bedroom, two-bedroom and penthouse apartments, which will continue to open in three-week waves through next March, marry modern amenities with the Tower's rich civic legacy. Cherry cabinets and floors, granite countertops and stainless steel appliances add contemporary flourishes. On the 15th floor, residents enjoy an exclusive community lounge, fitness center and rooftop deck.

Despite these modern touches, Terminal Tower's historic grandeur has been carefully preserved. "All of the original corridors were kept intact," says Price. "It's like you're walking through the building when it was first built."

The Terminal Tower Residences are further proof of Cleveland's downtown living renaissance. The city is on track to hit its goal of 20,000 downtown residents next year and has already upped the ante with a new target of 30,000 by 2030.

"Over 100,000 people work downtown everyday," says Michael Deemer, executive vice president of business development at Downtown Cleveland Alliance. "It's no coincidence that we also have the largest residential downtown in Ohio. A strong employment base creates opportunities for people to both live and work in the same neighborhood."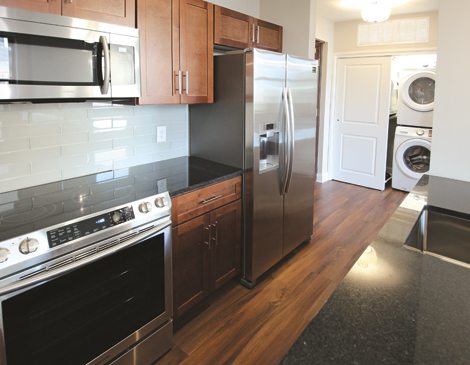 And, Deemer points out, there's a space for everyone. Developers are working overtime to renovate historic buildings and construct new ones to meet the overwhelming demand from young professionals, empty nesters and budding families.

Downtown occupancy rates remained above 90% in 2018, and the Terminal Tower Residences feel like a crowning moment in the movement.

"Clevelanders have seen Terminal Tower all their lives," says Price. "It's really special for somebody to be able to point up and say, 'Hey, that's my home.' "