"A quiet success."
That's how a 1975 article in High Gear, a legendary Cleveland LGBTQ+ publication, described the "second annual Gay Pride Celebration." A description of the day's events followed:
"While nothing was done in the way of a parade, or mass meetings in Public Square, a very successful Friday night Coffeehouse, and a Gay Pride Picnic at, where else? Edgewater Park!"
Nothing exists in print about that first Pride, which local LGBTQ+ elders say was effectively a bunch of people gathering at local gay bars. For the second Pride, there were an estimated 100 participants throughout the day, a majority of whom were members of the Metropolitan Community Church of Cleveland and Akron. Attendees followed the picnic with a worship service, communion and a raucous chorus of "We Shall Overcome."
In 1975, the LGBT Community Center of Greater Cleveland did not yet exist, but a fledgling activist group at Cleveland State University soon became GEAR (Gay Educational and Awareness Resources). GEAR filed its articles of incorporation in 1975 but did not hold its first annual meeting or open its first space until 1977. Thus the "quiet success" of that second Pride was quite an accomplishment and a far cry from the 2022 Pride in the CLE, Cleveland's most recent city-wide Pride celebration.
Last year, 10,000 attendees marched through downtown Cleveland, culminating in a 15,000-person festival on Malls B and C with dozens of booths representing nonprofits, small businesses and corporate giants flanked the grand stage, featuring local luminaries and international superstars alike.
The upcoming 2023 celebration promises to be even bigger.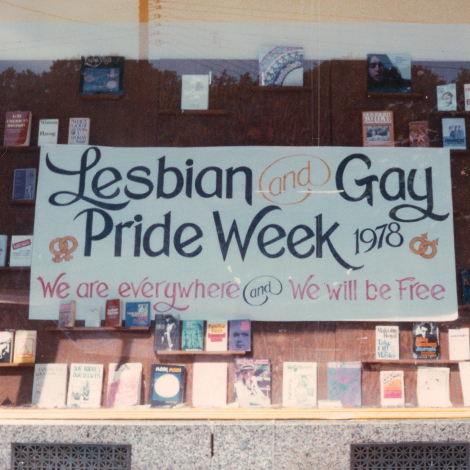 Although much has changed in the almost five decades that separate that second Pride from the June 2023 celebration, so many of the circumstances remain the same.
The 1975 Pride took place under the threat of anonymous phone calls to organizers, threatening those who would gather together to celebrate. The 2023 Pride will take place under the threat of anti-LGBTQ+ legislation that seems to be in endless supply in the Columbus statehouse.
The 1975 Pride featured participants who were "enthusiastic, happy, and Proud." It is a guarantee that the 2023 Pride will showcase the same attitudes within the assembled masses.
But perhaps most striking in similarity, both Prides put forth an experience that fit the times and the culture.
Only a few years after the Stonewall Riots, Cleveland's 1975 "quiet success" of a Pride was a decidedly low-key affair as the LGBTQ+ community began to explore its nascent political power. The 2023 Pride will exponentially amplify this power, with the sheer strength of LGBTQ+ visibility helping to scaffold the movement toward the nondiscrimination protections that are lacking here in Ohio.
So many Pride celebrations across Northeast Ohio will embrace this approach of creating a celebration specifically tailored to their community. Whether it is planning a Pride party for Black, queer attendees; hosting an event for a rural community; or developing a program that centers LGBTQ+ youth, event organizers are keeping their local communities in mind as they craft a unique experience that reflects the culture around them.
Some celebrations will be looking to make their voices loudly heard, and others will indeed be striving for "a quiet success."
We present to you here six local events that draw inspiration from Cleveland's early days of celebration even as they put their own modern spin on serving their communities in the best way they know how: with Pride.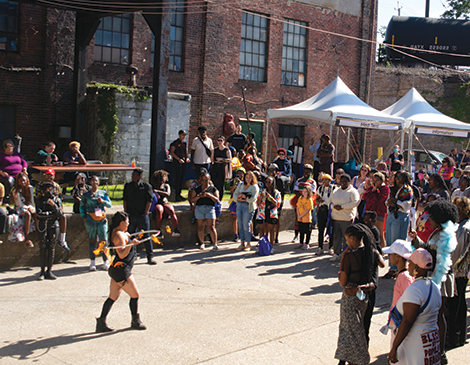 Mx. Juneteenth: A Black & Queer Liberation Celebration
June 17, noon-6 p.m., Blk PunX Press Studio, 4701 Perkins Ave., Cleveland
June is home to a host of holidays, including Juneteenth. The holiday commemorates the day that news of the formal end to slavery in the United States finally reached Galveston, Texas, nearly two-and-a-half years after Abraham Lincoln signed the Emancipation Proclamation.
The confluence of Juneteenth and Pride Month provides a unique opportunity to celebrate at Mx. Juneteenth: A Black & Queer Liberation Celebration.
Event organizers say that the Mx. Juneteenth provides a day to come together without having to compartmentalize the different facets of your identity. This is especially important for the Black LGBTQ+ community members who not only experience disproportionately higher rates of discrimination in public spaces but also in LGBTQ+ spaces.
"Mx. Juneteenth is a celebration from an intersectional lens, where you can show up with both your Blackness and your queerness," says founder and project director Avery Ware.
The event features a lineup of
entertainment including drag performers, live bands and burlesque. There will also be a deep bench of health, educational and community resources present.
"You're going to have a good time, but you're also going to leave with some vital information that's going to help you and those around you," Ware says.
Now in its third year, Ware says Mx. Juneteenth stands on solid footing, having spent the past two years building an infrastructure of community support. This year, that support will be more important given the rash of legislation designed to limit both the lived experience of LGBTQ+ Ohioans as well as the teaching of Black history and culture.
"This year, the event is about speaking truth to power but also about joy as a form of resistance," Ware says.
All who support Black and queer liberation are welcome to attend Mx. Juneteenth, but organizers offer advice for white attendees to be mindful that this is an event was created for a specific community.
"We ask that white attendees honor that Mx. Juneteenth was designed around Blackness and queerness and to not center yourself in that space," Ware says.
Pride Shabbat
June 9, 6 p.m., Suburban Temple-Kol Ami, 22401 Chagrin Blvd., Cleveland
Rabbi Allison Vann knows that the relationship between LGBTQ+ individuals and their faith can be a fraught one. But the spiritual leader of Suburban Temple — Kol Ami in Beachwood has two words for those who have experienced a spiritual disconnect.
"B'tzelem Elohim," Vann says.
The Hebrew words from the Book of Genesis translate to "in the image of God," and Vann says they form the basis of reminding LGBTQ+ individuals that they are valued.
"We start with that journey of just knowing that who we are is holy," Vann reiterates.
To help celebrate that inherent holiness, Suburban Temple — Kol Ami will be hosting a Pride Shabbat, a longtime Cleveland tradition that allows LGBTQ+ Jewish individuals and allies alike to gather in community. Vann explains that Shabbat, the weekly observance of the Sabbath, is an ideal time to weave together faith and Pride.
"Just as God rested for a day, so too can we all come together to see each other in all of our uniqueness," Vann says.
The Pride Shabbat celebration is being planned by LGBTQ+ members of the temple and will feature a guest speaker, music and readings chosen especially for the occasion. Vann explains that the evening will offer both celebration and validation.
"Pride Shabbat can provide LGBTQ+ individuals ownership and leadership within their own community and a real sense of feeling in being seen by those around them," she says.
Whether individuals come to Pride Shabbat or celebrate in their own homes, Vann hopes that even knowing such an event is taking place can provide a moment of healing needed by so many LGBTQ+ individuals who have felt shunned by their faith.
"There really are spaces of faith out there that can provide that affirmation. We just all need to walk that walk and talk that talk of loving everyone around us," Vann says.
Medina's Pride Billboards
A whirlwind 24 hours last June in Medina, saw the installation of 29 LGBTQ+ Pride flags around the Town Square, the removal of some of those flags by the city, and then their restoration.
"I was doing a happy dance. And then I wasn't," says Sandy Varndell, founder and president of OutSupport, a Medina-based LGBTQ+ support organization. Varndell and members of OutSupport had been asking city administrators for years to approve the installation of Pride flags in their Northeast Ohio municipality.
When they finally received approval, 29 rainbow flags were installed around the Medina Town Square on June 1, the first day of Pride Month. The excitement at seeing the flags was short-lived as the Mayor's office began removing them the next day.
A month earlier, the Supreme Court had ruled unanimously in favor of a petitioner whose application to fly a Christian flag on Boston city property was denied. Medina had joined in choosing to not fly any LGBTQ-
related flags for fear of not being able to deny the petitions of flags the city finds questionable.
Citizen outcry quickly ensued and the Pride flags were re-installed a few hours later.
"They're so much more than pieces of fabric," Varndell says. "These flags say, 'You are welcome here.'"
Rather than wait for an official new policy, OutSupport Medina has come up with a new display idea for Pride Month that doesn't require legislative approval: billboards.
June will see the installation of at least six billboards along major thoroughfares with messages proclaiming that "Love is love" and "Medina has Pride." The goal for the billboards is to make LGBTQ+ individuals and families feel loved, seen and welcome.
"Whoever cried happy tears with the flags last year will do so the same with the billboards this year," Varndell says.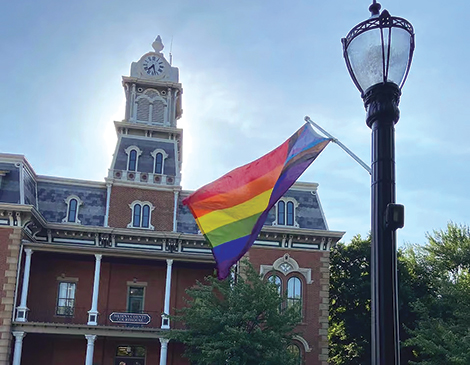 Pride in Geauga
June 25, noon, Century Village, 1465 E. Park Street, Burton
When we think of fertile ground for Pride celebrations, our minds don't usually go to Geauga County. The rural locale just east of Cuyahoga County has long been known for being staunchly conservative.
Organizers of the second annual Pride in Geauga keenly know the reputation of their county but are excited to again provide a space for the LGBTQ+ residents to come together and find community.
"We know that Geauga County can be a tough place to identify as LGBTQ+, and our goal again this year is to host a Pride celebration that reflects who our community is and where we are at," says Chris Steigerwald, board president of the Geauga Sexual Orientation and Gender Identity (SOGI) Support Network.
With the inaugural Geauga Pride event in 2022, organizers weren't sure what to expect. A few protesters had sent e-mails to city officials and law enforcement before the event, complaining about "amoral" activity and the possibility of "indecent exposure." Undeterred, the event went forward as planned and the expectations of modest attendance were blown out of the water.
"We counted more than 540 individuals who came from not only Geauga but also surrounding rural counties," Steigerwald says.
For 2023, attendees can expect the same family-friendly atmosphere as last year, just more of it. Food trucks, entertainers, community organizations and affirming churches will gather together in the expansive green grass of historic Century Village, a deliberate choice for location.
"Century Village provides a private atmosphere where people can come and be themselves and not feel the pressure of being so visible, especially as they might not be out in their local community," Steigerwald says.
As opposed to other Pride celebrations where everyone is tightly packed together, organizers of Pride in Geauga want their festival to reflect life in Geauga County itself.
"Our event is all about comfort and for so many LGBTQ+ in Geauga County, that means being able to spread out, have meaningful conversations and be surrounded education, support and celebration," Steigerwald says.
BBH Pride
Saturday, June 10, 11:30 a.m.–4:30 p.m., Brecksville-Broadview Heights Middle School, 6376 Mill Road, Broadview Heights
When a speaker at a 2021 Veteran's Day public event in the Cuyahoga County sister cities of Brecksville and Broadview Heights veered suddenly off-script to make some decidedly homophobic remarks with schoolchildren in attendance, some attendees were understandably offended. But they also were immediately determined: They saw the verbal calamity as an opportunity to create support structures to educate the community about their LGBTQ+ neighbors.
On that day, BBH Pride was born.
At the heart of the organization was the desire to do everything they could to address the alarming statistics indicating that LGBTQ+ youth disproportionately consider suicide and are at even higher risk when they live in hostile communities.
"That is something we won't accept," BBH co-organizer Vicki DeMar says.
To create a more welcoming community, the organization has been working with local businesses to provide them with best practices to make their establishments more friendly to LGBTQ+ people.
For 2023, its efforts include an inaugural Pride celebration.
Held at the Brecksville-Broadview Heights Middle School, the day will be a distinctly family-friendly event, complete with food trucks, arts and crafts, music, dancing and even yoga. The organizers say their goal is to provide a joyful celebration that furthers their mission of promoting awareness, instilling acceptance, advancing inclusivity, and fostering a welcoming community.
"We feel strongly that, ultimately, this understanding not only helps all of our residents thrive, but also helps save lives," DeMar says, "and that will truly be something to celebrate!"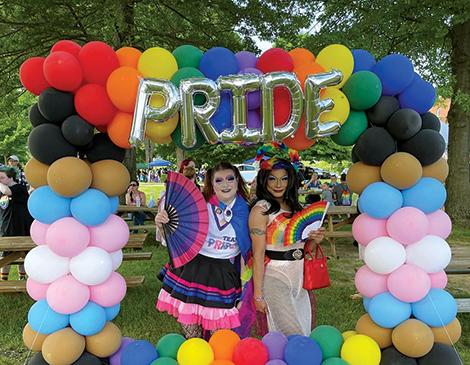 Colors+ Youth Center
Colors+ Youth Center has had a roller coaster of a time these past couple of years.
The Fairview Park nonprofit experienced an explosive growth in support of their mission to strengthen LGBTQ+ youth and allies by promoting individual and community wellness.
That growth included a $134,000 grant, enabling it to move into a 3,500-square-foot space, a substantial increase from the 250-square-foot office it opened in 2019.
Then, less than two weeks after the 2022 grand opening of Colors' new space, an act of vandalism resulted in the front windows being smashed and racist graffiti spray-painted on the brick wall adjacent to the
windows.
"We knew this was a possibility with more visibility, but more than anything we want youth to know that we're not going anywhere," says
Colors+ co-founder Kristen Pepera.
For this year's Pride Month,
Colors+ is ready to remind the community that it is here to stay with "Show Your Colors+," a family-
friendly Pride event.
"We want to provide a space for LGBTQ+ families to get together, an alternative to other events that might be more adult-themed," Pepera says.
Show Your Colors+ features a drag story hour, carnival games, karaoke and a keynote from Erin Reed, a popular trans activist and content creator known for her informative TikTok videos. Organizers have also put together a mile-long march through Fairview Park, so that LGBTQ+ youth can feel seen and heard.
"Especially with all of the anti-
trans legislation right now, the march will help us spread both the awareness and the importance of our LGBTQ+ youth and families being recognized," Pepera says.
Organizers describe the event as "deliberately low-key," focused more on showing the community their programming and counseling space as opposed to parades' typical floats and parades. Above all, Colors+ wants families to know that the organization is here to stay, to support their journey.
"Every single LGBTQ+ youth needs a safe space and we are here to help celebrate just how wonderful they are," Pepera says.
Check out this list of 19 more events through Pride Month and the summer.