The Wall That Heals is more than a civilian's chance to see a traveling replica of the Vietnam Veterans Memorial without a trip to Washington, D.C. The exhibit's Aug. 18 and 19 visit to the Warren Heritage Center provides a time for remembrance for the thousands of area veterans who left parts of themselves on the battlefield during our country's involvement in the nearly 20-year war. Bill Overton, a 72-year-old combat veteran and service officer for the Strongsville Veterans of Foreign Wars Post 3345, spent about nine months in Vietnam and shares what the wall means to him.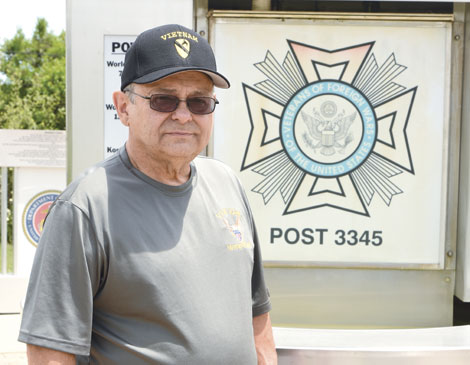 I first saw The Wall That Heals in Bedford around 2002. I felt sad and humbled thinking about the guys we lost. If you look at 1967 and 1968, when I was there, there are the most panels.

I was drafted in July 1966 to the Army. I was supposed to work in the post office in NYC. Didn't work out that way. They sent me to Vietnam in October 1967. I turned 22 there. I was one of the older guys. We had guys as young as 16. At first, I was in the city, and I didn't think it was that bad. Then the Tet Offensive hit Jan. 31, 1968, and I was pinned down in an outpost with five other guys. That's when I realized a war was going on. Later, I was in Operation Pegasus, the fight to get the Marines out of Khe Sanh. We were hot, tired, food was terrible, and it was just misery of life. I can't explain how bad it was. We lost 452 guys where I was. We lost 92 guys in just one operation.

A lot of people come to terms with things they did at the Wall. I still have nightmares about the people we had to take out and the kids I saw die in the villages. It was an absolute nightmare. When your life is on the line, it is surprising what you might do. A lot of guys were involved in things that they don't want their families knowing about. They can find help here. Seeing their brothers on that wall reminds them what they fought for.

It's also a welcome home sign that we didn't get. When I flew back to Cleveland, I stopped in the Chicago airport in uniform. I went into a bar to get a beer. The bartender kept passing me up. Finally the guy next to me said, "Would you please give him his beer?" Then I realized what I was in for. I went and bought a pair of Levi's.

You never get over your friend getting blown away beside you or lose the sight of dead kids in the street. But this is a start.