Sanjit Datta believes clean drinking water is a natural right.
Yet, family trips to India, where his parents grew up, showed the Los Angeles native that, for many, it's a privilege. "Access to water is a huge issue," says the fourth-year Case Western Reserve University medical student. "Waterborne illness is unfortunately a fact of life."
Diarrheal diseases such as cholera, dysentery and rotavirus harm almost 1.7 billion children annually and kill about 525,000 children under the age of 5, according to the World Health Organization. Mostly afflicting Africa, Asia, and South and Central America, these diseases are often caused by drinking water contaminated by sewage, runoff and open-field defecation, Datta says.
"[In the United States,] we think about diarrheal diseases as kind of an annoyance — not something that people generally die of," Datta says. "A lot of that is also because there is adequate medical care to prevent those cases from turning into deaths."
So three years ago, Datta set out to solve the problem. He teamed up with classmates David Pfau and Annika Sinha to launch the Billion Bottle Project, a nonprofit dedicated to reducing waterborne illness through a process called solar water disinfection, or SODIS.
It involves filling a clear, roughly 2-liter plastic bottle with water, capping it and setting it in the sun, where ultraviolet light and heat break down and eliminate bacteria, viruses and parasites. The process can last from six hours to two days, if the weather is cloudy.
"In a real-world use of solar disinfection, there are far too many variables that affect how much UV is actually reaching the water," Datta says.
So between class and clinical rotations, the trio began working nights and weekends to develop a sensor that eliminates the guesswork. The two prototypes developed by the Billion Bottle Project, called OSPRI and SANTE, change color to detect when water has received enough ultraviolet light to kill the contaminants.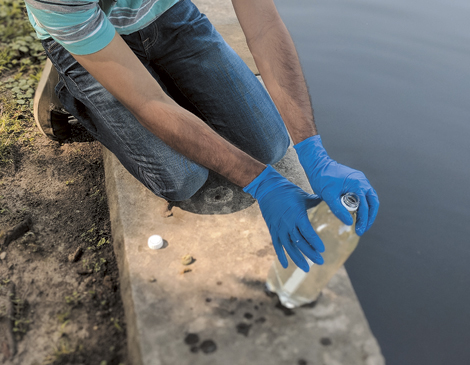 During a solar water disinfection treatment, the chemical-filled OSPRI device is placed inside a clear bottle. When UV light is absorbed, a chemical reaction occurs that turns a dye within the mixture from blue to white.
The solar disinfection process is complete and the water safe to drink when the oblong device, similar to a thermometer, turns completely white. Pull it out of the water and the device resets, back to blue.
OSPRI isn't the first SODIS indicator. But with a manufacturing goal of $1 per device, OSPRI, which lasts a year, is cheaper and is the only reusable device to specifically capture UV rays rather than visible light, Datta says.
"No prior device has achieved the same level of cost-effectiveness and can compensate for as many factors affecting treatment efficacy as OSPRI," says the 28-year-old.
A more recent development is SANTE, a sticker that uses the same color-changing dye as OSPRI, but attaches to the outside of a bottle. The organization hopes to manufacture it for 25 cents and make it last three to six months.
In the past few months, Billion Bottle Project has been awarded more than $115,000 in grants from WorldLabs, the National Inventors Hall of Fame, the Environmental Protection Agency, Clinton Global Initiative University and the American Institute of Chemical Engineers. The project's 32-member team, which consists entirely of volunteers with medical, engineering and business backgrounds, still hopes to raise another $75,000.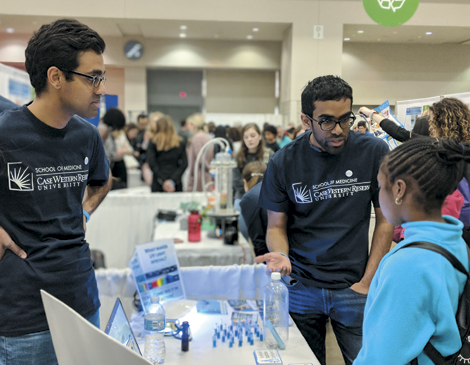 While Datta's May graduation and forthcoming residency may take him away from day-to-day operations, he hopes to have devices ready to be manufactured and sold around the globe by the end of 2020. Billion Bottle Project currently has prototypes in Kenya and plans to send more to Uganda.
"We're designing this to be applicable in as many places around the world as possible," Datta says, "and to make it as cheap as possible so that as many people can afford it as possible."