Tom Kowalczk almost ignored the tiny blue blip on his sonar in July 2015. The director of remote sensing for Cleveland Underwater Explorers was searching for shipwrecks near Kelleys Island, but it looked too small to be significant. Luckily, he circled back, discovering possibly the oldest shipwreck ever found on Lake Erie's floor. Before Kowalczk and the National Museum of the Great Lakes embark on a historic, 10- to 17-day excavation this month, we dive deep into what experts know about the hulk so far.

Ship Shape
A preliminary dive revealed a 50-by-15-foot wooden ship lying at an almost 50-degree angle, half-buried in mud and covered with zebra mussels. The ship's small size helped experts date it back to the 1820s. "Fifty-foot vessels wouldn't be as prominent by the late 1800s," says Carrie Sowden, museum archaeological director.

Rock The Boat
While two other lost ships — the 47-foot Fairplay and the 51-foot Victor — are not being ruled out, experts are about 60 percent sure the wreck is the Lake Serpent. The 47-foot rigged schooner vanished in 1829, a few months before two of its crew members' bodies washed ashore in Lorain County. The watercraft was carrying a load of stone from Put-in-Bay when it vanished, making the wreck's resting position significant. "If the stone shifted to one side of the boat in a bad storm, it would have tipped, filled up and sank straight down like that," says Kowalczk.

Below The Surface
The ruins will likely remain in Lake Erie since raising them requires millions of dollars and a specialized conservation facility that the museum doesn't have. Luckily, Lake Erie's cold temperatures, fresh water (saltwater is corrosive) and lack of wood-devouring organisms make it perfect for preservation. That's not the case in the ocean. "Entire shipwrecks disappear because [naval shipworms] eat the wood," says Sowden.

Into The Deep
Embarking from Kowalczk's boat in late July or early August, the excavation team hopes to find a serpent-shaped figurehead on the bow that would confirm the wreck is the Lake Serpent. Using a dredge suction pump to remove silt and mud around the ship, the museum hopes to conserve the figurehead, depending on its condition.

Anchors Aweigh
Due to its suspected age and rare shape, the wreckage could provide historians a rare glimpse into Lake Erie's budding shipping industry of the early 1800s. "Archaeology is something to be shared," says Sowden, who notes the vessel may even feature a rare retractable centerboard used to safely pass shallow depths. "The aha moments don't mean anything if you don't tell someone about them."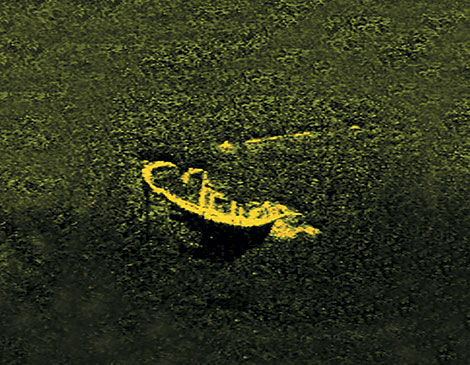 Lost and Found


Of the more than 2,000 estimated shipwrecks on Lake Erie's floor, only 375 have been found. Here are two other recent discoveries.

Margaret Olwill: Found July 2017
Nor'easter winds sunk this steam barge carrying 900 tons of limestone from Kelleys Island to Cleveland in June 1899, killing eight, including the captain, his wife and their 9-year-old son.

Argo: Found August 2015
This tanker barge sunk in 1937 during an illegal trip into the Great Lakes. After its discovery, the U.S. Coast Guard pumped 10,000 gallons of benzene, a chemical used in gasoline, from the ship, ending a longtime environmental threat.