In 2021, friends Jay Meyer and Luke Carrell decided to rollerblade from Cleveland to Columbus. When they reached the capital city, rather than bask in their accomplishment, they noticed the trail continued, all the way to Cincinnati.
"We're in Columbus looking down the trail. [It] gives you the sense of, it's still there," Meyer said, referring to the rest of the Ohio to Erie Trail laid out in front of them. The two wanted to finish the trail.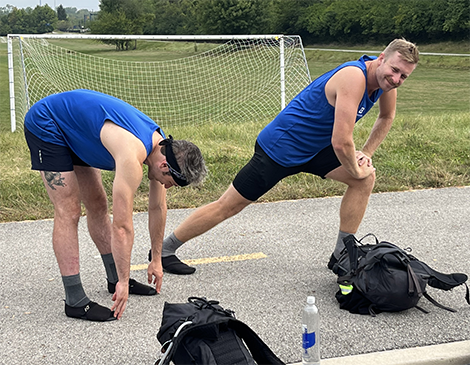 (Photo by Luke Carrell and Jay Meyer)
In 2022, they did just that, completing all 326 miles of the statewide trail. Along the way, they raised $2,700 for Ronald McDonald House. This month the duo again rode across the state, only this time from Cincinnati to Cleveland. They left Cincinnati on Sept. 4 and returned to Cleveland on Sept. 10, just in time to see the Browns trounce the Bengals in the team's home opener.
The two also set a lofty goal for 2023: Raise $32,600 — $100 for each mile skated — for University Hospitals and Akron Children's. So far this year they've raised more than $7,600. Supporting organizations that treat young patients is close to Meyer's heart. His son was diagnosed with leukemia in 2014 and underwent three years of chemotherapy at Akron Children's.
Meyer, who lives in Akron, and Carrell, who resides in Lakewood, became friends around 2019 thanks to a chance encounter with some rollerbladers in Downtown Cleveland.

(Photo by Luke Carrell and Jay Meyer)
"Five years ago, my daughter and I were at a Browns scrimmage ... and this group of rollerbladers sped by us, and they jumped the curb and went off in the distance," Meyer says. "My daughter looks at me and goes, 'I want to do that.' And I said, 'So do I.' I used to skate as a kid. So we bought skates, and then I made it my mission to find the skaters who I saw because I wanted to do that."
Meyer eventually stumbled upon Carrell through his YouTube channel. "At the end of all my videos, I would say, 'If there's anybody who wants to skate, let me know.' And Jay reached out and we just started skating," Carrell says.
When we chatted Monday evening, both men said they didn't want to see a pair of rollerblades for a while, and for good reason, as Meyer explained.
"Your Day Ones are energetic. Even though it's hot out, you're still fresh, so you're having fun. You're making a whole bunch of videos and are having a blast," he said. "Day Two, you're in absolute agony. Those were extremely hot, those first three days."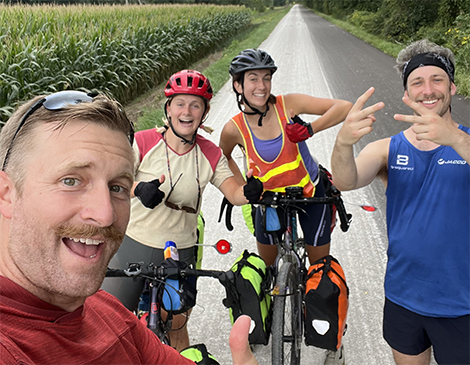 (Photo by Luke Carrell and Jay Meyer)
He asked Carrell, "Was it Day Two we could hardly put miles on?"
"That was Day Three," Carrell says. "We only did, like, 30 miles. We were heat-exhausted. But it was still a good day. We spent a lot of time just looking at the sites, seeing things, and just spending time in the wilderness."
Being able to slow down and take in Ohio's scenery is a big reason why they made the trip.
"You're seeing animals interacting with animals. You see animals that you didn't realize were in the North, like a great egret. When your feet are on the ground like that, you see all the stores, the local places and stuff you just don't catch when you're driving."
As for Meyer's daughter, she's fine with rink skating but didn't take to street skating like her dad.
But that's OK. Meyer has Carrell now.
Meyer and Carrell are accepting donations until Oct. 6.

Start your day the best way by signing up for our free daily newsletter. Arriving in your inbox every morning to keep you in the loop on the best guides, home and style tips, and news briefs for all things Cleveland. Click here to subscribe.