Calling it a "rescue mission," the Western Reserve Land Conservancy recently purchased the Euclid Beach Mobile Home Park that sits on 28 acres along the Lake Erie shore on the Cleveland-Euclid border. To understand the importance of the acquisition, which protects the land from being developed as another high-rise apartment complex, we spoke with conservancy senior vice president Matt Zone.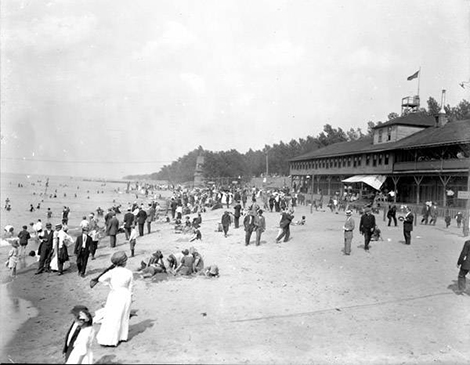 Path to Purchase
This $5.8 million land acquisition started in 2019 when Ward 8 councilman Mike Polensek was contacted by the out-of-state property owner, who wanted to sell the park. Zone says the tip from Polensek gave Western Reserve Land Conservancy the opportunity to swoop in and save the land from outside developers, who might not have had the local community's best interests at heart. "It would have been a huge missed opportunity to allow this real estate on the lakefront to be sold to another private developer who doesn't share our goals for land conservation."
Starting With Respect
The conservancy made it a priority to communicate clearly with residents of the 150 rental units at the Euclid Beach Mobile Home Park, which opened in the 1930s to house park employees. Even before the deal closed, staff reached out to tenants to keep them in the loop about ownership changes. "We wanted to assure them that they would have stability, that there would be no rent increases for the first year," says Zone, "and that their voices were important to the eventual plans for the property."

Future Visioning
Zone says that, without community input, it is premature to say how the land ultimately will be used. A land-use planning exercise is underway to develop a consensus on a long-term vision for the property and the surrounding area. Among the possibilities is a revamped library. "The Memorial-Nottingham branch of the Cleveland Public Library is right next door to the east, and they desperately want to build a new library that isn't so set back from the street. That's 18 acres right next to our 28 acres, so the possibilities really are endless."
History
Euclid Beach Park was the place to go when it opened in 1895. The property boasted seven wooden roller coasters,
including the famous Flying Turns coaster, a carousel, bathhouse, dance hall, beach, pier and more. The park closed in 1969 amid mounting financial pressures, but its iconic arch still identifies the property, which now is operated by the Cleveland Metroparks and boasts a 650-foot beach. The carousel, meanwhile, was restored and moved to the Carousel Pavilion at the Cleveland History Center of the Western Reserve Historical Society.