Intro Cleveland is on the cusp of opening in Ohio City, bringing both high-end apartments and accolades as the largest timber-frame building in the United States.
"We're creating a sense of place that feels like a complement to the historic district while also innovating in a way that can set a new precedent for building beautifully with sustainable materials," says Dan Whalen, the vice president of design and development at Harbor Bay Real Estate Advisors.
Located on the site of an old strip mall on West 25th Street right across from the West Side Market, the 515,000-square-foot building offers 297 apartments, including 10 penthouse suites.
It will also be home to Leaps and Bounds cafe, gastropub Pioneer and the upscale dining room Jaja, which boasts a retractable skylight roof. Truss, an events venue located on the ninth level, is already booking for 2022 and is set to host a weekend of NBA All-Star parties in February. One acre of communal green space completes the picture.
Available in April, units will rent for between $1,350 and $17,500 per month and boast such amenities as black matte hardware, backlit bathroom mirrors, in-unit laundry and — the most unique feature of all — exposed timber ceilings.
"On the inside, the timber is bright, beautiful, clean and contemporary," says Whalen. "It has a high-end aesthetic and a calming feel that are certainly unlike any other building in Cleveland."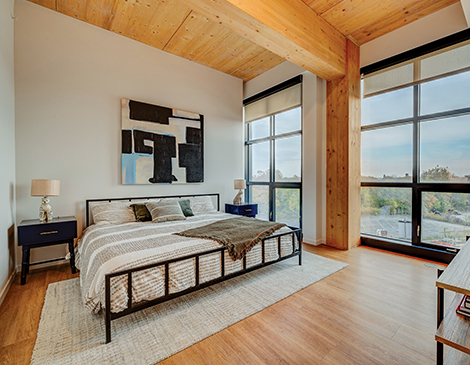 Intro's Impact: We checked in with Ohio City Inc. executive director Tom McNair to see how the new project will affect the neighborhood.


Q. How will Intro affect the West Side Market?
A. The number one thing we can do to help is to continue to bring more people to the neighborhood because people tend to shop by where they live. The peak population of Ohio City was in 1940 when we had 28,200 residents, and we're just over 10,000 today. While we have a little north of 1 million people who visit the West Side Market today, if you go back to 1950, it was 3 million. Bringing a place that has nearly 300 units of housing, which is about 500 people that are going to be living directly across the street from the West Side Market, is something that can only help the market.

Q. Is gentrification a concern?
A. That is something we are concerned about at all times, and honestly, we feel that buildings like this help. We look at an overarching housing strategy, part of which is adding more units of housing. When you are in an area with high demand, you need to be able to meet that demand with more product. At the same time, we are focused on other ways we can help with housing affordability, whether it's supporting low-income housing tax-credit projects like the Forest City Bank building, which just opened at West 25th and Detroit Avenue. We also recently created a community land trust where we're looking at building permanently affordable housing in both Ohio City and Tremont. It's not a one-size-fits-all approach to housing, but certainly adding more housing where there was none before always helps.

Q. What long-term impact do you foresee for Ohio City and Cleveland as a whole?
A. Bringing mass timber into Cleveland is a unique product. I think it is trendsetting in a variety of ways, and it's a sustainable project. All of those things are great for Cleveland long term. We have always looked at that property as playing a pivotal role in recentering the neighborhood. It's going to make Cleveland a more competitive and attractive place for everyone.